"Three Palestinians killed as daily violence grinds on." This was the headline on the website of US TV network CBS on Wednesday, following a terror attack in Jerusalem in which Border Police officer Hadar Cohen, 19, was murdered and her colleague moderately wounded.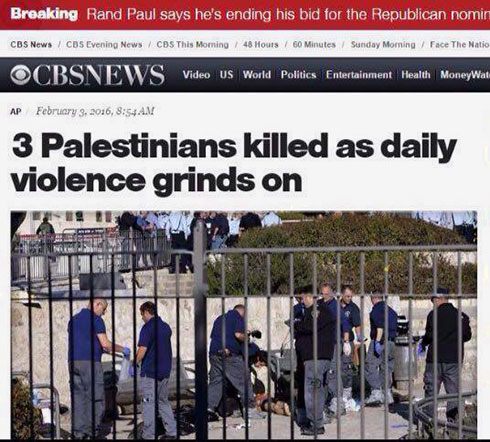 The three Palestinians killed were the terrorists who carried out the combined shooting and stabbing attack, and were shot dead at the scene.
You can see video of one of the terrorist attackers being arrested here:
The Government Press Office (GPO) announced that it was weighing up "far-reaching" measures in response.
"This time we will not let it pass quietly," GPO head Nitzan Chen said on Wednesday. "We are considering rescinding press passes from journalists and editors who are negligent in their work and present headlines that flip the reality."
Read more at Ynetnews.com