A CNN chyron aired Thursday said Democrats who received mail bombs this week are "Trump's targets" — hours after an anchor insisted "no one's blaming the president."
"Manhunt For Serial Bomber Going After Trump's Targets" read the CNN chyron at about 1:13 PM. This came after another chyron that also referred to those targeted as "Trump Targets."
CNN found a way to make things worse. pic.twitter.com/H07VkIkTrQ

— Scott Adams (@ScottAdamsSays) October 25, 2018
CNN's Wolf Blitzer ended the segment by saying, "The one common thread between all of these bombs–all of those who are being targeted are President Trump's frequent punching bags."
This segment came mere hours after CNN's John King opened up a panel discussion by stating: "No one's blaming the president. Is anyone blaming the president?"
And just one hour before this segment, the network's chyron suggested that Trump bears "responsibility" for "inciting" the perpetrator to send these packages — but alleges the president is not owning up to it.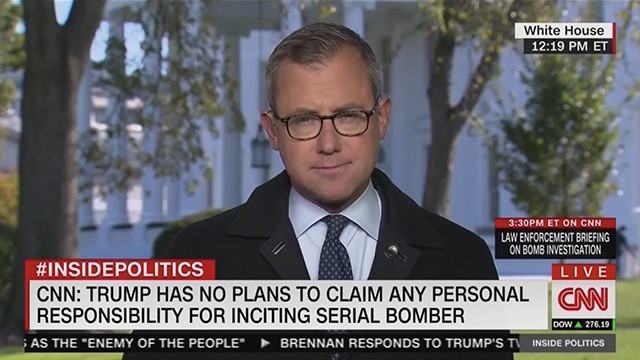 Although CNN personalities have repeatedly said that they are not blaming Trump or his supporters for the mail bombs, they have emphasized several times that those targeted by the bombs were frequently criticized by Trump and by right-wing media.
Brian Stelter said Wednesday that the targets of the bombs "have all been criticized mercilessly by right-wing outlets."
There's a lot we don't know about these packages, but we do know what all the targets had in common: They have all been criticized mercilessly by right-wing outlets… pic.twitter.com/UKIw8hxs9b

— Brian Stelter (@brianstelter) October 24, 2018
CNN analyst Josh Campbell also insisted Wednesday that Trump's rhetoric may still be to blame for the mail bombs, even if the perpetrator is mentally ill.
"If the package bomber turns out to be someone with mental health issues, that doesn't mean Pres. Trump is off the hook. If it turns out the bomber was motivated to kill perceived enemies based on recent heated political attacks by officials, those spewing hate share the blame," he said.
If the package bomber turns out to be someone with mental health issues, that doesn't mean Pres. Trump is off the hook. If it turns out the bomber was motivated to kill perceived enemies based on recent heated political attacks by officials, those spewing hate share the blame. pic.twitter.com/8LHNYJtARN

— Josh Campbell (@joshscampbell) October 24, 2018