Fight fans watch one of the most stacked cards in recent mixed-martial arts history tonight on pay-per view. But before they see UFC 187's main card, viewers hear the less-recent noise of nu metal.
While the Billboard album chart long ago migrated away from such music, Dana White says that the UFC won't do so anytime soon.
The intro music to UFC pay-per views features angry cookie-monster vocals, crunching riffs, and numerous sonic reminders of Limp Bizkit, Korn, and other trendy, turn-of-the-century bands best forgotten.
Novice fans trying out the UFC receive immediate confirmation through the trailer-park soundtrack blaring in the initial moments of the broadcast that mixed-martial arts indeed conforms to stereotypes cast upon it. STEMM's 13-year-old "Face the Pain" sounds as now as John McCain's 1996 characterization of mixed-martial arts as "human cockfighting."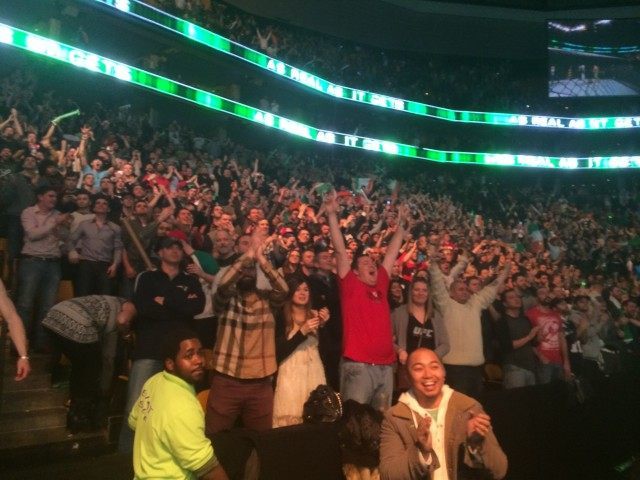 The group broke up three years ago. But don't expect the UFC to break up with their music anytime soon.
"People have asked me many times about changing the intro music," Dana White told Breitbart Sports earlier this spring. "The answer is: not yet, not yet."
A multimillion-dollar Fox broadcasting deal, Reebok soon outfitting the combatants, and successful ventures into the Asian market all argue for a brand grasping at global, mainstream appeal. The music, like the tattoo sleeves of several fighters, offers a loud rebuttal.
"I don't hear too many complaints about it," Dana White points out to Breitbart Sports. "When you come in to that arena—for people who have never seen it live—that thing blows the doors off the place and gets the place energized and it really kicks off the show."
Amped-up fan faces and the roar of the live crowd suggests that many UFC fans share the opinion of the outfit's president. STEMM's "Face the Pain" remains a reminder of the sport's earlier outlaw days in an era when MMA gladiators call on President Obama to attend a show and star in Hollywood blockbusters. The Cookie Monster-choir preaches to the UFC's choir at the very moment when the promotion seeks to open up its pews to more converts.
Fight fanatics eager to kick off tonight's loaded event featuring Daniel Cormier versus Anthony Johnson for the vacant light-heavyweight championship, Chris Weidman-Vitor Belfort for the middleweight strap, heavy heavyweight Travis Brown taking on heavy-hitting heavyweight Andrei Arlovski, and several other must-see matchups, but annoyed at enduring another ear-splitting exposure to nu metal, will just have to "Face the Pain" for now.