BOSTON—Ed Herman displays his short fuse when it comes to cheaters.
"It continues to get cleaned up more and more," the UFC light heavyweight told Breitbart Sports earlier this week about his sport. "I said it thirty times already: let's get the cheaters out of here, bottom line."
The UFC continues to eject several cheaters from its octagon. Mirko Cro Cop and Gleison Tibeau received two-year suspensions under the promotion's strict new drug-testing regime run by the United States Anti-Doping Agency (USADA). Last week, USADA informed Yoel "Soldier of God" Romero, in line for a likely middleweight title shot against Luke Rockhold, of a potential violation from an out-of-competition test. For Herman, the suspensions can't come fast enough.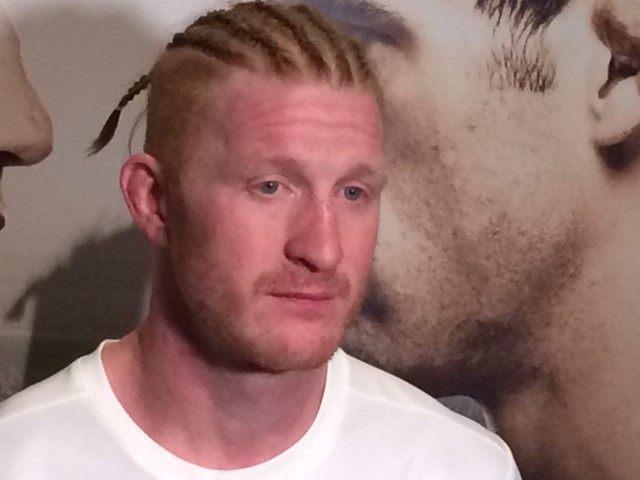 Owning victories over Glover Texiera, David Loiseau, Joe Doerksen, Herman dropped a decision to Jake Shields in 2012 later ruled a no-contest due to the former Strikeforce two-weight champion testing positive for banned substances. Does Herman believe he has faced off against cheaters, plural? "Definitely, most definitely."
Dazed in the first round of his Sunday night bout with Tim Boetsch, Herman came roaring back in the second to mete out a knee from the clinch that dropped his opponent and ultimately secured the technical knockout. The Ultimate Fighter 3 runner-up delivered a dramatic impromptu speech to 12,000 people at TD Garden after this past weekend's victory. "With the sport getting cleaned up, it's a fair playing field, finally," Herman commented on his move up to 205. "I've been a clean fighter my whole career."
He affirmed, somewhat redundantly after his dramatic postfight speech, that performance-enhancing drugs remain "definitely an area of frustration." Seeking catharsis, Short Fuse volunteered that he prefers to take on any fighter who once sported a "chiseled" physique in his next bout.
"Guys will always find a way to cheat, man," Herman told Breitbart Sports. "They've been doing it in every professional sport all over the world forever. Hopefully, there will just be less of them. Two years, or whatever, getting suspended, is long enough to make a difference. Before it was just a slap on the wrist. Six-month suspension ain't nothing for guys."