Last night marked the official Los Angeles premiere of Hating Breitbart. The documentary
helmed

by Andrew

Marcus

chronicles some of the major battles of the late Andrew Breitbart as he went to head to head with a mainstream media hell bent on promoting a liberal agenda while maligning and attempting to marginalize those with alternate points of view.

Breitbart, a new media pioneer, was the first to empower everyday citizens to hold the mainstream media accountable simply by using their cell phone cameras to "capture the lies."

The theater was filled to capacity and the film was enthusiastically received by not only those who knew Breitbart personally but by those who simply knew his body of work, or how he was portrayed in the media.

Thomas Nelson, a native of Los Angeles, told Breitbart news "I had no idea how engaging he was personally. For a man so vilified by the mainstream media, I was surprised by his humanity and accessibility. Not sure that people realize how viciously the machine can spin the truth by attacking the messenger in an attempt to quash the message."

Hating Breitbart will be released theatrically May 17 in select cities and on VOD. DVDs will be available on May 21.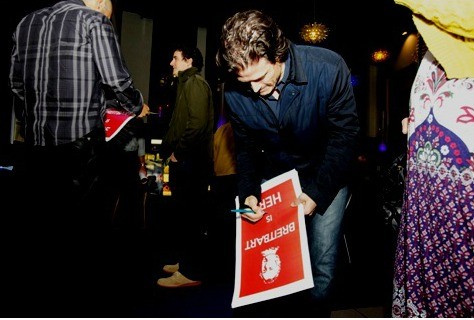 (Breitbart News Network CEO / President Larry Solov signs a poster at Los Angeles premiere of "Hating Breitbart" Photograph by Taylor Thompson)