Comedy Central's Daily Show has been blasted on social media and accused of ridiculing transgender people after the show's official Twitter account cracked a joke about President Donald Trump transitioning into a woman.
The official Twitter account for the Trevor Noah-hosted show posted a message Wednesday asking viewers to pick what they thought Thursday's biggest news headline would be.
The four hypothetical headlines were "Trump uses Constitution as a KFC napkin," "Comey drops a complete 'visual album,'" "Ivanka requests immunity," and "Donald Trump announces he is now Donna Trump."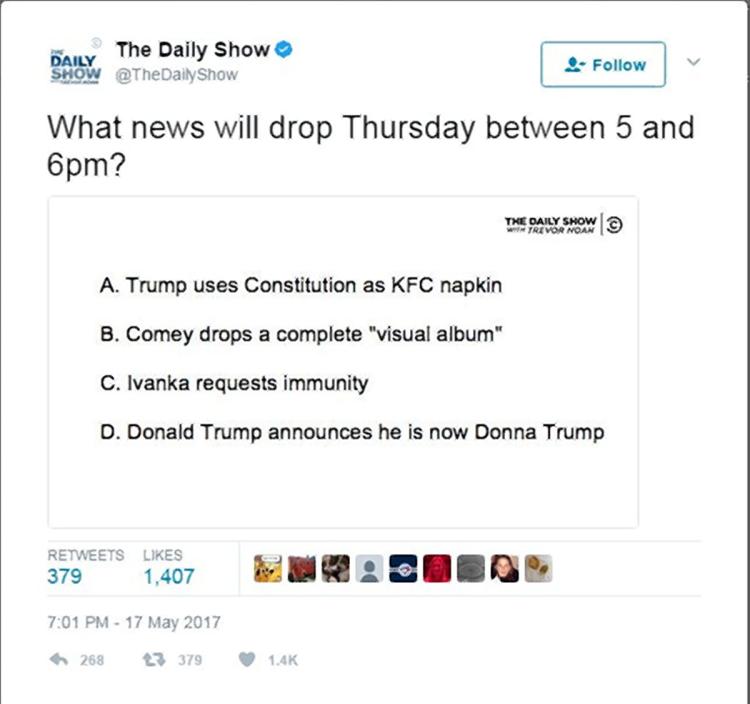 The last joke apparently set off social media, as users wasted no time in ripping the Daily Show for making light of transgender transitioning.
Some users noted the joke was particularly offensive because it was made on International Day Against Homophobia, Transphobia & Biphobia.
Of course the Daily Show ran a lazy transphobic joke on the Intl Day against Homophobia, Biphobia, and Transphobia / the day Chelsea is free

— Kevin Colbert (@kevinescent) May 18, 2017
SNL used homophobia to "make fun" of trump and the Daily Show used transphobia today to the same ends. There must be a better way.

— Broderick Greer (@BroderickGreer) May 18, 2017
@TheDailyShow E: "The Daily Show celebrates International Day Against Transphobia with transphobic 'joke'."

— sharia lawful good (@hooper_x) May 17, 2017
Repeat after me: gender identity is not a punchline https://t.co/7cRU4jr2ik

— Kitson Smyth (@smyth_kitson) May 18, 2017
@TheDailyShow Haha you're right daily show. Someone transitioning is definitely as crazy as the other things on this list

— TB Corporate (@trillballins) May 18, 2017
@TheDailyShow Literally the easiest target in the ENTIRE WORLD and you go for a trans joke?

— slugabed (@mymillshake) May 18, 2017
@TheDailyShow It's using us as a punch line which directly contributes to a climate where other bigots think they can murder us without consequences.

— Christina DiEdoardo (@ChristinaSFLaw) May 18, 2017
@TheDailyShow Do better Daily Show. Trans people are not punch lines. 😡

— Beth Y (@Beth_Y) May 18, 2017
@TheDailyShow international day against transphobia, chelsea manning gets released from prison, hacks at the daily show drop a transphobic joke. good jorb

— DPRK Weed Nuke (@PrototypeCube) May 18, 2017
no one at the daily show has ever even acknowledged their history of transphobia, much less apologized

— um jammer trans g (@joffeorama) May 18, 2017
One Twitter user recalled former Daily Show host Jon Stewarts harsh joke toward transgender people.
Speaking of the Daily Show and transphobia this from 2003 seems relevant. Also props to @Dennis_Kucinich pic.twitter.com/Z8CKnGTdUZ

— Adam H. Johnson (@adamjohnsonNYC) May 18, 2017
The show's official Twitter account has since deleted the joke.
Neither the show nor its host Trevor Noah offered an immediate comment to address the situation.
Follow Jerome Hudson on Twitter: @JeromeEHudson