Welcome to Breitbart News's live updates of the Republican National Convention. Monday's theme is "Make America Safe Again" and headliners include Melania Trump, Sen. Joni Ernst (R-IA), Lt. Gen. Michael Flynn, Sen. Jeff Sessions (R-AL), Rudy Giuliani, Jamiel Shaw, Milwaukee County Sheriff David Clarke, and Duck Dynasty's Willie Robertson. View the full convention schedule here.
***LISTEN TO/WATCH BREITBART NEWS'S LIVE COVERAGE OF THE REPUBLICAN NATIONAL CONVENTION HERE.*** Call in: 713-955-0782.
Stay tuned to Breitbart News throughout the day and evening for live updates from its team of reporters on the ground in Cleveland.
All times eastern.
–
5:30: Trump motorcade involved in minor accident:
Trump motorcade involved in car accident in NY on way to airport- staff car, no injuries- everyone fine & enroute to Cleveland, per sources

— Noah Gray CNN (@NoahGrayCNN) July 18, 2016
Trump not hurt:
Manafort tells reporters Trump was not hurt in motorcade accident

— Jim Acosta (@Acosta) July 18, 2016
5:12: "We Want Trump" chants drown out the Never Trump folks trying desperately to cling to relevance.
#NeverTrump delegates being drowned out by chants of "We Want Trump" #RNCinCLE pic.twitter.com/3khAeyu8ic

— Cara Korte (@CaraKorte) July 18, 2016
5:11:
Protesters at 12 and Chester as police block them going further up Chester. pic.twitter.com/lyvl7hRhXN

— Yamiche Alcindor (@Yamiche) July 18, 2016
5:10:
RNC official tells me they will NOT be releasing list of withdrawn signatures / delegations invalidated

— Zeke Miller (@ZekeJMiller) July 18, 2016
5:07: Romney synonymous with sore loser.
Rep. Chris Collins of NY says GOP is united except for a small group of "Romneyites" who are causing problems. #RNCinCLE

— Geoffrey Skelley (@geoffreyvs) July 18, 2016
Flashback: Romney wanted nothing to do with Ronald Reagan while running against Ted Kennedy.
5:05: More agitators:
Protesters block traffic as they march toward GOP convention. Now about a half mile away. Large police presence. pic.twitter.com/36u5WHOokR

— Jacob Rascon (@Jacobnbc) July 18, 2016
5:03: Ari Fleischer:
Trump won fair and square. Get on with it.

— Ari Fleischer (@AriFleischer) July 18, 2016
4:59: On CSPAN, Never Trump leader Kendal Unruh says says Trump needs to "earn" the votes of the "Never Trump" delegates and the process is "rigged." She demands to know which states withdrew. She says "this isn't over" and the party will be held accountable. She claims she is doing this because we don't want Hillary Clinton (they want to keep their little fiefdoms and relevance) but then hypocritically says she won't vote for Trump in the general election. She says there will be more "insurgency" on the floor.
Convention now in recess until the evening sessions starts at 7:50 pm.
4:50: Trump slams CNN:
.@CNN is the worst.They go to their dumb, one-sided panels when a podium speaker is for Trump! VAST MAJORITY want: Make America Great Again!

— Donald J. Trump (@realDonaldTrump) July 18, 2016
4:35: Bitter Never Trump folks:
Delegates Unbound sends text message to supporters: "Rigged election. Walk out."

— Zeke Miller (@ZekeJMiller) July 18, 2016
The Colorado delegation now pic.twitter.com/I3dYjsFV81

— Ben Jacobs (@Bencjacobs) July 18, 2016
Just talked to Iowa delegate Cecil Stinemetz who says he and other IA dels have WALKED OUT of the convention. He was in lobby on his way out

— Jason Noble (@jasonnobleDMR) July 18, 2016
4:25: Utah delegate demands a roll call vote, but the chair says three states have withdrawn. So, there will not be a roll call vote.
4:22: RNC puts the rules up for a voice vote and the the "ayes" have it.
4:17: Sen. Mike Lee (R-UT) is also advocating for a roll call vote. He's astonished that the Chair just abandoned the post and says this is "surreal." Ken Cuccinelli slams credentials in anger.
"They cheated. They cheated." @KenCuccinelli tells @HallieJackson on the floor of the RNC

— Daniel Medina (@dmedin11) July 18, 2016
4:16: GOP convention rules are adopted. "Never Trump" movement official done.
That's it. Never Trump is dead. The GOP convention rules are adopted.

— Zeke Miller (@ZekeJMiller) July 18, 2016
4:15: Anti-Trump delegates want roll call vote.
The chants: "roll call vote!" Vs. "USA"

— Rick Klein (@rickklein) July 18, 2016
Here are the eleven states who backed roll call vote:

Minnesota
Iowa
Washington
Colorado
DC
North Dakota
Alaska
Virginia
Utah
Maine
Wyoming

— Ryan Struyk (@ryanstruyk) July 18, 2016
4:10: Tim Kaine seems to be the betting favorite to be Clinton's running mate:
People (overseas) are betting heavy on @timkaine as Clinton's VP pick, per current odds from @BookMakerdotEU: pic.twitter.com/SSErssYKTG

— Liz Kreutz (@ABCLiz) July 18, 2016
4:01: "#IAintVoting"? Bad News for Clinton.
Took a lot of pics at #RNCinCLE Day 1. I think this is my favorite so far. #BlackLivesMatter pic.twitter.com/1JuWLWmf4W

— John Haltiwanger (@jchaltiwanger) July 18, 2016
3:55: Lukewarm response when Haley Barbour says the committee recommends Paul Ryan as permanent chair and Mitch McConnell as temporary chair.
3:50: Black Lives Matter agitators outside the convention.
#BlackLivesMatter chants drowning out a group of fascists who came in on back side of rally at Mall A pic.twitter.com/XIhaYENjZs

— Moorehead/Lilly '16 (@wwp2016) July 18, 2016
Vulgar agitators:
Anti-Trump protest and police at #RNCinCLE pic.twitter.com/SyTpqfuDQ7

— Alexandra Svokos (@asvokos) July 18, 2016
3:25: Rep. Greg Walden (R-OR) slams Obamacare and says Clinton will double down on the most extreme policies of the Obama administration.
3:10: Sen. Pat Roberts (R-KS) addresses the convention and says Hillary Clinton and Democrats have stunted our economy with more taxes and by taking over health care. He also says Clinton made our country less safe. Roberts says, as the Senior Marine in Congress, that Clinton failed to protect the lives of Americans in Benghazi. He says Clinton has sidestepped the truth and will do it again. Roberts says an overzealous government is attacking the "rural way of life" and nobody knows that better than farmers and ranchers who feel "ruled" and not "governed." He says Vice President Mike Pence is that champion for farmers and ranchers. Roberts calls for an end to identity politics. Roberts says we need a "builder" and "doer" and that's why we need Donald Trump and a GOP Senate to back him up.
3:05: Sen. Roger Wicker (R-MS) says the GOP's message for voters in November is "we are working for  you" and the GOP has the record to prove it. Wicker says Trump/Pence need a Republican Congress to implement their agenda.
2:50: Code Pink in Cleveland:
Also in #Cleveland: @medeabenjamin of @codepink #RNCinCLE pic.twitter.com/okrg3QXZyQ

— Joel B. Pollak (@joelpollak) July 18, 2016
2:45: Never Trump folks still trying to agitate, and they appear to have the support to get a rules vote.
At RNC, delegates unbound trying to make "minority rpt" to challenge decision of rules/platform cmte. Trump folks not happy

— Chad Pergram (@ChadPergram) July 18, 2016
Text from "delegates unbound" "Secretary of the Convention hiding behind armed guards in attempt to muzzle the delegates"

— Zeke Miller (@ZekeJMiller) July 18, 2016
2:15: Trump closing in on Clinton in new national poll:
New Monmouth University national poll shows Clinton's lead shrinking from 7 points last month:

Clinton 43
Trump 40

— ABC News Politics (@ABCPolitics) July 18, 2016
Trump leads among independents that the mainstream press and "Never Trump" Republicans say he can never win over:
Monmouth national poll

Clinton 43% (-4 since June)
Trump 40% (+0)

**

DEMS: Clinton 88%
GOP: Trump 81%
IND: Trump leads 40-31%

— Sahil Kapur (@sahilkapur) July 18, 2016
What has Clinton's huge fundraising haul that the mainstream media and "Never Trump" Republicans gush over done for her?
NEW: Bookmark and follow the money race with our new Clinton v. Trump fundraising match-up. https://t.co/cQ17B6PUv4 pic.twitter.com/Asw0VFPbio

— Matea Gold (@mateagold) July 18, 2016
2:10:
Radicals at Republican National Convention: 'Shut it Down!' https://t.co/QBvjHl6Kn5 pic.twitter.com/BYdMy8yEQP

— Joel B. Pollak (@joelpollak) July 18, 2016
2:05: Breitbart News at Republican National Convention:
Broadcasting live from the RNC Convention 🇺🇸 #rncincle #news #cleveland @BreitbartNews @SIRIUSXM pic.twitter.com/S5m7S6xacl

— Alex Swoyer (@ASwoyer) July 18, 2016
2:00: Convention pays tribute to the late George Voinovich and the late Bob Bennett, the former Ohio GOP Chairman.
1:55: Rules Committee meeting underway:
Rules Committee meeting now underway. Roll being called. #RNCinCLE pic.twitter.com/epaDieqlbU

— Ed O'Keefe (@edatpost) July 18, 2016
1:50: Jeff Larson, the CEO of the Republican National Convention, says Trump will win in the fall like the Cavaliers, who play at Quicken Loans Arena, won the NBA title.
1:37: Cleveland Mayor Frank Jackson welcomes attendees.
1:35: Two-thirds of GOP establishment "insiders" who are accustomed to having "influence" and having people fawn at them at such events are dreading this year's convention because they and their minions have been rendered completely irrelevant.
1:15: McConnell not the most popular person:
Voice vote to approve Senate Majority Leader Mitch McConnell R-KY as the temporary chair sure got a lot of "Noes"

— Jamie Dupree (@jamiedupree) July 18, 2016
1:07: Long lines outside Republican National Convention:
Lines entering the GOP convention are several blocks long! | @GOPconvention @NewMexicoGOP | #RNCinCLE #NMPol pic.twitter.com/AG9g0nWtnI

— Steve Pearce (@Pearce4NM) July 18, 2016
1:06: Clinton says White Americans need to do a better job listening to African-Americans when they talk about the seen and unseen barriers they face every day. She says Whites need to do a better job "recognizing our privilege." Clinton points out that Trump declined the NAACP's invitation and says Trump led the movement to "delegitimize our first Black President, trumpeting the birther movement." She also slams Trump for associating with "white supremacists" and for wanting to ban an "entire religion" from entering the country. She slams for not renting apartments to African-Americans in the 1970s. She says Trump's employees were instructed to mark applications from black people with a "c" for colored. Clinton now announces a nationwide drive to get three million people to vote in this election and says we can't turn back the clock on voting rights. She says her campaign is going to minor league baseball games, college campuses, barbershops, hair salons…. and even street corners to register voters.
1:05: At the NAACP convention, Clinton gives a "shout out" to black women who represent the fastest-growing segment of the small business community. She also says she has "a lot of plans" and encourage people to read them on her website.
1:00: In Cleveland, RNC Chair Reince Priebus calls the convention to order. He takes a moment to recognize the fallen police officers in Baton Rouge, Dallas and elsewhere. He calls them "genuine heroes." He asks for a moment of silence.
12:55: Clinton says America is a land of second chances (her husband would know) but many people have never even received a first chance. She know vows to "ban the box" so those with criminal records get a shot at job interviews. She now pushes gun control, calling for reforms to stop gun violence.
12:53: Clinton says there is clear evident that African-Americans are killed disproportionately and sentenced to longer jail terms than white people convicted of the same offenses. She says this tells us that something "profoundly wrong." She speaks about holding Police Departments like Ferguson accountable and demands accurate data re: in-custody deaths like Sandra Bland. She wants clear national guidelines on the use of national force and independent investigations on fatal interactions with police.
12:52: Clinton says many African-Americans fear the police but also fearful that the recent police murders mean that vital questions about police-community relations will go unanswered. She says that is a "reasonable" fear.
12:51: Clinton then pivots to needing police and criminal justice reform and says we cannot rest until we root out implicit bias and stop the killings of African-Americans.
[Clinton sounds much more passionate talking about "police reforms" than she did talking about punishing those who kill officers.]
12:50: Clinton robotically addressing NAACP convention. She doesn't sound like there's nowhere else she'd rather be. Clinton says her heart broke yesterday after the Baton Rouge shootings and this "madness" has to stop. Clinton says "killing police officers is a terrible crime" and anyone who kills police officers must be held to account.
HRC throws immediate shade on Trump for not speaking to @NAACP conference: "There's nowhere I'd rather be than right here with all of you"

— Monica Alba (@albamonica) July 18, 2016
The theme of the @NAACP convention, where Clinton will speak soon, is "Our Lives Matter. Our Votes Count."

— Tamara Keith (@tamarakeithNPR) July 18, 2016
12:45: Anti-Trump agitators in Cleveland:
Loan, IAC: We must fight to dump Trump & this whole racist, capitalist system! Defend #BlackLivesMatter! #RNCinCLE pic.twitter.com/pqlLDqDHgD

— Moorehead/Lilly '16 (@wwp2016) July 18, 2016
12:40: FROM BREITBART'S JOEL POLLAK IN CLEVELAND: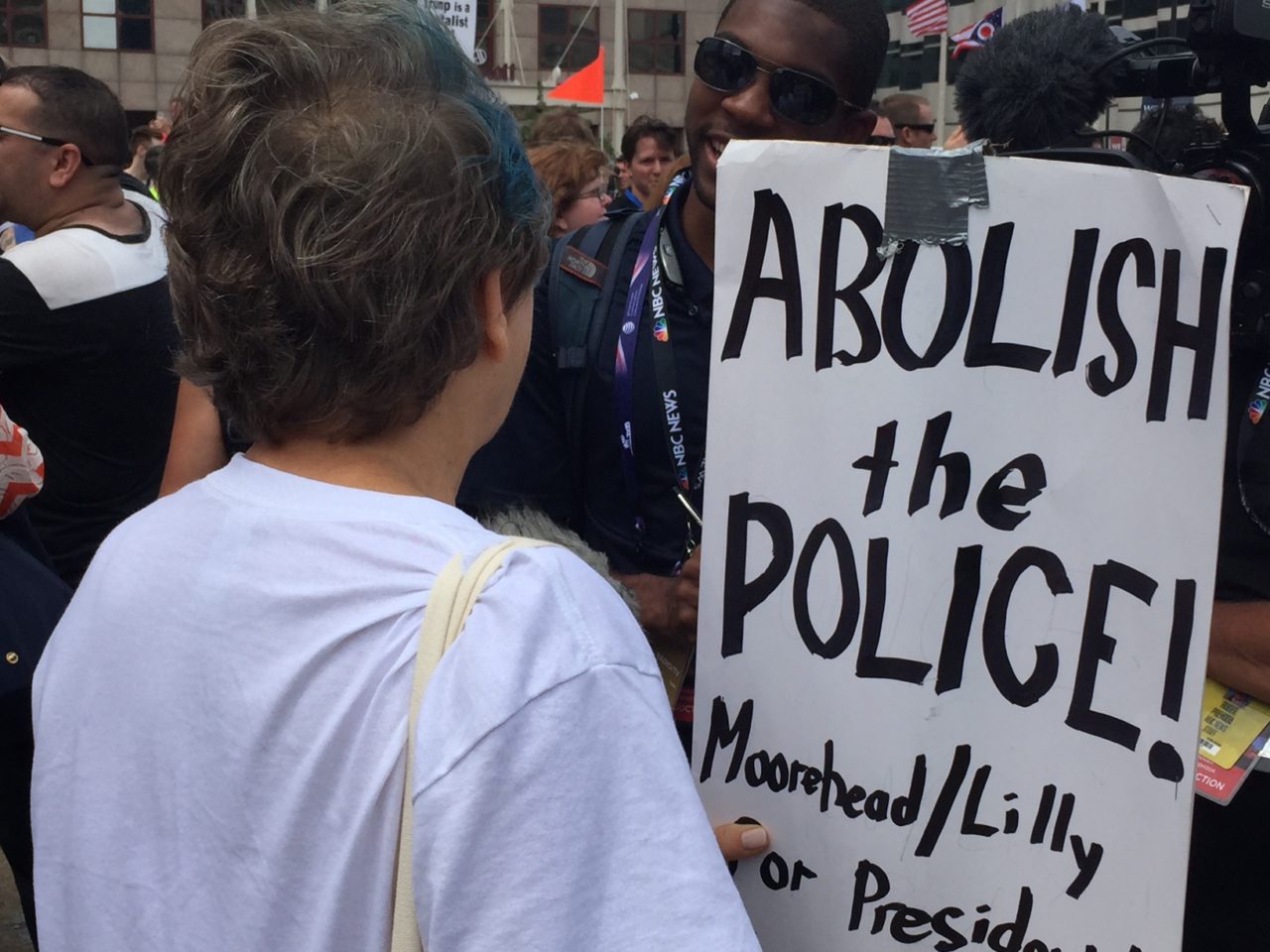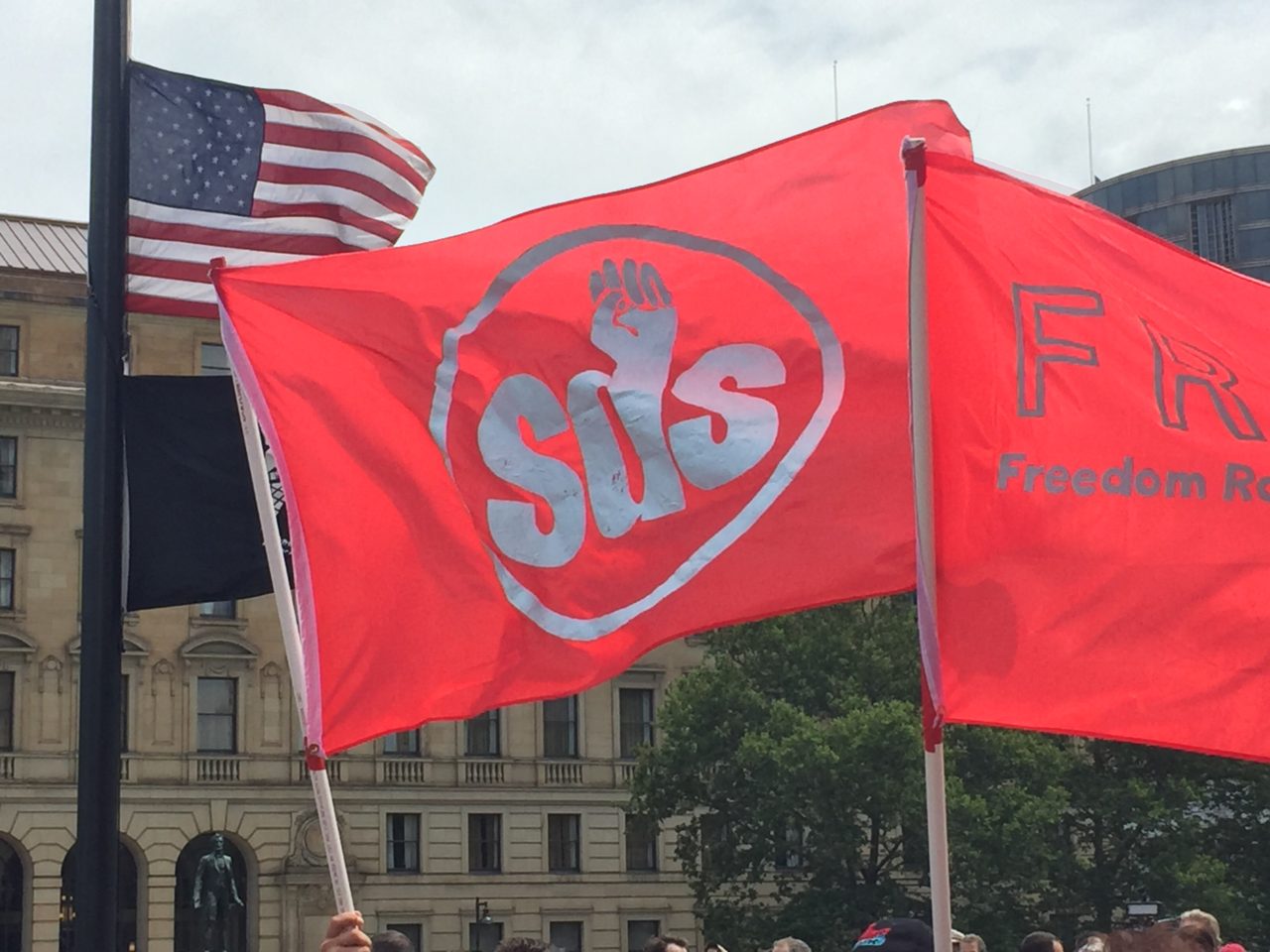 12:35: CNN's John King says Michigan Dem. leaders are "freaked" that union workers may vote for Trump. King says polls may say one thing but when you sit down with these union workers, it is clear they are not voting for Clinton.
12:15: Trump's diversity coordinator slams outside agitators:
Trump's "diversity coordinator" says riots caused by outside agitators. #RNCinCLE pic.twitter.com/OypTEhQsSR

— Tim Stanley (@timothy_stanley) July 18, 2016
11:45: Convention seating chart:
Front row delegations—AL, CT, NY, CA, PA—are all states Trump won. Back row—DC, MN, WY, TX, UT—has contests he lost. https://t.co/T3zAhXHw80

— Sahil Kapur (@sahilkapur) July 18, 2016
SEATING CHART: The political geography of the GOP convention floor, via @Timmeko and @PostGraphics. #RNCinCLE pic.twitter.com/pNoGsT78XU

— Ed O'Keefe (@edatpost) July 18, 2016
11:20: A day after President Barack Obama denounces "inflammatory rhetoric," NAACP President Cornell Brooks talks about a "lynching crisis."
.President of @NAACP @CornellWBrooks tells the crowd here : " We're in the midst of a lynching crisis."

— Fin Gomez (@finnygo) July 18, 2016
>@HillaryClinton set to speak soon at NAACP convention in Cincinnati. Stacks of these signs at the back of the room: pic.twitter.com/1IV4saPwdr

— erica orden (@eorden) July 18, 2016
11:05: Bad news for Democrats. Obama coalition disillusioned.
NBC/WSJ poll finds biggest surge in those saying country on 'wrong track' from young (shift of 46 pts negative) & af-am (-40 shift )

— amy walter (@amyewalter) July 18, 2016
10:55: Hillary Clinton to address NAACP convention soon:
NAACP Delegates waiting to hear from Hillary Clinton pic.twitter.com/32zSNqAE7F

— Courtis Fuller (@CourtisWLWT) July 18, 2016
10:53: Chris Christie being Chris Christie:
Christie tells MI GOP of Pence: "We don't need a nother big mouth from Congress…What Donald needed was a partner who governed."

— Dustin Racioppi (@dracioppi) July 18, 2016
10:51: Texas Lieutenant Gov. Signs "Make America Great Again" hat. He also says Texas delegation has no interest in trying to "undermine" Trump.
.@DanPatrick, chair of Texas delegation, indicates no interest in "trying to undermine Trump as the nominee." Delegates approvingly applaud.

— Patrick Svitek (@PatrickSvitek) July 18, 2016
Texas Lt. Gov. @DanPatrick signs a Make America Great Again hat. #RNCinCLE #txlege pic.twitter.com/zrPxfSoYwm

— Patrick Svitek (@PatrickSvitek) July 18, 2016
10:45: Lamer than his ratings:
Security Dragged Stephen Colbert Off the Republican National Convention Stage https://t.co/jt8vrhQRPx pic.twitter.com/4jsasiNYJK

— Esquire (@esquire) July 18, 2016
10:33:
Confession booths at NBC – but no priests! pic.twitter.com/qf5rqX8eX6

— Charlie Spiering (@charliespiering) July 18, 2016
10:30: "Never Trump" movement claiming they are not done "by a long shot." [Note: Keep in mind that with Trump's victory, all of the professional Republicans and conservatives who live to be "relevant" in politics are completely irrelevant this week and for the rest of the election cycle and perhaps beyond. That goes to the core of why they are throwing their hissy fits. Poor things.]
10:23: Police presence in Cleveland:
Numerous police officers downtown Cleveland. #RNCinCLE pic.twitter.com/BAQn55ZkjY

— Peggy Gallek (@PeggySinkovich) July 18, 2016
10:20: Manafort: Bush family "is part of the past."
"The Bush family is part of the past," Paul Manafort @ #RNCinCle

— Suzanne Gamboa (@SuzGamboa) July 18, 2016
10:15: On Breitbart News's live convention show (Watch HERE), Editor-in-Chief Alex Marlow says that all eyes are on Breitbart News this week because its team of reporters, unlike the mainstream media and other outlets on the right that are now playing "catch-up," have been leading the way since the start of this election cycle. Marlow also praises Executive Chairman Steve Bannon for his new haircut and "getting his appearance together." Bannon says Breitbart News represents the "working man's journalism."
10:12: Manafort confirms Trump will attend Melania's speech:
Trump campaign manager Paul Manafort says during AM briefing that Donald Trump will join his wife, Melania, at Quicken Loans Arena tonight.

— Andrew J. Tobias (@AndrewJTobias) July 18, 2016
10:05:
Never thought I ever see this headline in my lifetime. #RNCinCLE pic.twitter.com/oBgIwnl79H

— Shawn Davis (@ShawnDavisDC) July 18, 2016
9:55:
LeBron's #teaparty neighbor. #RNCinCLE pic.twitter.com/oeIwG1R4eJ

— Joel B. Pollak (@joelpollak) July 18, 2016
I'm staying with @KingJames for the Republican National Convention. Well, OK, I'm staying *near* LeBron. pic.twitter.com/KBO9iZAMVp

— Joel B. Pollak (@joelpollak) July 18, 2016
NBC getting religious? pic.twitter.com/jESomNrgZr

— Charlie Spiering (@charliespiering) July 18, 2016
9:35: Extra  jail space may be needed to deal with agitators:
Cleveland has opened extra jail space to handle protesters, brought in 2,500 officers #RNCinCLE

— Heather Haddon (@heatherhaddon) July 18, 2016
9:30: Anti-Trump agitators at convention:
First sign of protests at #RNCinCLE. Two protest-related @Snapchat filters available so far. #GOPconvention #RNC pic.twitter.com/RWYUd9Y6zt

— Natalie DiBlasio (@ndiblasio) July 18, 2016
9:25: What a team player:
Ryan didn't mention Trump once in remarks to Wisconsin delegation this morning. Instead promoted House GOP agenda.

— Erica Werner (@ericawerner) July 18, 2016
9:17: Newt says Bushes says Bushes are acting "childishly."
"Jeb lost. Get over it," he said in an appearance on "Good Morning America."
He says Republican Party has been awfully good to the Bushes and Romneys and slams Romney for not supporting the contract of America and Ronald Reagan.
9:15: GOP politicians addressing state delegations.
Georgia Delegation Breakfast with Dr. Carson and @SenatorIsakson #rncincle #gopconvention pic.twitter.com/Ylj0vRrmMB

— bryan crabtree (@bryancrabtree) July 18, 2016
@AnnLWagner speaking at the morning breakfast for MO delegation. #RNCinCLE pic.twitter.com/4xktiu6iof

— Chris Yaudas (@ChrisYaudas) July 18, 2016
. @GovernorPerry now taking the stage at Texas delegation breakfast at #gopconvention. He gets standing ovation. #RNCinCLE #txlege

— Lauren McGaughy (@lmcgaughy) July 18, 2016
I saw a few WI elected state officials at today's delegate breakfast; @SenDarling, @repvos, @SenFitzgerald, and @rep89. @CBS58 #RNCinCLE

— David Ade (@DavidAdeCBS58) July 18, 2016
PA GOP chairman Rob Gleason listing elected officials here, including 6 congressmen. Says former Gov. Tom Corbett will be here this week.

— Laura Olson (@lauraolson) July 18, 2016
Georgia Delegation Breakfast with Dr. Carson and @SenatorIsakson #rncincle #gopconvention pic.twitter.com/aoGAYZprfG

— bryan crabtree (@bryancrabtree) July 18, 2016
.@KYGOP chairman Mac Brown briefs and rallies @KYGOP delegates ahead of first RNC Convention session. #RNCinCLE pic.twitter.com/LXEPwAeGS8

— Scott Jennings (@ScottJenningsKY) July 18, 2016
9:05: Trump also slammed the state of race relations in America under Obama, saying it's been as bad as it has ever been:
Trump to @foxandfriends: "I think race relations now are as bad they have ever been." pic.twitter.com/sQYIntZ5Dl

— Sopan Deb (@SopanDeb) July 18, 2016
8:58: Projection: Trump, Clinton in virtual tie in Electoral College. John Pudner, whose statistical models have proven to be correct over and over again in politics and sports, has Trump within 6 of Clinton in the Electoral College, according to his projections.
8:55: BREITBART's JOEL POLLAK: California Delegation to Republican Convention: Stop #NeverTrump
CLEVELAND, Ohio — California was the state where Ted Cruz was going to make his last, decisive stand against Donald Trump for the Republican nomination. Instead, the California delegation to the Republican National Convention is Donald Trump's doomsday weapon.

Read more here.
8:52: On "Morning Joe," GOP establishment super lawyer Ben Ginsberg says of the failed Never Trump movement, "it turns out it's easier to get publicity than votes" to cause trouble at the convention. Ginsburg says though the "Never Trump" forces may still try to cause some trouble, there is not going to be much tolerance for upstarts.
8:50: Paul Manafort slams Ohio Gov. John Kasich, whose team seems to care the most about appeasing the mainstream media and liberals more than anything else, for not attending the convention. He says Kasich is embarrassing the state during his round of interviews this morning.
Trump Campaign's Paul Manafort on Gov Kasich missing RNC: "Makes no sense. He's embarrassing his state" -no response from @JohnKasich yet

— Bret Baier (@BretBaier) July 18, 2016
8:47: Trump also says he will attend his wife's primetime speech:
On Fox, Trump previews his wife, Melania's speech at the RNC tonight, saying she will talk "about her love of the country"

— Holly Bailey (@hollybdc) July 18, 2016
8:45: In an interview with Fox News on Monday morning, Donald Trump slammed President Barack Obama's "body language" after three police officers were slaughtered in Baton Rouge on Sunday.
Trump said, "you just look at the body language. There's something going on. Look, there's something going on and the words are not often okay."  Trump said "there's just a bad feeling about him."
8:30: BREITBART's CHARLIE SPIERING in CLEVELAND:
Wet #RNCinCLE pic.twitter.com/eaTCuG3nOi

— Charlie Spiering (@charliespiering) July 18, 2016