"Woodstock: The Director's Cut," which Warner Brothers has just released in a splendid new Blu-ray package that includes all kind of extras (listed below) and a stunning widescreen transfer, did finally answer THE question I've always had about Woodstock: What is all the fuss about?
I never questioned the fuss over the music of Woodstock. With Jimi Hendrix, Joan Baez, Joe Cocker, Crosby, Stills & Nash, The Who, Jefferson Airplane, Sly and the Family Stone, Arlo Guthrie, and Janis Joplin on the ticket (and all included in the film along with a number of other musical artists), you can't question the music.
What I didn't understand is why the experience of Woodstock had such a profound effect on that generation. To the film's great credit, now I know. And I'm in no way being sarcastic.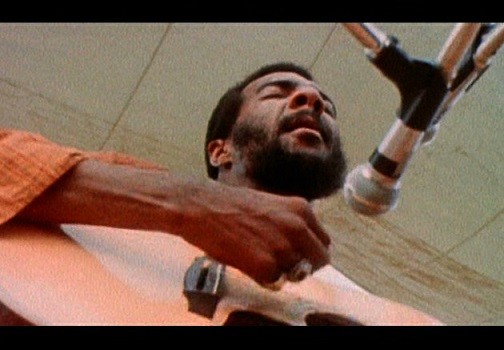 At 224 minutes — nearly 4 hours — director Michael Wadleigh does a superb job capturing those "3 days of peace and music" in mid-August of 1969 — most especially how those days unfurled in a bottle floating on a cloud and set to the perfect soundtrack.
Yes, the brown acid was bad and the rains came and there was too much mud, too few toilets, and probably not enough food and water… But for three days "it" worked — "it" being the boomer dream of a blissful communal existence.
Only 50,000 people were expected, 400,000 showed up. The result wasn't chaos, it was groovy. Everyone got along, cooperated, shared their food and drugs, got high, got laid, enjoyed an era of music 45 years has been unable to come close to, and cleaned up after themselves.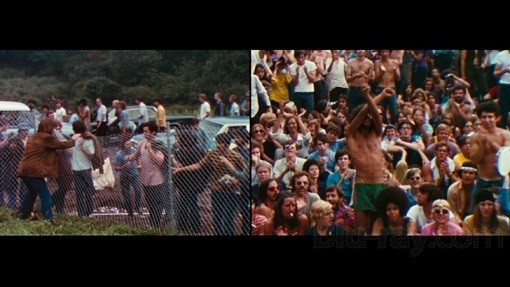 "Woodstock" does such a great job of capturing the essence of Woodstock, that you feel bad for these kids on that last day as they talk about having to get back to their crappy jobs and the hustle and bustle bullshit that will never stop being a part of real life. We've all felt this way as Monday looms large after a long weekend or great vacation. These kids, as misguided and unrealistic as they were/are, got a taste of their dream for three days and never would again.
 Knowing all this, as Hendrix (the last act) blazed through his set and the crowd thinned, I couldn't help but empathize.
Woodstock was also the end of the sixties, the last hurrah. Altamont was a mere 5 months away. The Manson family murders occurred just 10 days before Woodstock, and after the Los Angeles cops put the Helter Skelter together, the dark side of hippie life would never be forgotten.
Granted, there was also the plague of Woodstock; the dire consequence of those 400,000 being allowed back into the general population. How many new STDs — the gift that keeps on giving — came with them? How many formed a drug habit they would be passed on to a little brother or sister, and so on? How many unwanted, free-love pregnancies ended in unspeakable ways?
The genius of the movie is that even though you know this, you still get it.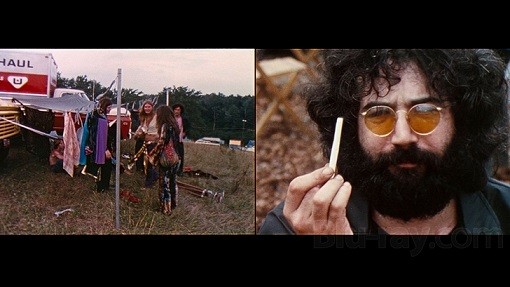 As a pure piece of filmmaking, "Woodstock" is extraordinary and won a no-brainer Oscar for Best Documentary. The editing (Martin Scorsese and Thelma Schoonmaker are 2 of 6 editors, including the director), the split screens, the sound mix, camera work, and the music work like a potion to take you back in time. In-between musical performances are fascinating and amusing clips of the mostly-stoned attendees, the overwhelmed townspeople (most of whom take the paralyzing crowds in good stride), and the festival organizers.  
"Woodstock" doesn't appear to whitewash anything. There was some sexual assault, drug overdoses, and an attitude towards sex and drugs that is libertine and therefore not at all sexy or appealing. But there's just no getting around the fact that in a community of 400,000, it was a remarkably peaceful and unforgettable event.
There was some magical about Woodstock; it wasn't good magic, it was sorcery, but the spell is real. 
"Woodstock 3 Days of Peace and Music 40th Anniversary Revisited The Director's Cut (Blu-ray)" is available for sale at WBSHOP.com.
Here are the extras:
11 Never-before-seen songs: • Crosby Stills and Nash: • Helplessly Hoping • Jefferson Airplane: Come Back Baby • Joan Baez: – Oh Happy Day – I Shall Be Released • Melanie: Mr. Tambourine Man and Tuning My Guitar • The Paul Butterfield Band: Everything's Gonna Be Alright • Santana: Persuasion • Sha Na Na: Book of Love • The Who: Pinball Wizard Plus rarely seen footage: • Marrakesh Express • Canned Heat: Woodstock Boogie • Country Joe and the Fish: Not so Sweet Martha Lorraine • Grateful Dead: Mama Tried • Jefferson Airplane: • Come Back Baby • Volunteers • Jimi Hendrix: Spanish Castle Magic • The Who: Sparks

Featurettes- · The Camera · 365,000 Feet of Film · Shooting Stage · The Lineup · Holding the Negative Hostage · Announcements · Suits vs. Longhairs · Documenting History · Woodstock: The Journey · Pre-Production · Production · Synchronization · The Crowd · No Rain! No Rain! · 3 Days in a Truck · Woodstock Effect · Living up to Idealism · World's Longest Optical · Critical Acclaim · Courtesy of The Museum at Bethel Woods: The Hog Farm Commune · Hugh Hefner and Michael Wadleigh: The Woodstock Connection
John Nolte on Twitter @NolteNC