Fnatic, one of the world's leading eSports organisations, has found itself embroiled in an internal dispute with its players following the inclusion of several clauses that appear to strip players of their image rights and even power of attorney.
Breitbart was sent a copy of the offending clauses in the contract, which was signed by the League of Legends and Dota 2 squads within the organisation but rejected by the CS:GO team, which include granting the organisation irrevocable use of image rights for the purposes of merchandising and, most shockingly of all, an agreement to let Fnatic act as the player's attorney in matters pertaining to sponsorships and merchandising. The agreement specifically grants the organisation the right to execute documents on a player's behalf. A copy of the clauses can be seen below.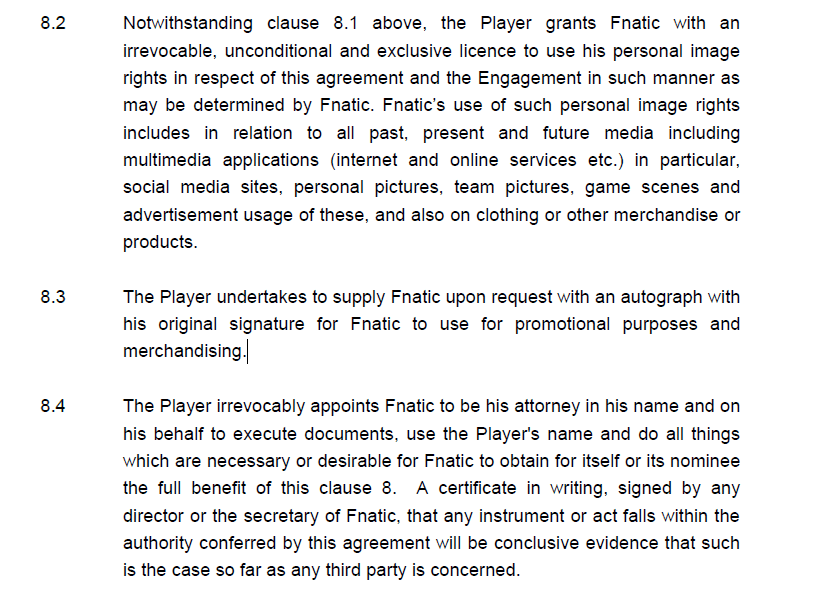 Player contracts in eSports have often come under scrutiny in regards to both fairness and legality. Even recently consultations with legal analysts have declared that some contracts do not protect a player's interests, often asking them to sign away image rights as a matter of course, or in some extreme cases may not even be legally binding based on how the contract is structured. ESports professionals very rarely have their own representation, where their sporting counterparts would have an agent, and often have to sign contracts in a rushed manner under threat of "missing out" on financial security.
Following some player push-back about these clauses, and what our source says are "fears that the clauses would be made public," Fnatic are currently revising their contracts to remove the power of attorney clause and to tone down some of the language used. As of the time of this report, the CS:GO team have been furnished with new drafts of the contract that remove the power of attorney clause, although it still includes a clause that sees the player "irrevocably and unconditionally" hand over rights to their in-game alias, likeness, and interests in any trademark. The League of Legends team is currently expecting a redrafting of their contract, leaving only the Dota 2 squad currently impacted by these clauses.
We reached out to fnatic to ask about the situation and their CEO Wouter Slijffers provided the following statement:
Although we feel that a contractual clauses are a matter between two parties, and would like to keep it as such, the context of the referred part of the contract has the intent to agree on the relationship between the player when it comes to promotional activities that have a commercial intent.

In practice, the referred part of the contract means that Fnatic will present opportunities that involves the individual player and will collaborate with the player vice versa. The referred contract clause's further intent is to prevent promotional or commercial activities that are prohibited by tournament / league organisers or publishers, as might at times be required by them.

eSports is growing, and we're very supportive of our players to grow professionally and make use of the opportunities that come with it, as well as we are for Fnatic as an organisation. It means that both parties have agreed on a way how this will work taking into account the above.

It also means that our contracts are subject to revisions, based on mutual agreement, to better reflect the interest of both parties when we see fit or when external bodies require us to do so. A contract can't always keep pace with changes around us.

And so in practice it means that a variety of topics are discussed and agreed on with our players and / or representatives on an ongoing basis, where any necessary amendments will be incorporated when both parties see fit, as can also the case for this contract. More recent versions of our players contracts don't have this clause included.
The players rejecting these clauses will be seen as one of the first public victories for improved player rights and control in a time when eSports is seeing record levels of investment. It will remain to be seen whether any similarly affected players will follow suit.
Follow Richard Lewis on Twitter @RLewisReports.