Noted Texas wildlife artist and conservationist, Herb Booth,72, was injured on November 26 when a truck he was driving wasstruck by a train at an uncontrolled crossing on a private road about 15 milesnortheast of Temple, Texas. Booth was seriously injured after the train draggedthe Dodge pickup truck he was driving about 600 yards.
Booth, a resident of the art community in Rockport Texas,was going hunting according to a Facebook post made by his son, Peter MacMillanBooth. He was carrying about 10 dogs for the hunt and had turned off IH-35 ontoa small road to let the dogs out for a run. He crossed the uncontrolledrailroad grade and was struck on the passenger side of the vehicle. "Tracks hadno flashing lights or barriers and he did not see (or hear) the train coming,"Peter Booth said on Facebook.
Booth was transported by air to Scott & White MemorialHospital in Temple, Texas where he was initially listed in serious condition accordingto the Waco Tribune. One of the hunting dogs was killed in the accident andanother was injured. The remaining dogs were placed in a shelter pending thefamily's arrival.
On Friday, Booth had surgery for a neck injury. Peter Boothsaid the surgery went routinely but after returning to his room, he suffered aheart attack. The hospital staff was able to revive him but he remained unconscious. "The status is that right after his surgery, hehad been is so much pain that he basically collapsed," he explained. "Hesuffered a cardiac arrest, and his body closed down. They revived him, but heis basically in a coma."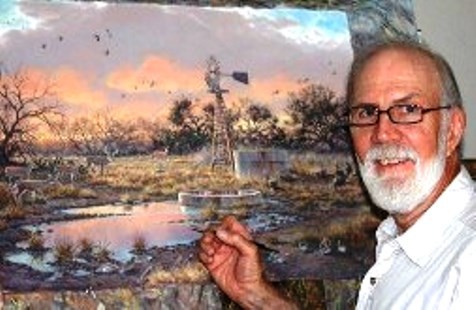 Herb Booth became famous in the Texas art world in the 1970swhen he exhibited his Texas coastal hunting and fishing watercolors. Hefrequently donated his original art, valued in the thousands of dollars, toorganizations like Ducks Unlimited and the Gulf Coast Conservation Association.Before becoming an artist, he was a naturalist and hunter according to his biography on hiswebsite.
This writer is one of the thousands of collectors of Booth'sartwork. He has been a friend of the family for decades. In his work forconservation of wildlife, Booth designed eleven conservation stamp prints thatare highly sought after by collectors. Mostly known for his watercolordepictions of the Texas coastal sporting scene, Booth also does other originalforms of graphic art.
Booth's son Peter asks for those who know and care about himto pray for his recovery. "Everyone keep praying," Peter Booth said. "He needsit." Earlier on Sunday, he said the MRI on his father shows brain injury on theright side of his brain. It cannot be determined how much damage was done orits lasting effects until he wakes up.
Bob Price is a senior political news contributor forBreitbart Texas and a member of the original Breitbart Texas team. Follow himon Twitter @BobPriceBBTX.