For over a century averaged temperatures in Texas have shown a steady decline during the first few months of the year. That was at least until recently when the historical data was "adjusted" to show warming instead.
Climate sceptic and blogger Steve Goddard shows how during the January-March period, post-hoc adjustments have been made to the existing data set, making clear upwards alterations from the middle of the last century onwards.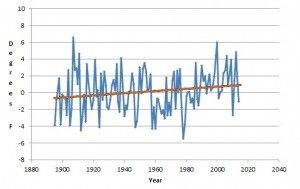 This is a common occurrence with climate datasets, as reported here on Breitbart previously. In theory, such alterations are justified by temperature recording station moves, upgrades and environmental factors (including new human constructions nearby). Such adjustments should even themselves out between hotter and colder changes over the longer term. In practice, however, the trend usually seems to be ineluctably – and conveniently – upwards.
Worse, a lot of these changes are made decades later, as can be seen here in the case of Texas. Custodians of the data working now in 2015 are simply too far removed from any circumstances that may have justified reconsidering the accuracy of data originally recorded in the 1960s (for example).
Goddard's blog, among others, has been tracking these patterns of alteration for years now. UK based sceptical blogger, Paul Homewood also produces regular assessments of altered temperature data as well as other relevant meteorological data such as rainfall. It is not just temperature data that is used as a political football in discussions of climate change after all.
It is noteworthy that bloggers are monitoring these changes to history and alerting us rather than the academic or scientific institutions we are told to trust implicitly on these matters. If we can't rely on their historical records why should we believe them about anything they have to say about the future?