A botched kidnapping in the Mexican State of Tabasco left eight dead after gunmen led police in a high-speed gun battle.
The failed kidnapping took place last week in the Mexican tourist hub of Villa Hermosa, Tabasco, when a group of gunmen in a gray truck tried to kidnap a man, Mexico's SinEmbargo reported.
A transit police officer tried to intervene but the gunmen shot him multiple times as they fled the scene. Following the botched kidnapping attempt the suspects then switched cars and got into a red Volkswagen Jetta. Authorities apprehended one of the suspects, a female gunman.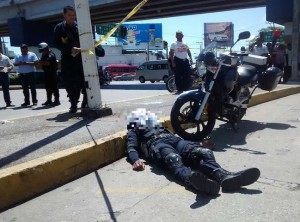 Authorities chased the Jetta but the gunmen opened up on one of the patrol cars and ended up killing two police officers. The Jetta continued traveling out of the city. Eventually, another shootout took place and the gunmen killed a third police officer. Shortly after that last shootout the driver of the Jetta lost control and crashed.
At the scene of the wreck authorities discovered the bodies of three men. They also discovered a female victim. Another man was discovered who was gravely injured as well. The man and the woman were rushed to a local hospital. Both of these victims died at the hospital.
The case has sparked some controversy after a series of photographs showed up on social media. The photographs depict the woman and another man in the back of a police truck. However, in other photos the bodies of the man and woman are seen in a brushy area.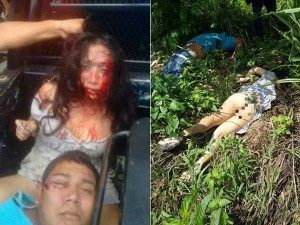 Ildefonso Ortiz is an award winning journalist with Breitbart Texas you can follow him on Twitter and on Facebook.