On December 15, 2010, most American families woke up and were wondering how close they were to completing their Christmas shopping. One American family, the family of U.S. Border Patrol Agent Brian Terry awoke to the horrific news that their loved one had been murdered while they slept. Five years later, that family still seeks the answers to what happened on that night in southern Arizona and justice for those in the government they believe are ultimately responsible for Brian's death.
On the night of December 14, Brian Terry was dispatched with his Border Patrol BORTAC team of elite tactical agents to track down a Mexican rip crew that had been working the area ripping off drug shipments and human smugglers. The team was nearing the end of its shift and would be going home in less than an hour, Fox News reported, when Terry's team encountered the rip crew. Court documents released in 2014 revealed that the agents identified themselves in Spanish as "policía" after a ground sensor announced the presence of the bandits. The agents observed muzzle flashes and two of the agents fired their less-than-lethal bean bag rounds.
At that point Terry was heard to yell out, "I'm hit! I'm hit! I can't feel my legs," Agent Gabriel Fragoza testified in the murder trial of Manuel Osorio-Arellanes. Agent William Castano also deployed his bean bag rounds and then heard Terry cry out. He rushed to his side to administer first-aid and Terry told him he was paralyzed and could not feel his legs.
The encounter began at 11:08 p.m. on the night of the 14th. Sometime after midnight, Brian Terry lost consciousness and died. This was to have been his final shift before flying home to his family in Michigan.
Since that time, it was learned that two of the weapons found at the scene were guns that were connected to the Bureau of Alcohol, Tobacco, Firearms, and Explosives' (ATF) Fast and Furious gun running program.
Of the five members of the rip crew, three men have been arrested, tried, convicted and sentenced in the murder of Agent Terry. Manuel Osorio-Arellanes, who was wounded in the gun battle with border patrol agents, was sentenced in February, 2014 to spend thirty years in prison, Breitbart News reported. Earlier this month, Breitbart Texas reported Jesus Leonel Sanchez-Meza and Ivan Soto-Barraza were sentenced to spend the rest of their lives in prison. Two other members of the rip crew still remain at large leaving many questions unanswered for Terry's family. In particular, the family is desperate to learn who in the government allowed the guns to be put in the hands of these murdering criminals and when anyone in the government will be held accountable.
Breitbart Texas interviewed Brian Terry's three siblings about the five-year anniversary of their brother's murder.
"It has been 5 years since Brian was killed in the line of duty in the desert outside of Rio Rico, AZ,"  Brian's older sister Michelle Terry-Balogh told Breitbart Texas. "To date, only members of the foreign criminal element responsible for his death have been held accountable while members of the U.S. Government directly responsible for equipping them through Operation Fast and Furious have only been moved or promoted. Our family is dedicated to getting the answers that all of us as Americans deserve, as well as continuing to keep Brian's legacy alive and in the forefront."
Brian's big brother, Kent Terry has been very outspoken over the years about the role played by the federal government in his brother's murder. In February, 2014, Kent wrote a scathing letter to then U.S. Attorney General Eric Holder asking "Where is the accountability?" Kent released the letter to Breitbart New's Matthew Boyle who reported the older Terry brother's words.
"I am not pleased with your behavior as America's Attorney General," Kent wrote. "Simply denying that you had no knowledge about Operation Fast and Furious is troubling in itself, but for you to not comply with Congress is even more troubling. It is shocking to know that the Attorney General of the United States had no knowledge or was not made aware of Fast and Furious until after the death of my brother, Brian Terry."
Nearly two years later, no one has yet been held accountable inside the federal government.
"As you know," Kent began in his comments to this writer, "there still isn't any accountability with the ATF, ATF agents, the FBI, DEA or IRS for their roles in putting guns in the hands of these criminals. We have asked for a meeting with the new Attorney General, Loretta Lynch, to demand this accountability and we are still waiting. Congress needs to set laws to hold federal agencies and agents accountable for death in the future.
"Brian loved and honored this country," Kent said sadly. "Where is his honor in return?"
"So the question I ask is why hasn't there been any justice for my brother?," he asked, "and has the House and Senate forgotten about justice for Brian."
Perhaps no one could feel the loss of a loved one more than a baby sister who has to bury her big brother.
Brian's baby sister is Kelly Terry-Willis. Kelly and her high-school friend and Texas teacher Wendy Colburn-Blanco recently completed a labor of love and released a children's book in memory of their slain brother and friend. The book, "You Are My Hero" tells the story of a young Brian Terry and the hard work and perseverance he put into competing in a spelling bee competition as a boy. The book, available on Amazon.com, was released to raise funds for the Brian Terry Foundation established to help the families of Border Patrol agents who are killed in the line of duty.
"Five years and it still feels like it was yesterday," Kelly told Breitbart Texas on the eve of this anniversary. "Brian has touched so many lives before and after his death. The one thing I am grateful for is the unwavering support from so many people. If I could thank each one personally I would."
"I miss Brian more than words and I pray complete justice for him happens soon," she added.
Words of support poured into the Facebook pages of Michelle, Kent, Kelly and Brian's mother Josephine Terry throughout the days leading up to this fifth anniversary of the death of their brother and son.
Brian's cousin Tricia Krzak wrote, "Brian was taken horrendously from his family and friends. My heart is with my family on this and every difficult day since his murder." She posted these photos of her cousin on Facebook.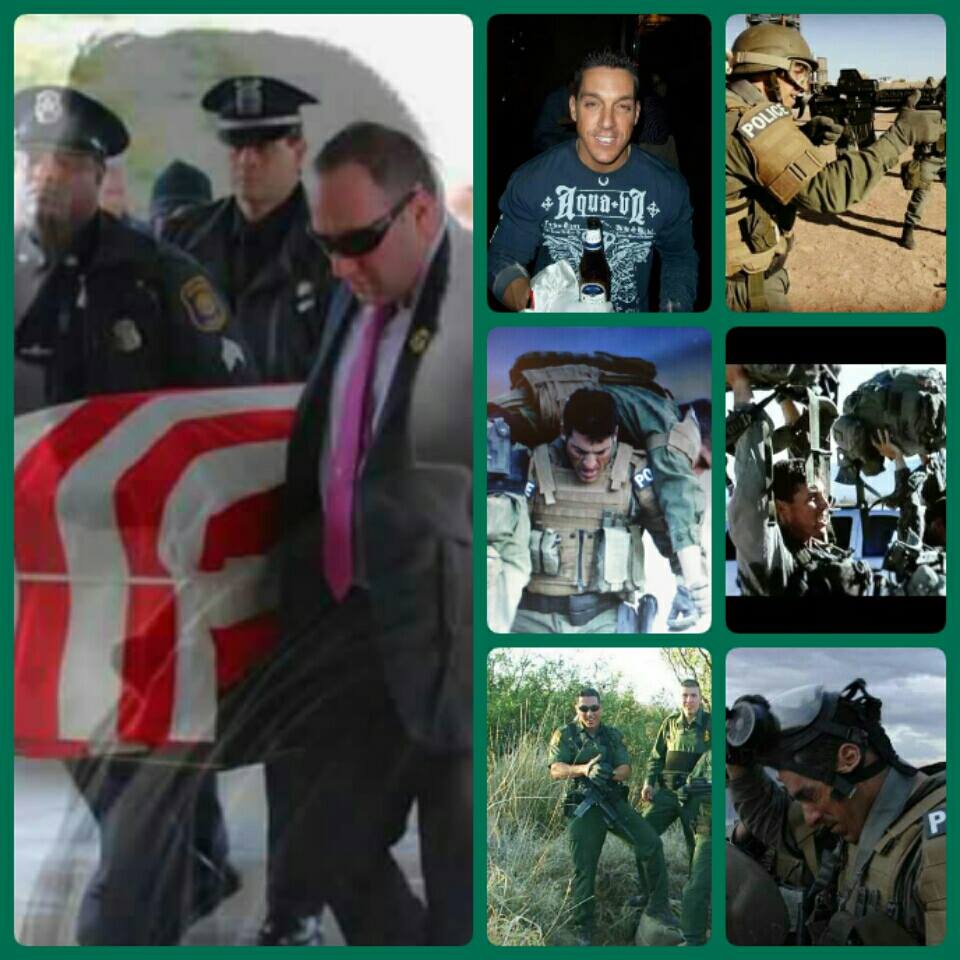 Kelly expressed her gratitude on her Facebook page for all who have expressed their support, not only on this anniversary, but throughout the ordeal her family has been put through.
Five years later. We have celebrated Brian so many times that it warms my heart.This is a little something of past friends and ones we met along the way at events held to honor Brian. I thank all of you with every ounce of my being! We will keep fighting.

Please also pray for his team that was there when he took his last breath and the Border Patrol family.
Before his death, Brian Terry penned a prophetic poem titled, If Today Is to Be the Day… So Be It. The following video presents that poem:
Bob Price serves as associate editor and senior political news contributor for Breitbart Texas and is a member of the original Breitbart Texas team. Follow him on Twitter@BobPriceBBTX.