At least eleven are dead after tornadoes hit Texas near Dallas. The deadly storms left massive destruction in their wake and officials are still assessing the damage and death toll. Thousands are without power.
More severe weather is predicted in Texas as blizzards and snowstorms are expected to hit.
According to the Associated Press, Dallas was struck by several tornadoes leaving vehicles and trees toppled, roofs ripped off homes, and power lines and natural gas lines creating deadly hazards. A full assessment of the damage cannot be done until after Sunday morning.
Eight dead after Saturday night North Texas tornado outbreak https://t.co/Lgr6jvQY51 pic.twitter.com/OAsCyQsxUK

— FOX 4 NEWS (@FOX4) December 27, 2015
There was also a large tornado reported on Saturday evening just south of Dallas in DeSoto, Texas. A tornado hit eastern Ellis County immediately south of DeSoto shortly later. Eight people lost their lives in Garland, Texas, when they were caught up in the storms while on Texas roads on Interstate 30 and the George Bush Turnpike. The Dallas Morning News also reported that about two square miles to the southwest and northeast of the interstate and the turnpike was devastated by a tornado around 6:45 p.m. About 600 buildings were reported to be damaged or leveled. Most of these were single-family residences. Lt. Pedro Barineau in Garland told reporters at a press conference on Sunday morning, "So many families have been impacted by this." He added, "Such a devastating thing."
11 people killed in north Texas tornado. 8 died in #garland 600 buildings/homes damaged in city-limits. #tornado pic.twitter.com/OZEwkG7cPJ — Marcus Moore (@MarcusMoorewfaa) December 27, 2015
The Dallas newspaper is reporting that law enforcement officials have requested more first responders from cities and towns nearby pursuant to the Dallas County Mutual Aid agreement.
Three died in Collin County, north of Dallas. Two died in Copeville, and an infant was killed in Blue Ridge, county officials reported.
There were reports of damage and injuries in Rowlett, Texas, a city near Garland, and folks took to Facebook to post photos of lost pets. A Facebook page called "Rockwall Pets" is full of posts of folks looking for lost pets and of folks who have found pets.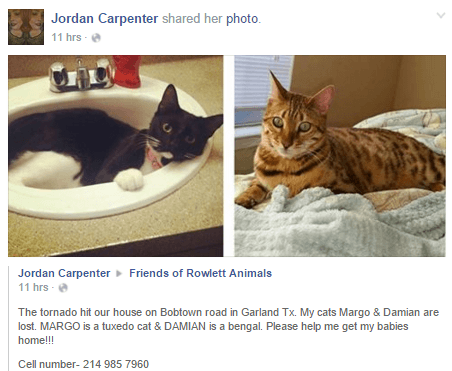 A police spokesman in Rowlett, Deputy Cruz Hernandez was reported to say, "[W]e are still in the search and rescue mode." He explained, "We still have some homes that have been demolished and not everyone in the homes has been accounted for." The Morning News reported that scanners indicted that Lake Pointe Medical Center had reached capacity last night and was diverting ambulances to a hospital in Rockwall.
The Red Cross was reported to be providing shelters for those who need a place to stay after the storm. "I think everyone understands now the gravity of what happened," Anita Foster, a spokeswoman for American Red Cross of North Texas, told WFAA television.
Dallas County Judge Clay Jenkins was reported to say he would be signing a local disaster declaration for the county because of all of the damage.
Texas Governor Greg Abbott tweeted, "We have mobilized Texas Task Force 1 @txtf1 to help respond to weather emergencies. Please follow local authority warnings. #txlege
We have mobilized Texas Task Force 1 @txtf1 to help respond to weather emergencies. Please follow local authority warnings. #txlege

— Greg Abbott (@GregAbbott_TX) December 27, 2015
Lana Shadwick is a writer and legal analyst for Breitbart Texas. She has served as an associate judge and prosecutor. Follow her on Twitter @LanaShadwick2