A memorial service for police K9 officer Jethro, who was killed in the line of duty, was held on Thursday.
The German Shepherd, badge number #60, was shot three times when he and a police officer responded to a burglary alarm early Saturday morning at a food store. He was shot in the face, shoulder, and neck.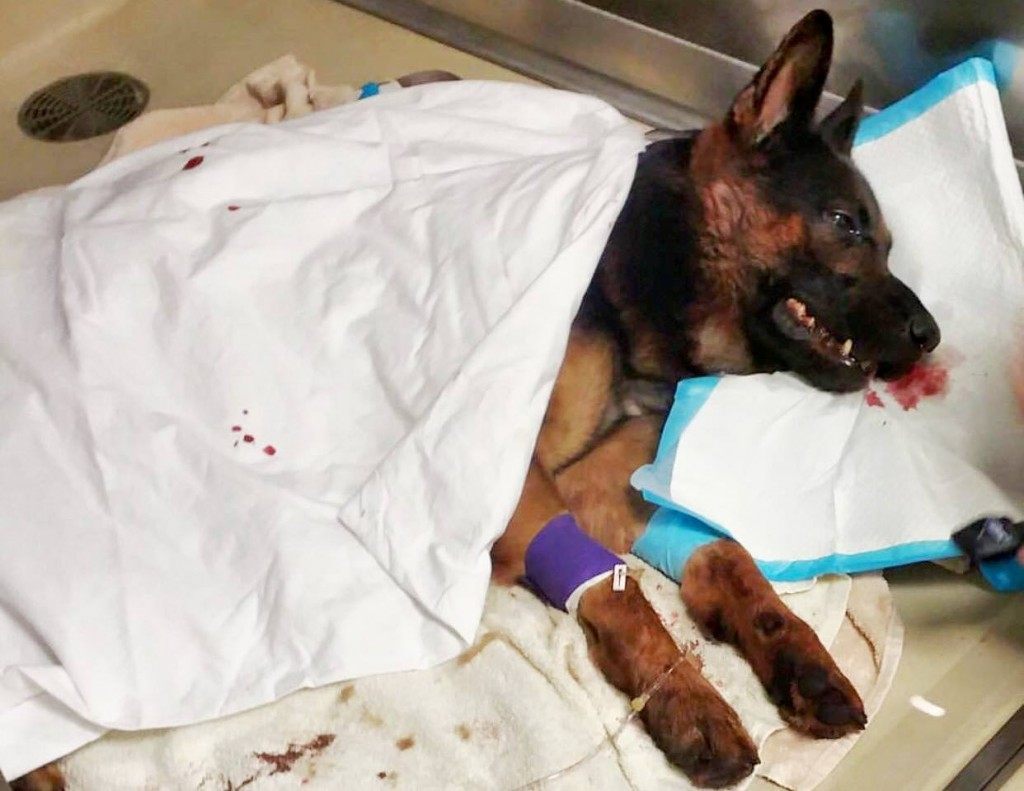 Jethro's partner, Canton Police Officer Ryan Davis, told Fox 8 News, "There is no doubt in my mind that I am here because of what he did." The officer said he has had Jethro since he was eight weeks old and feels like a part of him is missing. He was presented the American flag that had been on Jethro's casket.
Officers from the Canton Ohio Police Department thought Jethro would pull through. His trainer said his blood pressure was high.
The Canton Police Department announced on its Facebook page on Sunday morning, "It is with heavy hearts that we must tell you all that we lost Jethro. He took a sudden turn for the worse and has passed."
The memorial was broadcast live on Fox8 News in Ohio. Hundreds came from all over to attend the service. Over 100 K9 officers walked alongside their partners and the barks of the K9s were emotionally wrenching.
The service was held at the Canton Civic Center in Canton, Ohio. Ohio Governor John Kasich ordered flags to fly half-staff in honor of the K9.
Kristi Schiller of K9s4COPS immediately received the notification alert that K9 Jethro was shot in the line of duty. She receives updates like that, and perhaps 50 to 60 others daily around the clock. These email alerts involve notifications of shootings, and about drugs these canines confiscate.
Schiller immediately reached out to the Canton Ohio Police Department to offer condolences and to ask about what her foundation could do to supplement the K9 unit. "K9s4COPs knows K9 Jethro can never be replaced, he was very special and will be remembered as one of a kind. K9s4COPs intends to supplement the Ohio agency so their ability to fight crime does not become an issue," Schiller told Breitbart Texas in an interview.
K9s4COPs, a non-profit based in Houston, Texas, was founded in 2011 by philanthropist, Kristi Schiller. The non-profit places trained canines with law enforcement agencies that are hard pressed to fund their canine units due to budget constraints. Since its inception, Schiller's organization has gifted an excess of 100 canines in 29 states and twelve schools. Most recently K9s4COPs granted a dog to Paris, France, when K9 Diesel lost his life in the November terrorist bombing attack.
The K9s4COPS founder told Breitbart Texas, "These brave dogs are not only partners they are truly family members. An officer and their K9 partner spend more time together than any other typical relationship in law enforcement." She said K9 Jethro was killed in the line of duty in Ohio, protecting his handler, Canton K9 Officer Ryan Davis. "Jethro gave his life for his handler without hesitation. There are no words that can truly describe the depth of loyalty in which these dogs will go to protect the ones they love," she said.
#NYPD #ESU #K9 POs Colecchia/Rich/Wicelinski support @CantonOhioPD today at the mourning service for #K9 "Jethro" pic.twitter.com/sWSr3oz2Th

— NYPD Special Ops (@NYPDSpecialops) January 14, 2016
Schiller says that a police service dog is a very important tool for a law enforcement agency. "Police canines are very efficient and can accomplish a task that could take several officers much longer to do. Any accomplished law enforcement agency comprehends how vital a well-trained K9 team can be to their department in keeping the community safe."
A canine's inherent senses, agility/speed, courage and other attributes augment the officers ability to apprehend criminals, locate missing persons and detect explosives and narcotics much more efficiently. Canines are also utilized as ambassadors in various roles of community service. There is no machine that has been manufactured that can mimic a dog's instinctive capabilities. A canines nose is up to a hundred thousands of times stronger than a humans, she explained.
The local Fox affiliate reported that the man accused of shooting Jethro is 22-year-old Kelonte Demorious Barefield. Barefield was treated for injuries he sustained the day of the burglary. He was shot in the leg. He is now being held at the Stark County jail and is expected to be brought to court on Friday.
Barefield has been charged with aggravated burglary, assaulting or harassing a police dog, felonious assault on a peace officer, and having weapons under disability and shooting on or near a prohibited area, reported Fox 8 in Cleveland.
Ohio Revised Code 2921.321 provides, "No person shall knowingly cause, or attempt to cause, physical harm to a police dog or horse in either of the following circumstances: (1) The police dog or horse is assisting a law enforcement officer in the performance of the officer's official duties at the time the physical harm is caused or attempted; (2) The police dog or horse is not assisting a law enforcement officer in the performance of the officer's official duties at the time the physical harm is caused or attempted, but the offender has actual knowledge that the dog or horse is a police dog or horse."
If the violation results in the death of the police dog or horse, the assault is a felony of the third degree. If the violation results in serious physical harm to the police dog or horse other than its death, the assault is a felony of the fourth degree. If the violation results in physical harm other than death or serious physical harm, the assault is a misdemeanor of the first degree.
Thursday would have been Jethro's third birthday.
Lana Shadwick is a writer and legal analyst for Breitbart Texas. She has served as an associate judge and prosecutor. Follow her on Twitter @LanaShadwick2