The wife of the criminal judge who had to recuse himself from the Texas Attorney General Ken Paxton securities fraud case joined with Dallas Morning News reporter Lauren McGaughy on a Facebook post on Tuesday to seemingly criticize Paxton. The judge's wife seemed to suggest a legal remedy against his communications staff.
Cissy Collier Oldner, wife of Judge Chris Oldner, previously created a media and legal stir when she allegedly leaked secret grand jury information about indictments against Paxton.
Collin County District Court Judge Chris Oldner, recused himself from the case on July 29 after his wife was reported to be engaging in communications about indictments that were still sealed. The alleged breach of grand jury secrecy by the judge resulted in his wife's discussing the grand jury's indictment with  Susan Fletcher, a Collin County commissioner. His wife is accused of engaging in telephone conversations about the subject days before the indictment was made public.
Motions to dismiss and exhibits (including an affidavit from Fletcher) filed by Paxton's lawyers allege that Mrs. Oldner telephoned Commissioner Fletcher at approximately 4:18 p.m. on July 28, 2015, telling her that "the Grand Jury indicted Paxton that day and the case was assigned to her husband's (Judge Oldner's) Court." It also states that "At approximately 5:30 p.m., Ms. Oldner again called Ms. Fletcher and told her '… that I was not supposed to tell anyone about Mr. Paxton's indictment and that it could not be discussed until the Indictment was unsealed on August 14."
Paxton's defense lawyers assert that none of this information should have been made public until August 3 when the indictments were unsealed in open Court. They say that the indictments were "locked up" by the District Clerk at approximately 5:05 p.m. on July 28.
Cissy Collier Oldner is also accused in defense counsel exhibits of engaging in text messages with the commissioner about Paxton prior to the indictments. She acknowledged "gloating" about Paxton's criminal legal problems. A timeline of the alleged text messages are reproduced as a part of Commissioner Fletcher's affidavit attached to defense motions.
After Oldner was recused, Tarrant County Judge George Gallagher was appointed to preside over Paxton's criminal trial.
Judge Oldner is not running for office again in Collin County, instead he chose to run statewide for the Texas Court of Criminal Appeals, Place 2. Collin County District Clerk Andrea Stroh Thompson resigned her position and ran for Oldner's bench on the 416th District Court. She is now in a run-off with Michael Puhl. Oldner came in last place in the Republican primary race for the Texas Court of Criminal Appeals statewide with 25.15 percent of the vote, and in his hometown of Collin County with 20.80 percent. His two Republican opponents are facing a run-off election in May.
Cissy Oldner, has once again made comments relating to the Texas Attorney General. This time they were made on social media.
On Tuesday morning, Mrs. Oldner commented on a Facebook post made by Dallas Morning News reporter Lauren McGaughy. McGaughy was criticizing Paxton's communications staff for not responding to her inquiries. Oldner posted, "Don't they have to answer because of FOIA?" "FOIA" is an acronym for the Freedom of Information Act.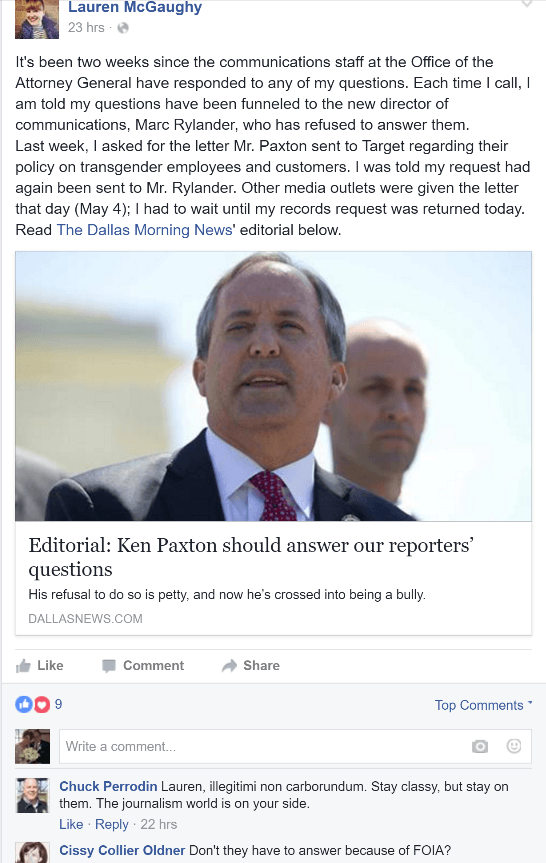 Paxton's lawyers have filed briefs urging that Judge Oldner acted beyond the scope of proper legal authority by going into the grand jury room when they were deliberating about Paxton, and by asking during the jury selection process for potential grand jurors who were willing to serve on the case.
Oral arguments in Paxton's case before the appellate court urging these issues and others are being heard on Thursday morning at the Fifth Court of Appeals in Dallas.
Paxton pleaded not guilty to indictments that many have called a political witch-hunt because of the players involved. Rep. Bryon Cook (R-Corsicana) and businessman Joel Hochberg are complainants in the indictments. Cook is chairman of the powerful State Affairs Committee and is said by opponents to be a close lieutenant to Speaker Joe Straus. Hochberg is a close business associate of Chairman Cook. Paxton ran against Straus as speaker before he was a Texas state senator.
Paxton has been indicted for two counts of first degree securities fraud and one count for failure to register as a securities agent. Both offenses are felonies.
Editor's Note: This article has been updated.
Lana Shadwick is a writer and legal analyst for Breitbart Texas. She has served as a prosecutor and associate judge in Texas. Follow her on Twitter @LanaShadwick2