A Conroe, Texas, man who is accused of staving over 200 horses on his ranch is suing a couple who allegedly took five of the horses without paying for them. The man was charged in 2015 with animal cruelty.
Herman Hoffman, and his wife Kathleen, were arrested in June 2015 on misdemeanor animal cruelty charges, Breitbart Texas previously reported. Officials with the Houston Society for Prevention of Cruelty to Animals (HSPCA) responded, along with police, to a complaint about the starving horses. A Montgomery County court ordered the seizure of the emaciated animals.
Mr. Hoffman now claims that Leslie "Buddy" Maybin and Kelly Maybin took five of those horses without paying for them, the Conroe Courier reported. He says they agreed to pay for the horses but have not.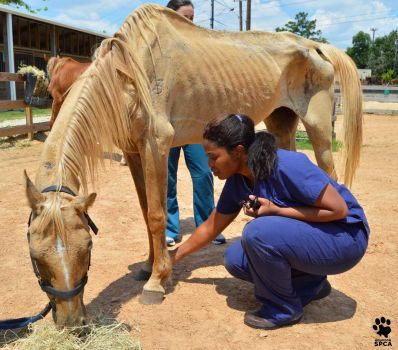 Hoffman claims he made an agreement with the Maybins to sell them nine horses for $150,000. He said that Buddy Maybin came and picked up five of the horses on June 23 but did not pay for them. He claims the man promised to bring the money the following day.
Hoffman and his wife were charged with 20 counts of cruelty to livestock animals, a Class A misdemeanor. He was also charged with a third-degree felony of tampering with physical evidence for allegedly removing the five horses. That charge could land him in jail for up to 10 years, The Courier reported.
A police affidavit in support of the misdemeanor case reveals that a police officer pulled over Maybin at 2 a.m. on June 24 while he was moving the five horses. That affidavit states that Maybin claimed Hoffman told him to come pick up the horses and pointed out which five horses to take. Hoffman denies this allegation.
The lawsuit seeks the return of the five horses or payment. He is also seeking punitive damages for $120,000.
The District Attorney's Office in Conroe states the lawsuit will have no impact on the criminal cases.
Bob Price serves as associate editor and senior political news contributor for Breitbart Texas and is a member of the original Breitbart Texas team. Follow him on Twitter @BobPriceBBTX.