On the morning of the execution of over 50 people in an Orlando, Florida, gay night club, Texas Lieutenant Governor Dan Patrick tweeted this Bible verse – "Do not be deceived: God cannot be mocked. A man reaps what he sows."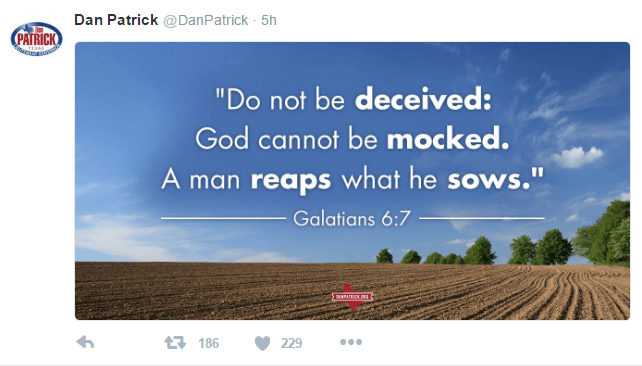 The Lt. Gov. sent the tweet at approximately 7 a.m. The tweet was subsequently deleted at about 11:30 a.m.
Approximately one hour later, the Texas Lt. Governor tweeted "Have a Blessed Sunday!" which included a verse from Psalms in the Bible – "The Salvation of the Righteous Comes From the Lord; He is Their Stronghold in Time of Trouble.":
Have a blessed Sunday! pic.twitter.com/RaoitzD7fV

— Dan Patrick (@DanPatrick) June 12, 2016
Frank Gaffney of Breibart News reported that at 2 a.m. on Sunday morning, Omar Mir Seddique Mateen, a U.S. citizen born from Afghan parents, opened fire in the Pulse club with an automatic weapon. He killed at least 50 persons and also wounded over 50. Early reports said that the FBI suspects that the shooter may have "leanings towards radical Islamic terrorism."
As reported by Breitbart News, authorities are saying that the assault at the Florida gay nightclub has resulted in the highest body count from a terror attack on American soil since 9/11/01.
Mir Seddique, the father of suspected Omar Mateen told NBC that "This had nothing to do with religion." As reported by Breitbart News, Mateen's father added that his son had gotten angry when he saw two men kissing in downtown Miami a couple of months ago and that he thought that may "caused this."
Following news reports and criticisms of Patrick's tweet, the Lt. Governor responded to questions about the posting through his political consultant, Allen Blakemore:
Lt. Governor Patrick and every Texan is stunned and saddened by the outrageous act of domestic terrorism that has occurred in Orlando. He and Jan are praying for the victims, their families and their friends.

Regarding this morning's scripture posting on social media, be assured that the post was not done in response to last night's tragedy. The post was designed and scheduled last Thursday.

The Lt. Governor is traveling out of the country, but our social media team has deleted the posts and graphics. We regret the unfortunate timing of these posts and ask everyone to join us in praying for the people of Orlando in this awful time.
Time Warner News' Political Reporter David Cawton tweeted "Most pre-scheduled posts have the caption "Have a blessed Sunday", at least recently. The tweet in ? did not."
Most pre-scheduled posts have the caption "Have a blessed Sunday", at least recently. The tweet in ? did not. pic.twitter.com/5JbOoXwmp2

— David Cawton (@DavidCawton) June 12, 2016
Postings and comments about the Lt. Governor's tweet were number 5 on Facebook's trending list as of 1:45 p.m. on Sunday afternoon. The response on Twitter has been mostly harsh and critical.
As noted prior to Patrick's official response, Texas politicians frequently tweet Bible verses and other spiritual messages on Sunday morning.
Editor's Note: This article was updated with a screenshot of the Lt. Governor's Twitter posting after it was deleted from Twitter and following an official response from the Lt. Governor's political consultant.
Lana Shadwick is a writer and legal analyst for Breitbart Texas. She has served as a prosecutor and associate judge in Texas. Follow her on Twitter @LanaShadwick2.