CIUDAD VICTORIA, Tamaulipas — Cartel gunmen hacked to pieces the relatives of one of their rivals. The gruesome execution marks the latest horrific chapter in the ongoing war for control of this city.
This week, cartel gunmen left two large trash bags outside of a home in a poor neighborhood in this city. Authorities responded to the scene and found the bodies of an older man and a woman. The names of the victims have not been released, but both victims are believed to be the relatives of a cartel boss known as "El Borrado"; the man is the regional leader for the Cartel Del Noreste (CDN) faction of the Los Zetas in Nuevo Leon.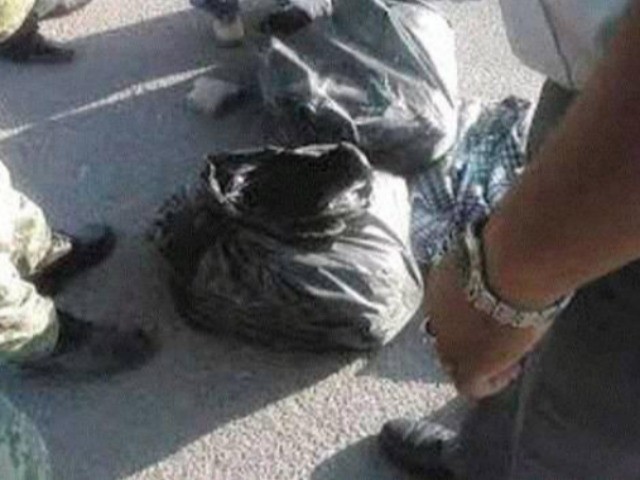 The gruesome murder marks the latest chapter in the daily acts of extreme violence between gunmen from CDN and their rivals known as Vieja Escuela or Grupo Bravo. As Breitbart Texas has been reporting, the two cartel factions have been at war for more than eight months. The fighting has resulted in almost daily kidnappings, shootings, executions, beheadings or dismemberments that have spread terror throughout this city.
Soon after the gruesome discovery, members of the Grupo Bravo took to social media to spread a message warning the relatives of other CDN members to leave Ciudad Victoria or face a similar fate. In the message, Grupo Bravo accuses the CDN of murdering innocent victims.
On Tuesday night, cartel gunmen pulled up to two separate homes and began spraying gunfire inside. Moments later the gunmen placed a green poster board telling the families inside to leave the city.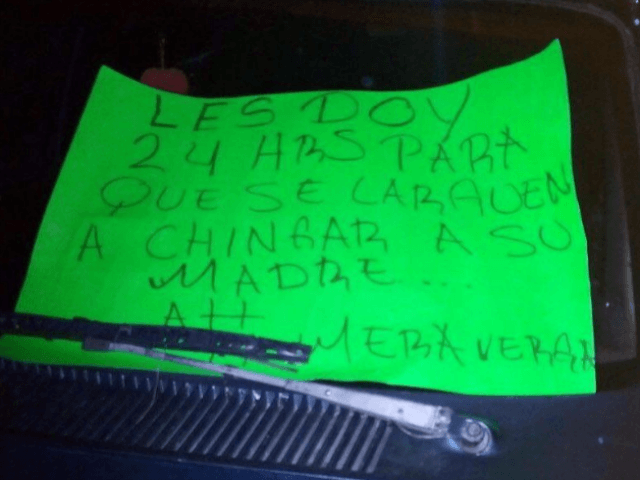 The gunmen fled the area but Tamaulipas police officers spotted them and tried to stop them. After a short chase, the gunmen crashed against a parked vehicle. Two gunmen got out of the vehicle and managed to run away before police could catch them. Authorities managed to seize various weapons inside of the vehicle.
Citizens have begun a self-imposed curfew, where most individuals lock themselves inside their homes after dark as the gunmen continue to carry out gun battles on an almost daily basis.
Editor's Note: Breitbart Texas traveled to the Mexican States of Tamaulipas, Nuevo Leon and Coahuila to recruit citizen journalists willing to risk their lives and expose the cartels silencing their communities.  The writers would face certain death at the hands of the various cartels that operate in those areas including the Gulf Cartel and Los Zetas if a pseudonym were not used. Breitbart Texas' Cartel Chronicles are published in both English and in their original Spanish. This article was written by "M.A. Navarro" from Ciudad Victoria.