A leading Dallas police officers association will be able to provide substantial financial support to the families that lost loved ones during the Black Lives Matter protest in early July with the help of a veteran-founded apparel company.
The Dallas Fallen Officer Foundation (DFOF) told Breitbart Texas that, thanks to its grassroots fundraising efforts with small businesses around the nation, it will succeed in providing at least $50,000 to each of the families who lost a police officer during the July 7 attack carried out by Micah Xavier Johnson. A key backer of the Foundation's mission to support the bereaved was Illinois-based clothing company Grunt Style, founded by U.S. Army Veteran and Drill Sergeant Daniel Alarik. The 90-employee company managed to raise $200,000 through proceeds generated by an exclusive t-shirt to honor the fallen north Texas officers.
"When you serve in the military, you never lose the commitment to support your brothers and sisters that put their lives on the line every day to serve our country," Alarik said.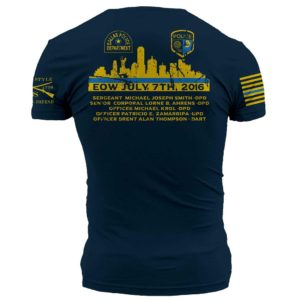 DFOF President and Dallas PD Sergeant Demetrick Pennie added that Grunt Style's "dedication and passion for our country and those that have served is unmatched."
The $200,000 initiative was a passion project of a Grunt Style employee that previously served as a police officer and Army combat veteran. The company explained that the DPD/DART memorial shirt "was the fastest-selling shirt" since its founding in 2009. Orders for the limited item have since closed and it is unclear if they will be re-opened in the future.
Sergeant Pennie hopes the grassroots fundraising strategy will help achieve the organization's goal of providing an additional $25,000 to each of the nine injured Dallas PD, Dallas County Community College and DART officers.
The uplifting news follows renewed protest efforts from local Black Lives Matter activists hoping to re-focus public attention on "police brutality" again, according to recent reporting from Breitbart Texas. A protest was observed on the evening of July 29 despite the continued grieving of the Dallas police and the community at large. The DFOF argued:
"The DFOF is extremely concerned with the safety and well-being of the police officers. A little over a week ago, we laid our brothers to rest and many police officers still have not had an opportunity to process and reflect on those losses. This scheduled protest reflects the disconnect that currently exists with Black Lives Matter and police concerns for public safety."
Grunt Style is slated to personally deliver the funds to the Dallas Fallen Officer Foundation on the morning of August 2 at Union Hall.
This post has been updated to include images from the donation ceremony.
Logan Churchwell is the Assistant Editor and a founding member of the Breitbart Texas team. You can follow him on Twitter @LCChurchwell.