EDINBURG, Texas — Law enforcement officials from this border region are coming together to help their fellow officers that have lost their homes to the flooding in Louisiana.
Over the weekend off duty law enforcement officers started a collection drive to help the first responders who continue to carry out rescue efforts and peace-keeping duties in Louisiana as the state tries to deal with the recent flooding. The groups South Texas Sheepdogs and Family in Blue will load the collected items on a trailer and take them to Baton Rouge early next week.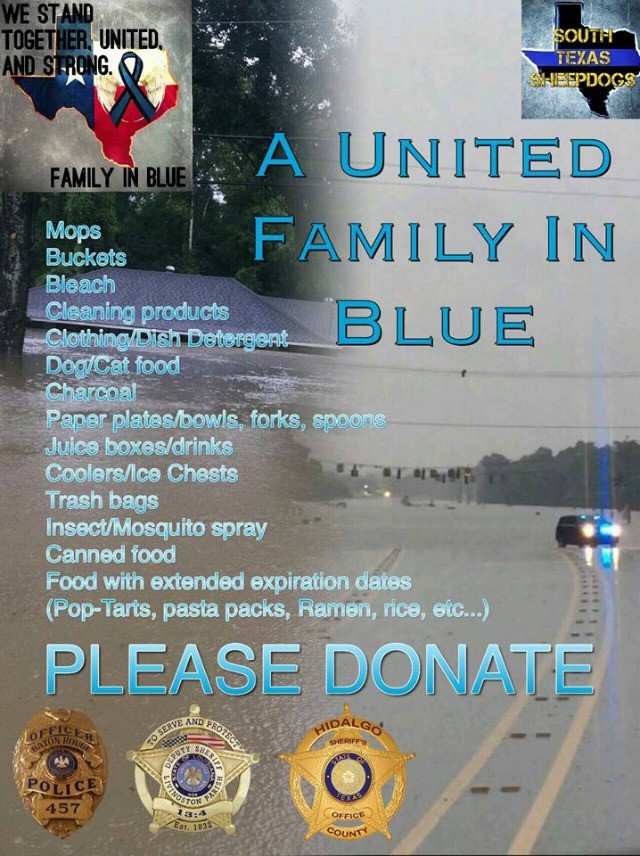 As Breitbart Texas previously reported, Family In Blue is a group made up of relatives and friends of law enforcement officials that work to promote pro-law enforcement causes, suicide awareness and help officers going through rough times. Tthe group has previously held fundraisers to help officers battling cancer. They have also been behind promoting the "In God We Trust" motto being used on various patrol cars around the area. "Most of the sheriff's deputies in Baton Rouge have lost their homes," said Ricardo Garcia, the spokesman for South Texas Sheepdogs/Family in Blue. "Instead of working on their homes, like the sheepdogs they are, they have been out there continuing the operations and the rescue efforts."
Sheriff's deputies from Hidalgo County contacted their counterparts in Baton Rouge beginning last month. The communication came after, as Breitbart News reported, a shooter later identified as Gavin Long carried out a terrorist attack targeting police officers where he shot six of them. Three police officers died in the attack.
Long used a Tavor rifle instead of the more common AR-15 used by most law enforcement agencies. Since Hidalgo County is one of the agencies using the Tavor as their issued rifle for patrolmen and tactical teams, members from the Baton Rouge tactical team began to talk with their counterparts in Texas.
"That's how the communication started," Garcia said. "When the flooding began we asked 'how you doing' and their answer was sad. They told us they had lost 70 units doing rescues, that most of their deputies are now homeless and that 87 percent of the homes in the county are at a 100 percent loss."
After hearing the news, Garcia called his fellow group members to find out how to best help. While the collection drive is being carried out on short notice, the need by the law enforcement officials in Louisiana is immediate, he said.
"Our own thing is those first responders in Baton Rouge — they spend all day helping the community while their own homes are left unattended," Garcia. said. "We wanna get over there as soon as possible and get them the supplies they need. We also are planning on spending a few days there and helping them gut their houses, clean their properties and anything else they may need."
Ildefonso Ortiz is an award winning journalist with Breitbart Texas you can follow him on Twitter and on Facebook.