The discovery of a possible Listeria contamination has led to the recall of a portion of the Eggo Waffle product line made famous by a little boy and girl yelling "L'eggo my Eggo" at each other.
The Kellogg Company has issued a voluntary recall of approximately 10,000 cases of Kellogg's® Eggo® Nutri-Grain® Whole Wheat Waffles after discovering the batch may have been contaminated by the Listeria monocytogenes bacteria, according to a press release obtained from the Kellogg Company by Breitbart Texas. The company noted the recall was made following a routine test that identifies "the potential for contamination." It also stated that there have been no reported illnesses attributed to their product.
The recalled products can be identified by the "Best If Used By Date" of "Nov 21 17" or "Nov 22 17" and by the following packaging labels: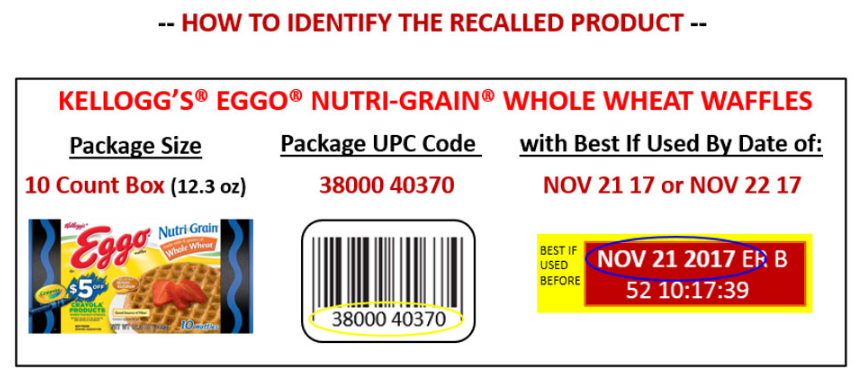 The Kellogg Company noted the date code is located on the side of the package.
The company said it moved quickly following the test results and identified the foods that might be impacted. Officials stated they have taken action to resolve the issue.
If you discover the potentially contaminated product, Kellogg officials ask that you discard the product safely and contact them for a full refund. The Kellogg Company can be reached at 1-800-962-1413, Monday through Friday, 9 a.m. to 6 p.m. You can also visit the company's website for more information and to make a claim.
The potentially contaminated products were distributed to retailers in 25 states. Those states include: CO, CT, DE, GA, IA, IL, IN, KS, MA, MD, ME, MI, MN, MO, ND, NE, NH, NJ, NY, OH, PA, VA, VT, WI, and WY.
The Listeria monocytogenes bacteria can cause serious and sometimes fatal infections, Kellogg officials stated. Young children, frail or elderly people, or others with weakened immune systems are most at risk. With healthy people, individuals usually only suffer short term symptoms including high fever, severe headache, stiffness, nausea, abdominal pain, and diarrhea. Pregnant women could also experience a miscarriage or stillbirth following an infection.
No other Eggo products are effected by the recall.
Blue Bell Ice Cream famously suffered its first-ever recall following a Listeria contamination in March 2015. Breitbart Texas reported extensively on the recall that eventually shut down the company's entire production lines for five months. The company is still recovering from the losses experienced from the recall and shutdown. The recall initially impacted only a small number of its industrial/commercial product lines. It eventually expanded to include all of the Blue Bell Ice Cream products.
Bob Price serves as associate editor and senior political news contributor for Breitbart Texas. He is a founding member of the Breitbart Texas team. Follow him on Twitter @BobPriceBBTX.