NEW ORLEANS, Louisiana – An organization aligned with the Black Lives Matter movement is now threatening the City of New Orleans publicly, defacing historical monuments and demanding they be torn down.
The group, "Take 'Em Down Nola," has for more than a year called for the removal of every historical monument in the city of New Orleans with ties to the Confederacy and Civil War after Mayor Mitch Landrieu (D) raised the issue following the Charleston, South Carolina AME Church shooting.
Over the weekend, Take 'Em Down Nola vandalized the city's PGT Beauregard monument, a monument to Jefferson Davis, along with a monument to Robert E. Lee, known as Lee Circle, with threatening messages to the Landrieu administration.
"We ready, we comin'. Take 'em down," the vandalism on the Jefferson Davis monument read.
Meanwhile, the message on the PGT Beauregard monument sent an ultimatum to the city, reading "Take 'em down, or we will."
Lee Circle's monument was vandalized with a scissors and perforation lines, depicting the early steps to tearing the monument down from the city's Central Business District.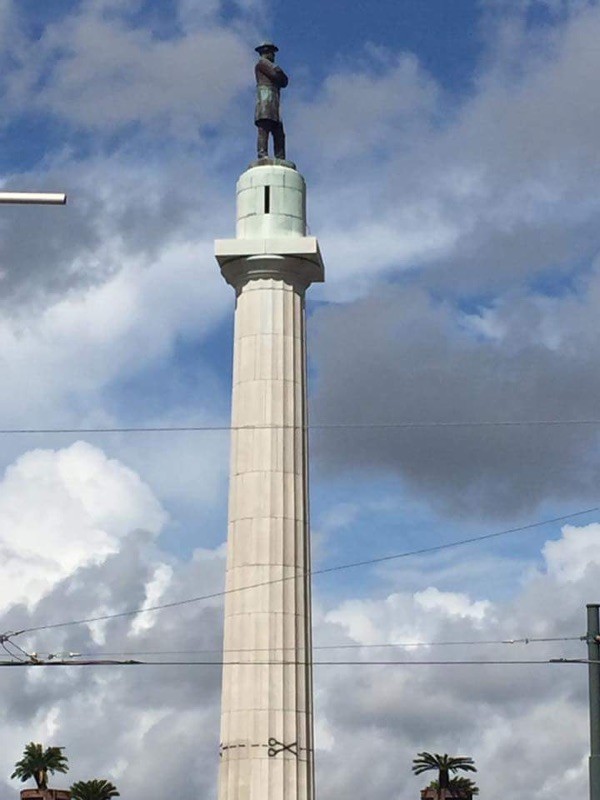 New Orleans Police Department (NOPD) Public Information Officer Dawne Massey said law enforcement was "monitoring the situation," when asked by Breitbart Texas if the police had taken action yet.
The Landrieu Administration and NOPD have been criticized in the past for failing to punish vandals who deface monuments.
Pete McGraw, the leader of a New Orleans-based organization that cleans the monuments free of charge to the City, said the vandalism by the group has gotten progressively more violent in message.
"The graffiti has changed," McGraw told Breitbart Texas. "Now the language is 'or we will…'"
Take 'Em Down Nola has been vandalizing monuments across New Orleans for months, with previous messages also becoming threatening to the City and police officers directly.
One message read: "Fist Up. Shoot Back," accompanied with the #F*ck12 hashtag, which celebrated the death of New York City Police Department officers and has been previously reported on by Breitbart Texas.
McGraw noted that since Landrieu first incited the vandalism and racial upheaval in New Orleans, not one monument to a black American figure in the city has been vandalized in retaliation to Take 'Em Down Nola.
The threatening messages come just a week before Take 'Em Down Nola plans to physically tear down New Orleans' most famous French Quarter monument depicting President Andrew Jackson on horseback, as Breitbart Texas reported.
Currently, monument removal in the city is being held up in the courts, with opposition groups trying to slow the process.
John Binder is a contributor for Breitbart Texas. Follow him on Twitter at @JxhnBinder.