McALLEN, Texas — A previously deported illegal immigrant from Honduras has been arrested in connection with the brutal beating of a 56-year-old man while stealing his car. The man was about to be removed again before local police officers were able to charge him for the latest crimes.
McAllen Police confirmed to Breitbart Texas that they have arrested and formally charged 31-year-old Andres Roberto Ortiz with one count of aggravated robbery. Investigators and prosecutors took Ortiz before a McAllen municipal judge who set bond for the illegal immigrant at $2 million.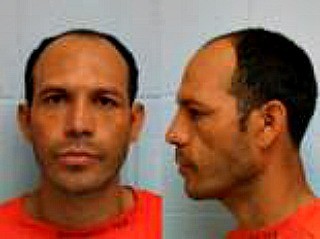 The case began on January 30 at 12:29 a.m. when police responded to a vehicle rollover. Officers responded to a canal off Frontage Road where they spotted a vehicle in the water. Witnesses at the scene told authorities that the driver, who was later identified as Ortiz, had run away. 
As part of the investigation, authorities went to the house that the vehicle had been registered to, information provided to Breitbart Texas by McAllen Police revealed. Outside of the house, they encountered a 56-year-old man who had been brutally assaulted. The man was rushed to a local hospital where he remains in critical condition.
The 56-year-old man has since been identified as the owner of the vehicle. The victim was at his home when the Honduran illegal immigrant arrived and assaulted him to steal the vehicle. Authorities have been able to determine that Andres Roberto Ortiz had been deported multiple times before being connected to the robbery.
U.S. Border Patrol agents arrested the illegal immigrant in connection with an unrelated case and had turned him over to U.S. Immigration and Customs Enforcement. McAllen Police contacted ICE and learned that federal authorities had scheduled the man for deportation. The federal agency transported Ortiz back to McAllen and turned him over to local authorities so he could be prosecuted for the latest charge.
Ildefonso Ortiz is an award winning journalist with Breitbart Texas. He co-founded the Cartel Chronicles project with Brandon Darby and Stephen K. Bannon.  You can follow him on Twitter and on Facebook.