A federal grand jury returned an indictment charging 17 defendants for drug trafficking in direct connection with a Mexican drug cartel.
The arrests and indictments of the 17 defendants were the result of a year-long investigation into a Mexican drug cartel operation that smuggled narcotics into the United States from California to Colorado, according to a statement from the Department of Justice.
Jeff Dorschner, Spokesman for the Colorado U.S. Attorney's Office, told Breitbart Texas, "During the course of this investigation law enforcement determined that a Mexican Cartel was involved. The identity of that cartel is not being released as it remains the subject of an ongoing criminal investigation."
According to the Drug Enforcement Agency (DEA), the Sinaloa Mexican Drug Cartel is known to be the dominant drug cartel in both California and Colorado.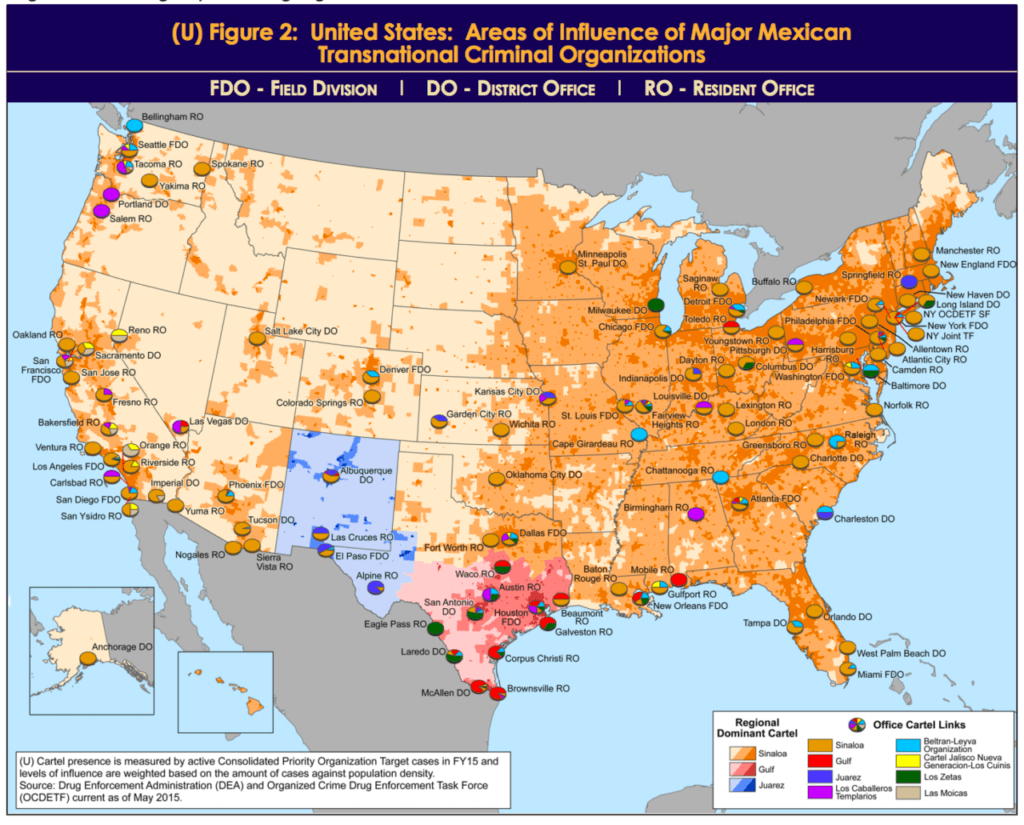 Of the 17 defendants, 11 are from Mexico, four from El Salvador, and two are from California. Seven of the defendants are considered fugitives.
The defendants are alleged to have brought large quantities of cocaine and methamphetamine into the United States through California using secret compartments in vehicles. The drugs were kept in stash houses in Aurora, Colorado, before being distributed at a local grocery store.
A money transfer station at the grocery store was used to send some of the proceeds back to Mexico. The rest of the funds were smuggled back in secret vehicle compartments.
"We are committed to dismantling and removing the threat posed by these criminal organizations flooding American communities with dangerous narcotics," said Attorney General Jeff Sessions. "This organization is alleged to have moved large amounts of meth and cocaine from Mexico to Colorado, with devastating impact on communities in their wake. I want to congratulate the outstanding federal, state, and local law enforcement cooperation that resulted in this highly successful operation. Replicating this kind of aggressive law enforcement take down is critical to breaking the backs of these criminal organizations."
The Defendants from Mexico are: Jose Tapia-Rubio, 58, (naturalized); Selestino Hernandez-Mayo, 45; Fredy Paz-Herrera, age unknown; "Bancholas", age unknown, (thought to be from Mexico); Rodrigo Mora-Sanchez, 49, (naturalized); Oscar Mora-Campos, age unknown; Eduardo Jimenez-Sanchez, 37; "Changuito", age unknown, (thought to be from Mexico); "Um-9584", age unknown, (thought to be from Mexico); Leopoldo Rodriguez-Padilla, Age Unknown; And Heberto Mora-Sanchez, 43.
The Defendants from El Salvador are Lara Zamora-Cruz, age unknown; Claudia Lisseth-Lara, 41, (naturalized); Vilma L. Zamora, 67; and Jose Chica-Orellana, age unknown.
The Defendants from California are Juan Carlos Medina-Soberanis, 31; and Erik Parra.
The indictment contains 45 counts, including an asset forfeiture allegation against the stash houses that were used to hide the drugs.
Ryan Saavedra is a contributor for Breitbart Texas and can be found on Twitter at @RealSaavedra.