HOUSTON, Texas — Shanon Miles pleaded guilty to gunning down a Harris County Sheriff's Deputy in August 2015. In doing so, he avoided the death penalty and will serve a life sentence without parole.
Miles pleaded guilty in a Texas District Court to murdering Harris County Deputy Sheriff Darren Goforth in August 2015. His attorney stipulated Miles' competency to do so, Fox 26 Houston reported.
Deputy Goforth's widow, Kathleen, told reporters at a press conference that her husband was a great dad. She said he would have approved of the plea deal that put the now-convicted cop-killer away for life.
"Mine and Darren's two children have been spared. They will not have the backdrop of their lives for the next 10-25 years being court dates, trials and appeals," Mrs. Goforth told reporters
"Nor will they be accosted anymore…by the image of a man who so violently ended their father's life. It is merciful, it is compassionate and it is the right thing to do," she stated, according to ABC13.
Special Prosecutor Brett Ligon stated the family's wishes and Miles' mental state played a role in his decision not to pursue the death penalty, ABC13 reported.
Breitbart Texas was at the scene of the murder after Deputy Darren Goforth was gunned down in cold blood at a Chevron Station in the west side of Houston. At the time, officials said, and the indictment against defendant Shannon Miles later stated, that there appeared to be no motivation for the shooting other than that the deputy was wearing a uniform and a badge. Deputy Goforth was walking to his patrol car when an armed man came up behind him and shot him 15 times in the back and head.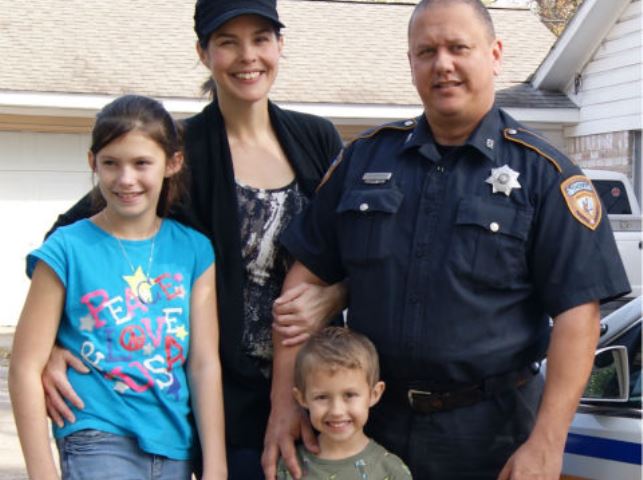 "Two years ago, the Harris County Sheriff's Office family suffered a terrible loss when our brother, Deputy Darren Goforth, was ambushed and gunned down," Harris County Sheriff Ed Gonzalez said in a statement provided to Breitbart Texas. "Deputy Goforth served the residents of Harris County for nearly a decade. He will always be remembered for his service, his bravery, and his sacrifice."
"Today, the Goforth family and the Harris County Sheriff's Office family are pleased to learn that justice will be served upon Deputy Goforth's killer," the sheriff continued. "We are grateful to Special Prosecutor Brett Ligon and his team for their hard work to bring this terrible case to a fair resolution. To the Goforth family, you will always be part of our family and our thoughts and prayers remain with you."
Former Sheriff Ron Hickman told Breitbart Texas, "As much as I would live like to have seen them seek the death penalty, under the circumstances it's probably the best we could hope for."
Breitbart Texas reported from Hickman's press conference on the day officials identified Shannon Miles' as the suspect in Deputy Goforth's murder.
"It is one of the most disturbing videos I have seen in more than forty years of police work," Sheriff Ron Hickman told Breitbart Texas in an interview at the time. "As Deputy Goforth walked out of the store, the man we now know as Shannon Miles walked up behind him and shot him in the head and back."
A judge previously declared Miled incompetent to stand trial. The judge ordered Miles to be transferred to the state hospital in Vernon, Texas.
Following Miles' arrest, then-Harris County District Attorney Devon Anderson read the charges to the courts and said Miles shot Deputy Goforth 15 times. She said Miles knew Goforth was a police officer. Goforth was in uniform and standing beside a marked patrol car when he was killed.
"Texas has sustained a deliberate and heinous crime against a law enforcement officer in Harris County," Governor Abbott said in a letter to Harris County Judge Ed Emmett. "Texans revere the men and women in law enforcement who put their lives on the line every day to protect and service their communities. As such, it is fitting that Texas flags should be lowered to half-staff in memory of this dedicated and brave deputy sheriff."
After more than a year, the judge ruled Miles to be competent to stand trial. The March 2017 decision set the stage for the plea bargain that is expected to be presented on Thursday.
Breitbart Texas provided extensive on-scene coverage the night of the murder and throughout the subsequent proceedings.
Editor's Note: This article has been updated with new information following the conviction of Shannon Miles.
Lana Shadwick is a writer and legal analyst for Breitbart Texas. She has served as a prosecutor and associate judge in Texas. Follow her on GAB @lanashadwick and Twitter @LanaShadwick2.