A Republican county chairman said a group of Russians used a rural county's GOP social media posts in their fake "Heart of Texas" Facebook account.
"The fact that the Russians would plagiarize our county Republican Party is a testament to what we do," San Jacinto County Republican Party Chairman Dwayne Wright told Breitbart Texas in an exclusive interview.
The Republican chairman added, "I think it is fantastic that the Russians feel like San Jacinto County is on point with our media outreach."
Last Friday, a federal grand jury in Washington, DC, issued indictments against 13 Russian nationals and three Russian entities in connection with their attempt to influence the 2016 U.S. presidential election. United States law bars foreign nationals from using their finances to influence federal elections. It also prohibits foreign agents from engaging in politics in the U.S. without first registering with the U.S. Attorney General.
Breitbart News reported that the Russian defendants allegedly worked with a company based in St. Petersburg, Russia – the "Internet Research Agency." The company is alleged to have operated through front organizations. The group started in or before 2014 to build a social media following of hundreds of thousands of people. The intent was to influence politics in the U.S. and to create chaos and division.
The indictment charges that:
By 2016, Defendants and their co-conspirators used their fictitious online personas to interfere with the 2016 U.S. presidential election. They engaged in operations primarily intended to communicate derogatory information about Hillary Clinton, to denigrate other candidates such as Ted Cruz and Marco Rubio, and to support Bernie Sanders and then-candidate Donald Trump.
The Russians hid their identities by purchasing space on computer servers in the U.S. and setting up virtual private networks (VPNs). They then allegedly connected from Russia to the U.S., the indictment issued Friday states.
The Russian defendants and their co-conspirators "also created thematic group pages on social media sites, particularly on the social media platforms Facebook and Instagram," the indictment continues. Their effort reached hundreds of thousands of online followers.
"Starting at least in or around 2015, Defendants and their co-conspirators began to purchase advertisements on online social media sites to promote ORGANIZATION-controlled social media groups, spending thousands of U.S. dollars every month," the indictment charges.
The Russian-based organization-controlled pages included issues like immigration and used group names like "Secured Borders." Other issues included the Black Lives Matter movement (using group names "Blacktivist"), and religious-sounding groups like "United Muslims of America" and "Army of Jesus," the indictment states. They also allegedly used geographic distinctions like "South United" and "Heart of Texas."
The "Heart of Texas" page reportedly used posts from the San Jacinto County Republican Party which is headquartered in Coldspring in rural East Texas. The population of the county is less than 30,000 people.
A photo of San Jacinto County Republican Party Chairman Wright (below) was taken by Breitbart Texas and allegedly used by "Heart of Texas" after Wright posted it on Twitter, Facebook, his GOP website, and in email blasts. ExtraNewsFeed included a screenshot of the "Heart of Texas" post with the photo in their September article. The article was entitled, "How Russia Created the Most Popular Texas Secession Page on Facebook."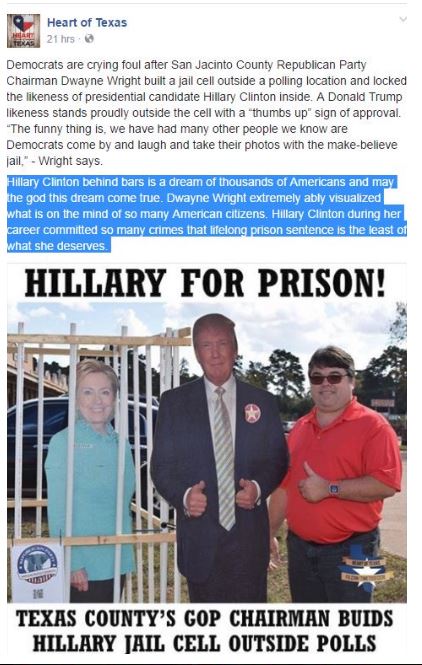 Breitbart Texas published the photo in late October 2016 when we reported that the San Jacinto County GOP put a cardboard likeness of presidential candidate Hillary Clinton in a jail cell at the polls just outside of the legal political sign limit.
San Jacinto County became a politically red county for the first time in its 144-year history in November 2014, Breitbart Texas reported. We noted that the GOP chairman's slogan at the time was "Results, not Excuses" and reported that Wright "brought the county party into this century with a new website, and Facebook and Twitter accounts," and he used online marketing.
The Party's new website contrasted Republican and Democrat views on gun control, Obamacare, tax cuts, a balanced budget, domestic oil exploration, abortion, and school prayer. Wright also created political campaign signs that resonated with county voters. The signs contained captions like "Had Enough?  Vote Republican!," and "Vote Republican: We can't afford anymore change! "
Carl Tepper, then-President of the Texas Republican Party County Chair Association (TRCCA), told Wright at the time that he "just might be the best county chairman in the state of Texas right now." Wright has risen in the ranks and is now serving as East Texas region director for the TRCCA.
As it relates to another Texas connection, the indictment states:
On or about August 19, 2016, Defendants and their co-conspirators used the false U.S. persona 'Matt Skiber' account to write to the real U.S. person affiliated with a Texas-based grassroots organization who previously had advised the false persona to focus on 'purple states like Colorado, Virginia & Florida.' Defendants and their co-conspirators told that U.S. person, 'We were thinking about your recommendation to focus on purple states and this is what we're organizing in FL.' Defendants and their co-conspirators then sent a link to the Facebook event page for the Florida rallies and asked that person to send the information to Tea Party members in Florida. The real U.S. person stated that he/she would share among his/her own social media contacts, who would pass on the information.
The San Jacinto County chairman told Breitbart Texas on Sunday that he has never communicated with any Russian-connections. He added, "Our presence in Texas social media and Texas politics is undeniable. The fact the Russians would steal our Facebook posts is flattering and disturbing at the same time."
Wright said he hopes that Facebook "has a way to prevent this from happening to others since we never spoke with any Russians – or anyone with their agenda."
The county chairman continued, "We still assert to this day that Hillary should be held accountable for her crime and we hope that the people who plagiarized us will see their day in court as well."
Wright emphasized, "We are a small county hell-bent on keeping Texas red… in a REAL way" he wrote in an email to Breitbart Texas.
Lana Shadwick is a writer and legal analyst for Breitbart Texas. She has served as a prosecutor and associate judge in Texas. Follow her on GAB @lanashadwick and Twitter @LanaShadwick2.