A raid by Mexican authorities at a cartel stash house indicates the criminal organization duped the United Nations into blaming government forces for a series of disappearances in Nuevo Laredo.
Over the weekend. Mexican authorities raided a stash house in Nuevo Laredo, seizing 11 long guns, five handguns, and other items commonly associated with organized crime, Mexico's Attorney General's Office revealed. The case turned unique when authorities also discovered 137 poster boards and protest signs blaming the Mexican government for various disappearances.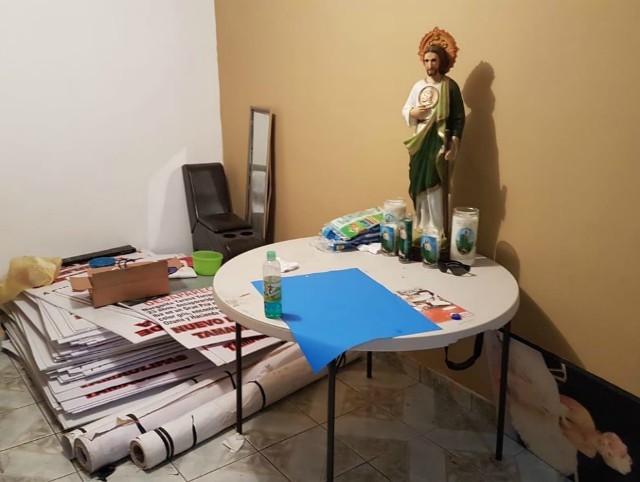 The Los Zetas faction called Cartel Del Noreste (CDN) sponsored several protests throughout Nuevo Laredo where residents are paid to call out Mexican authorities for the disappearance of several young men in the region. The goal is to force the Mexican military out of the region. The United Nations High Commissioner for Human Rights Zeid Ra'ad Hussein believed the messages and issued a statement condemning the disappearance of 21 men and 2 women in Nuevo Laredo.
"It is particularly horrific that at least five of the victims are minors, with three of them as young as 14. These crimes, perpetrated over four months in a single municipality, are outrageous," Hussein said in his prepared statement, blaming the disappearances on the Mexican government.
The UN condemnation does not mention how Nuevo Laredo is a battleground where another Los Zetas faction and other cartels are fighting the CDN for turf control. The territorial war leads to large-scale firefights, kidnappings, and executions of cartel members by their rivals. It is believed those cartel kidnappings and executions are being blamed on the government. During some of the raids on cartel compounds, authorities found military uniforms and tactical gear meant to look like Mexican troops.
Ildefonso Ortiz is an award-winning journalist with Breitbart Texas. He co-founded the Cartel Chronicles project with Brandon Darby and Stephen K. Bannon.  You can follow him on Twitter and on Facebook. He can be contacted at Iortiz@breitbart.com.
Brandon Darby is managing director and editor-in-chief of Breitbart Texas. He co-founded the Cartel Chronicles project with Ildefonso Ortiz and Stephen K. Bannon. Follow him on Twitter and Facebook. He can be contacted at bdarby@breitbart.com.