A joint operation carried out by the Chihuahua State Police and Mexican Army (SEDENA) resulted in the arrests of eight alleged cartel gunmen suspected in the murder of a Juarez police intelligence commander. The officer was reportedly gunned down in front of his wife and children while off-duty.
Security forces were patrolling in Nuevo Casas Grandes, approximately 170 miles southwest of Juarez, when the driver of a 2015 Jeep Patriot opened fire, leading to a short pursuit. The driver, who was later identified as Luis Alberto L. V. aka "El Vaquero," was taken into custody with a firearm. During questioning, the driver reportedly admitted to being a member of "Nuevo Cártel de Juárez." Based on the arrest of the driver, a second operation was carried out and an additional seven other suspected gunmen were also arrested at a nearby location, according to local reporting.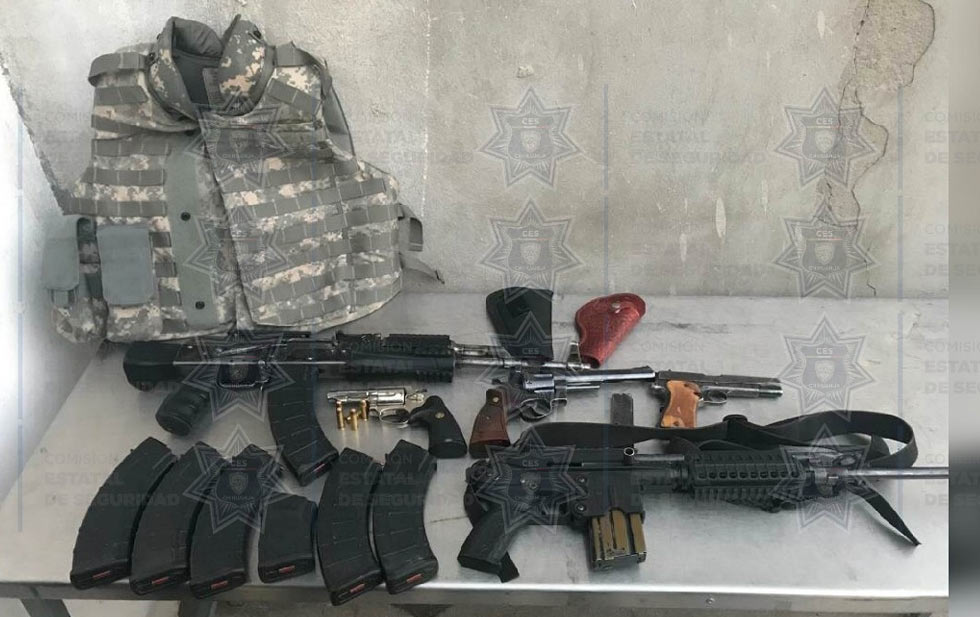 A total of two rifles, three handguns, ammunition, a ballistic vest, communication devices, and illegal drugs were seized, according to a representative of the state attorney general's office. A 2003 Ford Ranger and a 2009 Chrysler Sebring were also impounded.
The patrols consisted of additional personnel deployed in response to the murder of Commander Adrián Matsumoto Dorame in early March. Matsumoto Dorame was off-duty traveling in a dual cabin pickup truck with his wife and two small children to a family home in Nuevo Casas Grandes. Approximately half a block from the property, his truck was reportedly overtaken by two vehicles occupied by cartel gunmen. It is believed that instead of risking the safety of his family, he stopped in the roadway and walked in the direction of his pursuers. Gunmen immediately directed rifle fire at the commander–killing him instantly—while leaving his family untouched.
The eight individuals arrested were handed over to the investigative unit of the state attorney general's office for charging.
Robert Arce is a retired Phoenix Police detective with extensive experience working Mexican organized crime and street gangs. Arce has worked in the Balkans, Iraq, Haiti, and recently completed a three-year assignment in Monterrey, Mexico, working out of the Consulate for the United States Department of State, International Narcotics and Law Enforcement Program, where he was the Regional Program Manager for Northeast Mexico (Coahuila, Tamaulipas, Nuevo Leon, Durango, San Luis Potosi, Zacatecas.) You can follow him on Twitter. He can be reached at robertrarce@gmail.com.