The immigration chief in Costa Rica announced that the three ISIS terror suspects sought by international authorities have been caught in Nicaragua. The three men are expected to be sent back to Costa Rica and interviewed by international authorities.
The announcement came from by Costa Rican Immigration Police Chief Steve Madden Monday evening during an interview with multiple local news outlets. During the interview, Madden said the three ISIS terror suspects had entered Costa Rica on June 9 as part of a group of migrants that traveled north from Panama. Authorities allowed the three men into Costa Rica and then allowed to continue their journey after several biometric searches concluded the men were not wanted fugitives or sought by any country, Madden told Costa Rica's Columbia newspaper. The three men have since been detained by Nicaraguan authorities where they denied the suspects permission to enter the country.
As Breitbart News first reported, U.S. authorities shared information with Mexican authorities about two men from Egypt and one from Iraq who authorities believe were headed towards the U.S. border. The three men — Ahmed Ghanim Mohamed Al Juburi from Iraq, and Ibrahim Mohamed and Mohamed Eissa from Egypt — entered Panama in May, a leaked intelligence memo obtained by Breitbart News revealed. In the memo, Homeland Security Investigations pointed to the use of biometric data to track the three suspects and claimed they were headed to the U.S. border.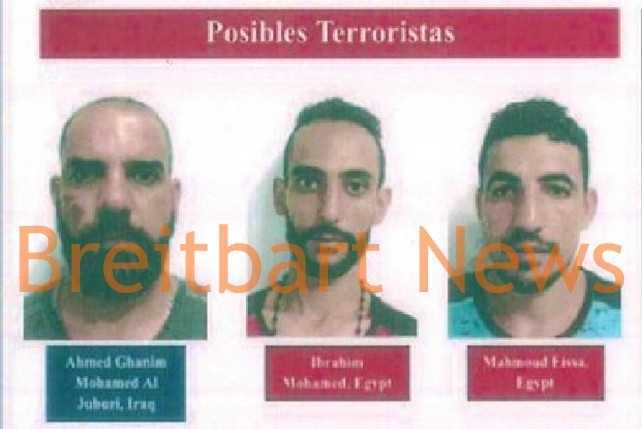 In the memo dated June 21, Mexican authorities went on high alert as they prepared to encounter the men at the country's southern border or actively hunt for them in case they had already entered. By Monday evening, Mexican law enforcement sources at the federal and state level revealed to Breitbart News that they had been told to stand down after intelligence officials confirmed the detention of the three Middle Eastern men.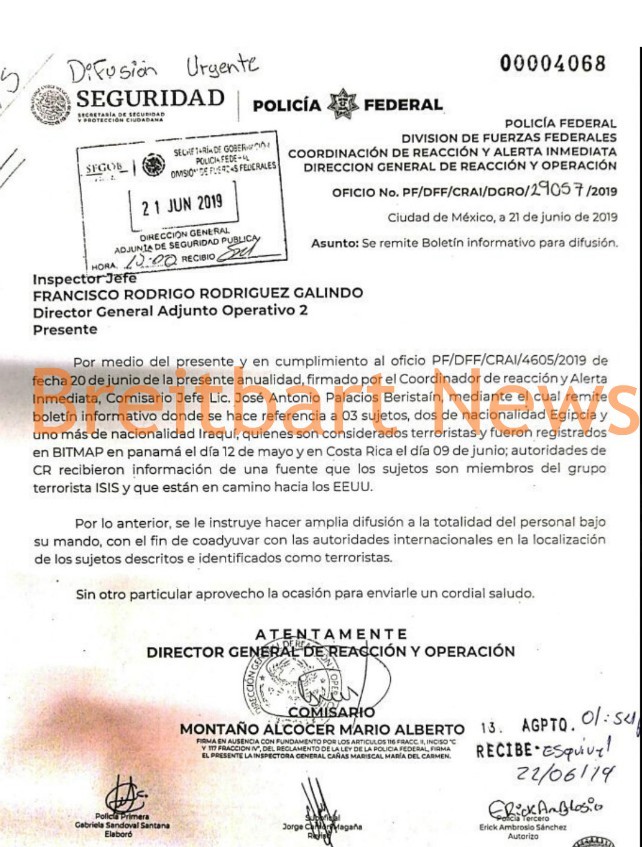 In Mexico, the country's Public Security Secretary Alfonso Durazo confirmed the information previously published by Breitbart News during a press event.
"It is a memo from U.S. security agencies, and it is common to receive such alerts," Durazo said. It does not necessarily mean that the people were pretending to enter (Mexico) … and of course in the eventuality that they tried to enter the country they would be detained under this alert".
Ildefonso Ortiz is an award-winning journalist with Breitbart Border / Cartel Chronicles. He co-founded the Cartel Chronicles project with Brandon Darby and senior Breitbart management. You can follow him on Twitter and on Facebook. He can be contacted at Iortiz@breitbart.com. 
Brandon Darby is the managing director and editor-in-chief of Breitbart Border / Cartel Chronicles. He co-founded the Cartel Chronicles project with Ildefonso Ortiz and senior Breitbart management. Follow him on Twitter and Facebook. He can be contacted at bdarby@breitbart.com.