One day after Los Zetas Cartel gunmen used armored trucks, machine guns, and grenades to invade the border city of Miguel Aleman, the Tamaulipas Governor announced he would challenge the violent perpetrators directly.
"Those who think they can intimidate authorities are mistaken — on behalf of my government: there will be no truce with violent individuals; that is why I'm here," said Tamaulipas Governor Francisco Cabeza de Vaca during his visit to Miguel Aleman in the aftermath. "We will restore peace and order to the border region."
Cabeza de Vaca's statement comes after a large contingent from the Cartel Del Noreste (CDN) faction of Los Zetas rolled east into Miguel Aleman, south of Roma, Texas, to clash with the Gulf Cartel. The skirmishes persisted for two days with thousands of rounds fired and makeshift armored vehicles or "Monstruos" deployed.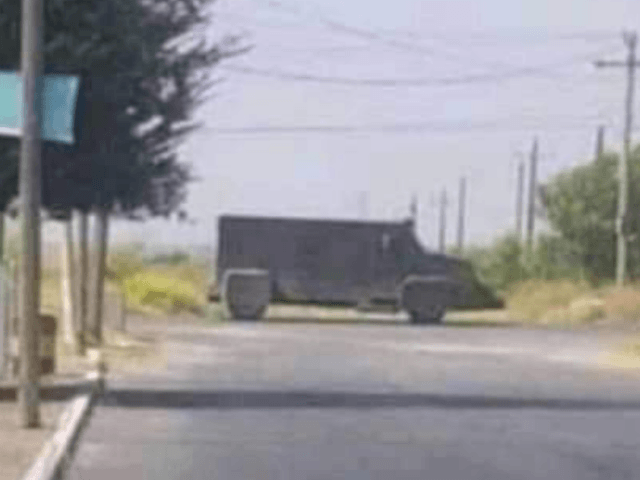 "We are not going to use the tactics of 'No Pasa Nada' ('nothing to see here')," Cabeza de Vaca said. "Things are happening here, and we will act accordingly."
During his visit, Cabeza de Vaca condemned the recent removal of a military checkpoint in nearby Los Guerra, west of Miguel Aleman.
"That had been a containment measure to keep criminal organizations from entering Miguel Aleman," Cabeza de Vaca said. "I have been speaking with Public Safety Secretary Dr. [Alfonso] Durazo about the actions that must be taken to bring peace to this region of the Tamaulipas border."
Estuvimos en el poblado Los Guerra, en las instalaciones de la Asoc. Ganadera, donde hasta hace algunas semanas se mantenía un retén con elementos militares cuya presencia inhibía el ingreso de los integrantes de la delincuencia organizada a la zona de Miguel Alemán. pic.twitter.com/MfqmF6Ct4E

— Fco. Cabeza de Vaca (@fgcabezadevaca) August 15, 2019
The border cities of Miguel Aleman and Camargo, just south of Roma and Rio Grande City, Texas, are longstanding magnets for violence as various criminal organizations fight for control of local smuggling corridors. The region lacks any physical barriers with the United States, save for the shallow waters of the Rio Grande and understaffed law enforcement.
"Some people seem to not remember the reason for the construction of a fort in Mier (a nearby town). It was with that purpose," Cabeza de Vaca said. "There are some of us who do remember what happened in the past, WE WILL NOT ALLOW."
The recent shootouts in Miguel Aleman come days after Gulf Cartel gunmen fired from the Mexican side at several U.S. Border Patrol agents patrolling on the Rio Grande.
Ildefonso Ortiz is an award-winning journalist with Breitbart Texas. He co-founded Breitbart Texas' Cartel Chronicles project with Brandon Darby and senior Breitbart management. You can follow him on Twitter and on Facebook. He can be contacted at Iortiz@breitbart.com. 
Brandon Darby is the managing director and editor-in-chief of Breitbart Texas. He co-founded Breitbart Texas' Cartel Chronicles project with Ildefonso Ortiz and senior Breitbart management. Follow him on Twitter and Facebook. He can be contacted at bdarby@breitbart.com.