U.S. Border Patrol agents apprehended nearly 190,000 migrants during the first month of the new Fiscal Year 2024. The official report from U.S. Customs and Border Protection confirms a Breitbart Texas report from November 2 based on unofficial Border Patrol reports.
Agents assigned to the nine southwest Border Patrol sectors apprehended 188,778 migrants during October, according to the latest Southwest Land Border Encounters report from U.S. Customs and Border Protection. This is down slightly from the 205,134 migrants apprehended one year earlier. In October 2021, President Joe Biden's first October in office, agents apprehended 159,113. During President Donald Trump's last October in office, agents apprehended only 69,032 migrants who illegally crossed the border between ports of entry.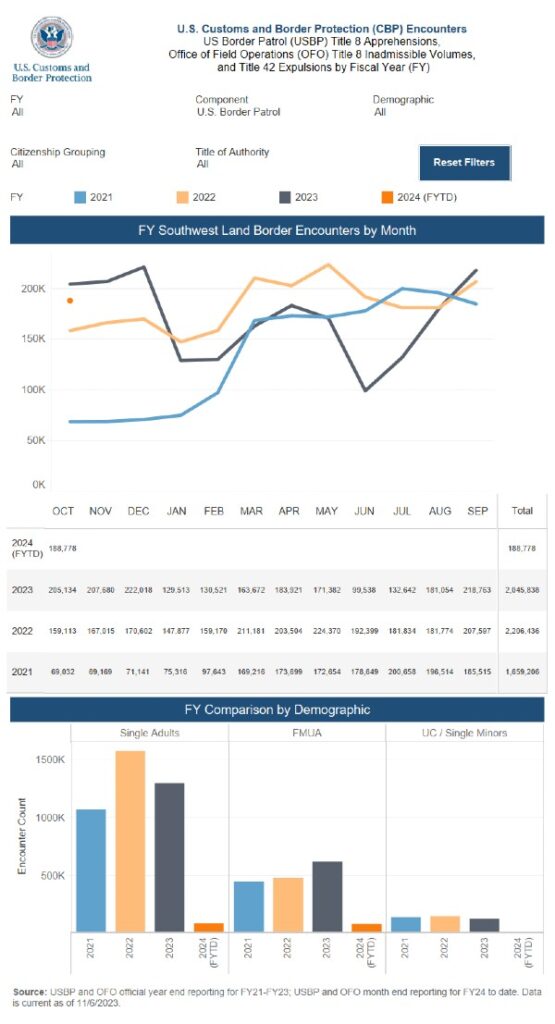 The apprehension of nearly 189,000 migrants in October is down from 218,763 apprehended one month earlier in September — 13.7 percent. The apprehensions include 93,650 single adults, 84,412 family units, and 10,716 unaccompanied minors, the report reveals.
CBP officials attribute some of the decrease in October migrant apprehensions to increased removal flights for Venezuelan migrants crossing the border.
"In conjunction with our resumption of removal flights to Venezuela consistent with delivering consequences for those who cross the border unlawfully, CBP saw a 65 percent decrease in southwest border encounters of Venezuelans in the second half of October, compared to the second half of September," Troy A. Miller, Senior Official Performing the Duties of the Commissioner, said in a written statement. "In October, CBP also saw an overall decrease of 14 percent between ports of entry, as well as an overall decrease of family units."
Of concern in the October report is the continuing spike in migrant crossings in the Tucson Sector. During the first month of the new fiscal year, agents apprehended more than 55,000 migrants. This is up by nearly 141 percent over the prior year's reported apprehension of nearly 23,000 migrants.
Tucson Sector's Week in Review (11/03-11/09): Vigilance, teamwork, and dedication defined our week as we continue to work through challenges to ensure border security. #HonorFirst pic.twitter.com/9NkY3tGRSQ

— John R. Modlin (@USBPChiefTCA) November 13, 2023
The number of migrant apprehensions continued in November. Tucson Sector Chief Patrol Agent John Modlin posted a report on X showing his agents apprehended more than 14,000 migrants during a one-week period ending on November 9.
The Del Rios Sector followed with the reported apprehension of more than 38,000 migrants in October. This was down by nearly 11 percent from the 42,767 apprehended one year ago.
Bob Price is the Breitbart Texas-Border team's associate editor and senior news contributor. He is an original member of the Breitbart Texas team. Price is a regular panelist on Fox 26 Houston's What's Your Point? Sunday-morning talk show. Follow him on Twitter @BobPriceBBTX.