UNCASVILLE, Conn.—Ken Shamrock, who returns to mixed-martial arts (MMA) after a five-year absence, tells Breitbart Sports that he originally left the UFC for the WWF because he could not support his family as a cage fighter in the 1990s.
"I didn't leave because I wanted to leave MMA," Shamrock notes of his late-1990s stint in Vince McMahon's World Wrestling Federation. "I left because I couldn't afford to pay my bills. And that's the problem I ran into. I didn't have an opportunity to support my family. So, I had to make a move."
What helped Shamrock's pocketbook hurt his legacy. When he returned to mixed-martial arts after more than three years away, a less dangerous "World's Most Dangerous Man" returned to a more dangerous sport evolving in tactics and attracting a larger talent pool. Shamrock enjoyed a 23-5-2 cage-fighting record when he exited the UFC for the WWF in 1996. When he takes on Kimbo Slice in St. Louis, Bellator MMA's ring announcer will cite a 28-15-2 record. Shamrock, a man who had drew with Royce Gracie and defeated Bas Rutten and Dan Severn, won just five fights to ten losses after his 2000 return to mixed-martial arts.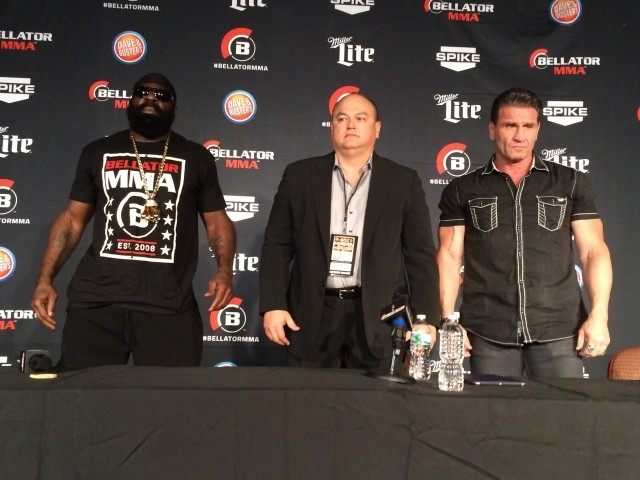 Ironically, the same economic pressures that compelled Shamrock to abandon MMA in his prime nudge him to re-enter it in late middle-age.
"I hear people saying, 'He's doing it for the money'—Of course, I am," Shamrock responded to a Breitbart Sports query about motivations for his return. "That's what we do. I'm a professional. I fight for money, and I have my whole life."
But he also said he returns because he enjoys it—a word he uses to describe his time in the WWF. "I was able to make that move and do something that I still enjoyed," he noted, "but I was able to pay my bills. That's the real reason for moving."
He clearly enjoyed the adoration of fans at Mohegan Sun on Friday night. A fit and trim Shamrock used the evening as a date night with his wife, intently observed the combatants, stuck around to watch Bellator 134's postnight presser from the media gallery, and even shared a shake and a smile with past nemesis Tito Ortiz.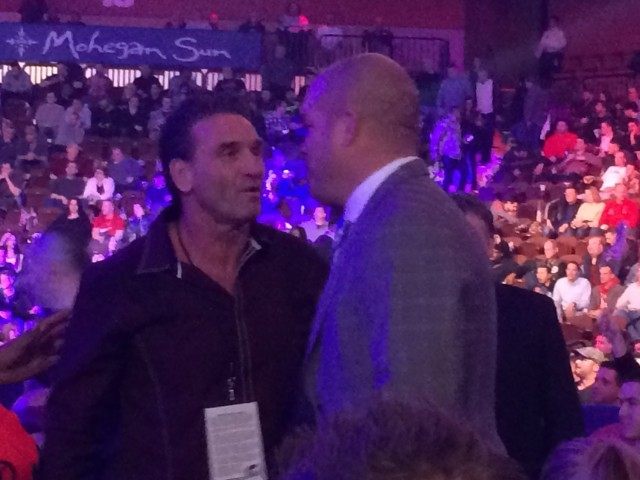 The UFC advertised their initial tournaments, which witnessed Shamrock come up short, as winner-take-all. Though grossly underpaid relative to elite boxers, elite cage fighters can now earn seven figures on fight night. In a sense, Shamrock picks up a check owed to him from unremunerated services rendered to the sport two decades ago. Whatever money Shamrock pockets in the cage at age 51 won't come cheap.