President Barack Obama spiked legal and illegal immigration to a record level of 1.75 million in 2017 by accepting one migrant for every two young Americans who entered the workforce in 2017.
The huge inflow matched the record set in 1999 when Bill Clinton was president.
Obama's wave of legal immigrants, illegal migrants, and visa workers rose from 1.1 million in 2009 to 1.75 million in 2017. In the same year, roughly four million Americans turned 18 and joined the workforce. The four million Americans included the children of immigrants as well as the children of illegal migrants.
Many of Obama's migrants went home when their work visas ended or they were deported, but the inflow added more than 5.2 million migrants to the U.S. population from 2010 to 2017, according to federal data prepared by the Center for Immigration Studies.
The inflow included 1.1 million Asians, 1.1 million Indians, Pakistanis and Bangladeshis, 680,000 people from the Caribean, and 480,000 people from South America.
Obama's inflow also included 475,000 unskilled migrants from Central America, many of whom were allowed to enter and stay via the pro-asylum rules set by Obama's pro-migration deputies.
From 2010 to 2017, Obama also imported 680,000 people from Muslim-majority nations, even though Islamic theology urged believers to attack Americans. That huge inflow boosted the Islamic population of the United States by 31 percent, CIS reported.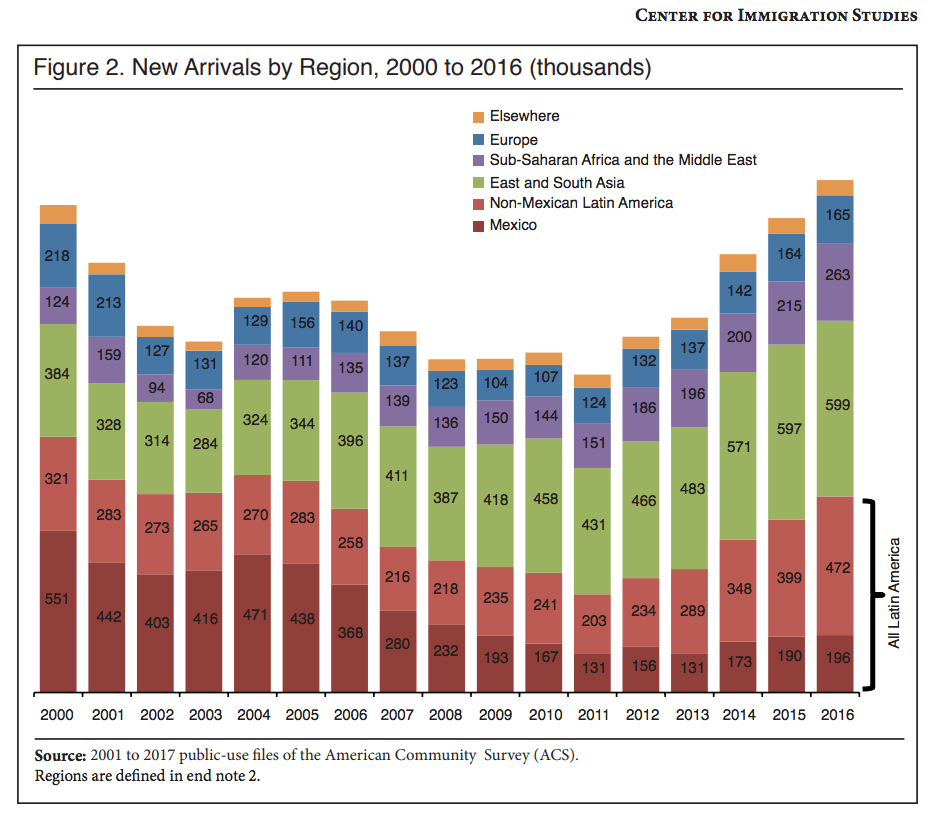 The inflow includes many temporary workers. This influx keeps roughly 1.5 million white-collar, multi-year, visa-workers in U.S. jobs formerly held by American graduates.
Obama's migrant wave continued into 2017, although the CIS report suggests that the 2018 inflow may drop down by roughly 150,000. For example, President Donald Trump has blocked business pressure for expansion of the H-2B visa-worker program and has directed the H4 EAD visa worker program be ended.
CIS used the federal data to estimate the immigrant population in the United States to 44.5 million, including roughly 12 million illegal aliens. The total does not include the U.S.-born children of immigrants in what progressives re-label as a "nation of immigrants," even though 280 million Americans are not immigrants, but U.S.-born Americans.
The inflow includes 530,000 Hispanic immigrants and migrants who received home-country high-school credentials or less.
Obama's inflow also helped elect Donald Trump.
The 2014 border crisis was triggered by Obama's encouragement of Central American illegal migration. The crisis wrecked bipartisan plans to push an amnesty through Congress.
Obama's pro-migration policies helped stagnate Americans' wages in a depressed economy while providing windfall gains to the real-estate owners, retails, and investors who gained from the extra workers and consumers.
In his 2016 State of the Union speech, Obama defended his record on stagnant wages by blaming CEOs, saying, "immigrants aren't the principal reason wages haven't gone up enough; those decisions are made in the boardrooms that too often put quarterly earnings over long-term returns." In contrast, wages are climbing back up amid President Donald Trump's lower-immigration/higher-wage policy.
Also, Obama's support for Islamic migration proved a liability when candidate Trump denounced Islamic immigration in 2016, shortly before the San Bernardino killings by Islamic believers.
Trump has taken some measure to reduce the inflow of workers and consumers, but he has been strongly resisted by business-first Republicans, pro-migration Democrats, and media progressives. But his pro-American stance has pressured employers to hire more Americans at higher wages, with the highest wage gains going to Americans worst hit by Obama's wave.
.@CIS_org: Immigration Continues to Surge https://t.co/KiCf3Mewkr "Newly released data show that 2016 tied with 1999 as the highest single year of immigration in U.S. history, with the arrival of 1.75 million new immigrants (both legal and illegal)."

— Mark Krikorian (@MarkSKrikorian) October 31, 2018
Obama has long known that mass immigration cuts wages — but that is a price he consciously imposed on Americans to boost Democrats' political power.
Obama made his intentions clear in 2006, when he wrote in his autobiography that large-scale migration hurts the wages of African-Americans. "This huge influx of mostly low-skill workers provides some benefits to the economy as a whole… [but] it also threatens to depress further the wages of blue-collar Americans," Obama admitted.
But those immigrants would help the Democratic Party, he wrote. "In my mind, at least, the fates of black and brown were to be perpetually intertwined, the cornerstone of a coalition that could help America live up to its promise," he wrote in "The Audacity of Hope."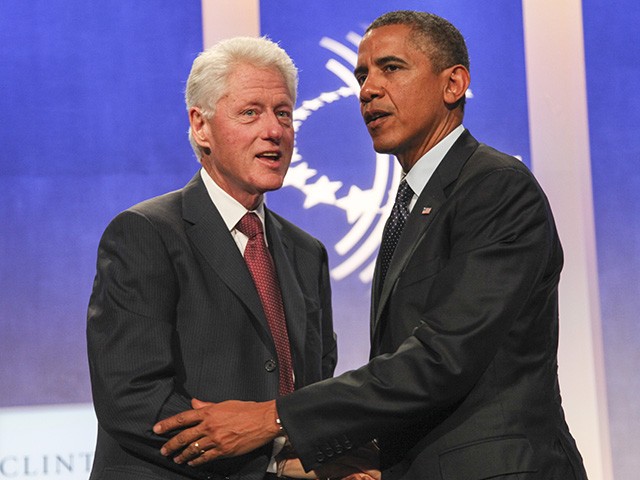 Progressive reach for power should overpower Americans' right to control their borders, says Obama.
In November 2014, for example, Obama told a Chicago audience that "there have been periods where the folks who were already here suddenly say, 'Well, I don't want those folks,' even though the only people who have the right to say that are some Native Americans."
"Sometimes we get attached to our particular tribe, our particular race, our particular religion, and then we start treating other folks differently… that, sometimes, has been a bottleneck to how we think about immigration," Obama said in the same Chicago speech.
Washington's economic policy of using migration to boost economic growth shifts wealth from young people towards older people by flooding the market with cheap white-collar and blue-collar foreign labor. That flood of outside labor spikes profits and Wall Street values by cutting salaries for manual and skilled labor offered by blue-collar and white-collar employees.
The policy also drives up real estate prices, widens wealth-gaps, reduces high-tech investment, increases state and local tax burdens, hurts kids' schools and college education, pushes Americans away from high-tech careers, and sidelines at least five million marginalized Americans and their families, including many who are now struggling with opioid addictions.
Immigration also pulls investment and wealth away from heartland states because coastal investors can more easily hire and supervise the large immigrant populations living in the coastal states.