Plenty of people can now claim Alison Rosen as their new best friend.
Rosen, the journalist turned "news girl" for Adam Carolla's comedy podcast, recently started a podcast all her own – "Alison Rosen Is Your New Best Friend." And while plenty of podcasts struggle to gain traction in our media-saturated marketplace, Rosen's "Friend" hit the million download mark in under four months.
"Friend" isn't Rosen's first foray into new media. But it comes on the heels of her work on Carolla's podcast, a venue where she displays a quicksilver wit that rivals her tag-team partner's way with a rant.
"Right now, people love podcasts," Rosen tells Big Hollywood, citing not just content but the portability factor. That, and the fact that podcasts don't abide by any rules, make them a natural fit for consumers frustrated by content filters.
"I feel like podcasts are replacing books in a way. If you want to experience ideas that might be complex or take a while to unfold, that happens on podcasts," she says. "With terrestrial radio, there's always pressure to move on, to keep it very frenetic. With podcasts, you can take your time."
On "The Adam Carolla Show," that means Rosen's selection of news highlights – think wacky and weird more than inside the Beltway shenanigans capped with a vulgar tag line she sells with panache. Her own podcast lets her riff with old friends and celebrities alike, including recent guests like "Saturday Night Live's" Fred Armisen and musician Matt Nathanson.
Rosen's print credits include People, Time Out New York, The New York Post and Rolling Stone, but she quickly learned her interviewing chops aren't a natural fit for podcast Q&As.
"With print, I really want to get at the heart of what this person is about, what motivates them," she says. "It's not as interesting as listening to someone have a lighthearted conversation."
The chats aren't always lighthearted on "The Adam Carolla Show." Carolla often mixes politics with his heady brew of man-related complaints, like rants against Occupy Wall Street.
Podcast listeners can sense some tension between Carolla and Rosen during those exchanges. Carolla's politics lean Libertarian, and it's clear Rosen doesn't always see eye to eye with her chatty boss. Rosen calls their on-air relationship a work in progress.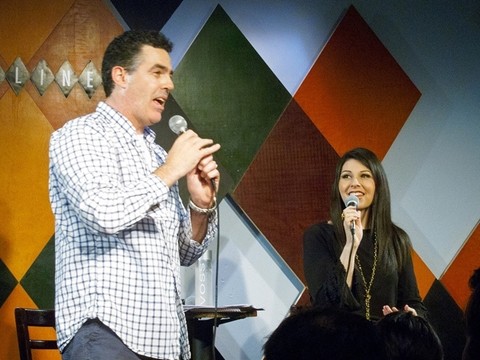 "I'm learning how to work with Adam. Being the sidekick or second banana, it's a whole unique set of skills you need to have," says Rosen, adding Carolla constantly prods her to say more, not less.
That balance does get tricky when subjects like OWS come to the fore.
"For a while my sense of it was, I don't know if he wants to have a political debate," she says. Now, she feels more comfortable speaking her mind, and she promises listeners will hear it in future podcasts.
"I'm trying to find the line … if it's something I'm really passionate about, I'll have it out with him," she says.
Rosen admits she spends too much time reading social media feedback of her podcast performances. And it's too late to stop now.
"A certain amount of looking at is a compulsion … I don't think it's freeing me up to be more creative at all," she says.
Rosen follows in her podcast partner's foot steps tomorrow when she kicks off her first live podcast taping at the Uprights Citizen's Brigade Theatre in Los Angeles with guests Garfunkel and Oates.
But she has no plans of abandoning the podcast format any time soon, even if the live shows are a hit.
"I think it's really intimate," she says of podcasts. "Most people are listening with ear buds. You have someone's voice in your head, almost like you're having their thoughts in there."