HOLLYWOOD — "I'm a Donald Trump supporter and [I'm] happily here," Connor told Breitbart News during a visit to the Republican candidate's star on the Hollywood Walk of Fame on Saturday. "We've had some pretty deplorable actions over the last 48 hours," the man added, referring to an incident in which a homeless woman was violently harassed by a group of Hillary Clinton supporters on the Los Angeles landmark Thursday as they shouted insults at her and appeared to knock her to the ground.
The woman — who has not yet been publicly identified — was demonstrating near Trump's star, which was allegedly destroyed by 53-year-old James Otis in an early-morning pick-ax attack on Wednesday. Otis was arrested early Thursday morning and charged with felony vandalism. He faces up to three years in jail and a $10,000 fine if convicted.
In a video of the apparent assault incident posted to YouTube, the woman can be seen demonstrating silently in support of Trump while holding a number of placards, including one that read, "20 Million Illegals and Americans sleep on the streets in tents. Vote Trump."
The woman then appears to be knocked to the ground as the group of bystanders rips up her homemade signs.
In a brief interview with Breitbart News at the site of the attack on Saturday, Connor said he was rallying at Trump's Hollywood star "in support of the homeless woman who wasn't treated right. And also just to show support for Donald Trump."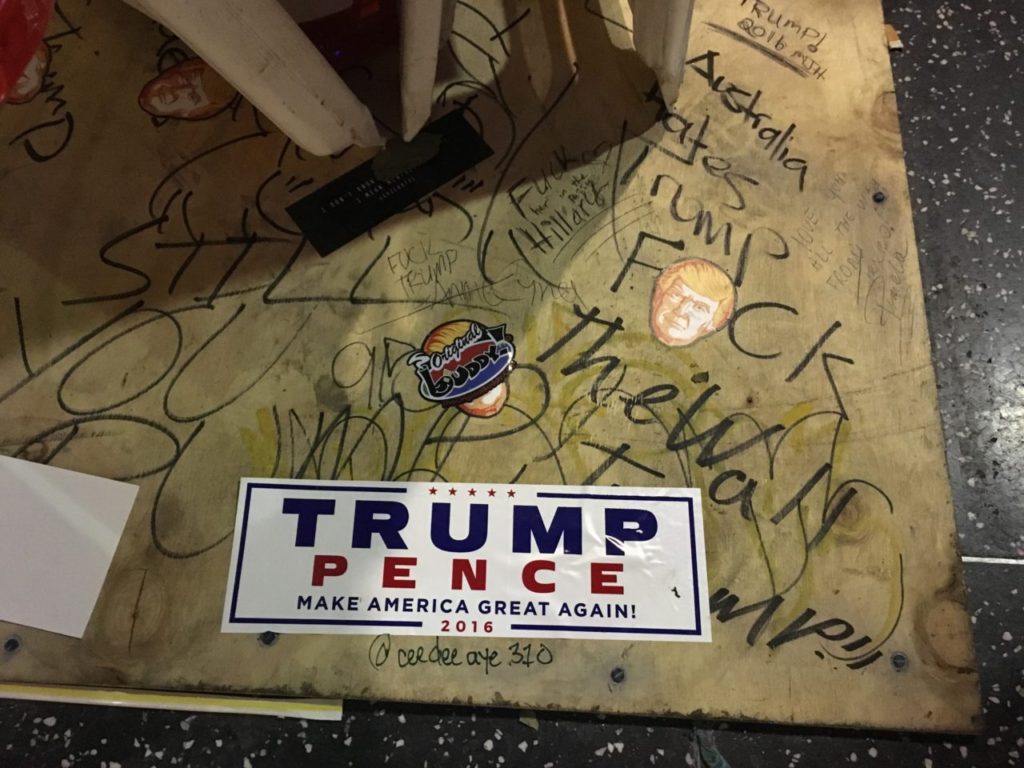 "He is a man I love for the whole country, no matter your race, your creed, your gender," the man said. "It doesn't matter. He wants to take care of us all. And I believe him."
Connor said he is half-Irish and an American citizen, and added, "I couldn't be prouder to be voting for Donald."
A French-American man named Jacques said he saw the attack on the homeless woman as a by-product of people "letting their hearts get outside of their chests, rather than their minds taking over the situation of how life is going to be a great taker of something new."
A group of African-American women who were also present at Trump's star were asked to react to news of the homeless black woman being attacked for defending the Republican presidential candidate. "Disrespectful," one of the women told Breitbart News.
Meanwhile, a woman holding up a "Latinos for Trump" poster got into a heated argument with three Latino men over her support for Trump.
"F*ck Trump," one of the men said. He called the woman supporting Trump a "dumbass," and said "she's only supporting him because of abortion. I honestly don't give a sh*t about either candidate."
"I'm pretty sure she's going to get deported if he wins. We're Mexican. We all will," he added.
Another man, who said he hails from Brazil, said "Latinos for Trump is like Jews for Hitler."
"I have a Porsche in Brazil. I have money. [I'm] spending money here. I don't live here. I [am] only spending money." He continued, "it's like Jewish people, 'Hitler! Hitler!"
Follow Adelle Nazarian on Twitter and Periscope @AdelleNaz