Marcella Arguello, a standup comedian and a writer for Bill Nye Saves The World on Netflix, tweeted in the wake of the Congressional baseball shooting that the deaths of "a few old ass conservative white men" were a worthwhile risk if it led to gun control.
The remarks, which Arguello subsequently deleted from her Twitter feed but can still be viewed in archived form, followed the shooting of U.S. Majority Whip Steve Scalise earlier this month.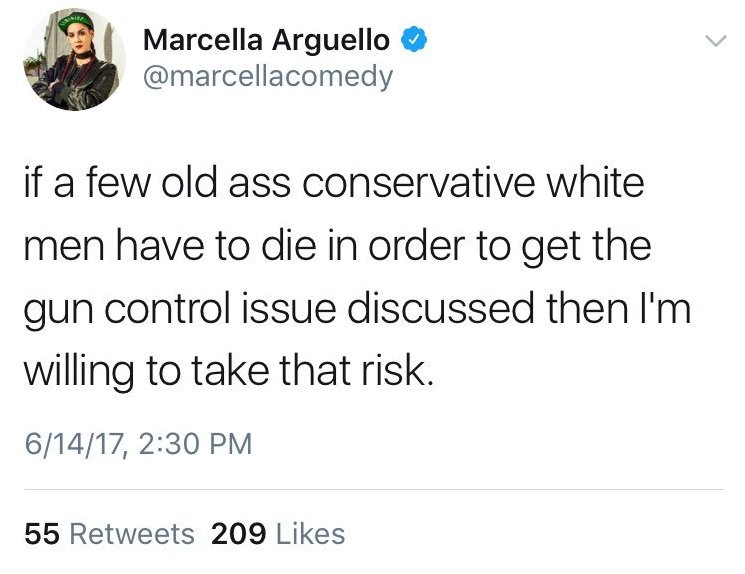 Arguello did not apologize for the tweet, but did delete it, leaving this message in its stead:
Yes, I deleted an "offensive tweet." Cause if the president can do it then fuck it bitch so can I.

— Marcella Arguello (@marcellacomedy) June 24, 2017
She also retweeted fellow comedian Chelsea Peretti, in what appeared to be a suggestions that she, a comedian, should be held less accountable for her words than politicians:
i dont understand how comedians are held more accountable for their words than politicians

— Chelsea Peretti (@chelseaperetti) July 2, 2016
There have been a spate of over-the-line anti-Trump and anti-Republican comments from figures in entertainment and showbiz in recent weeks. Yesterday, Johnny Depp apologized after joking about assassinating President Trump. This followed the suspension of comedian Kathy Griffin from CNN's New Year's lineup after she posed for a photo holding up the "severed head" of Trump.
You can follow Allum Bokhari on Twitter, Gab.ai and add him on Facebook. Email tips and suggestions to abokhari@breitbart.com.