An effort called #WakandaTheVote meant to ramp up black voter registration kicked off this week at several screenings of Marvel's blockbuster superhero film Black Panther.
"This weekend we wanted to meet our people in Wakanda," Electoral Justice Project (EJP) founders Kayla Reed and Jessica Byrd told Blavity of the voter drive initiative.  which is a project by the Movement for Black Lives that aims to fight for and advance the rights of black Americans.
"We know that for some it's a superhero world, but we know that the world we deserve is still waiting to be built — and we want to build it! This upcoming spring and November 2018 midterm elections are an important step in building that new world, and we want to take every opportunity to engage our communities in the conversation of electoral justice," the activists said. "We will be registering people to vote at movie theaters across the country so that we can #wakandathevote at the ballot box."
Electoral Justice Project is a project by the Movement for Black Lives, which is, according to its website, "a collective of more than 50 organizations representing thousands of Black people from across the country have come together with renewed energy and purpose to articulate a common vision and agenda." The group demands, among other things, "reparations for harms inflicted on black people."
The #wakandathevote asks eligible supporters to text PANTHER to 91990 to create "your own event."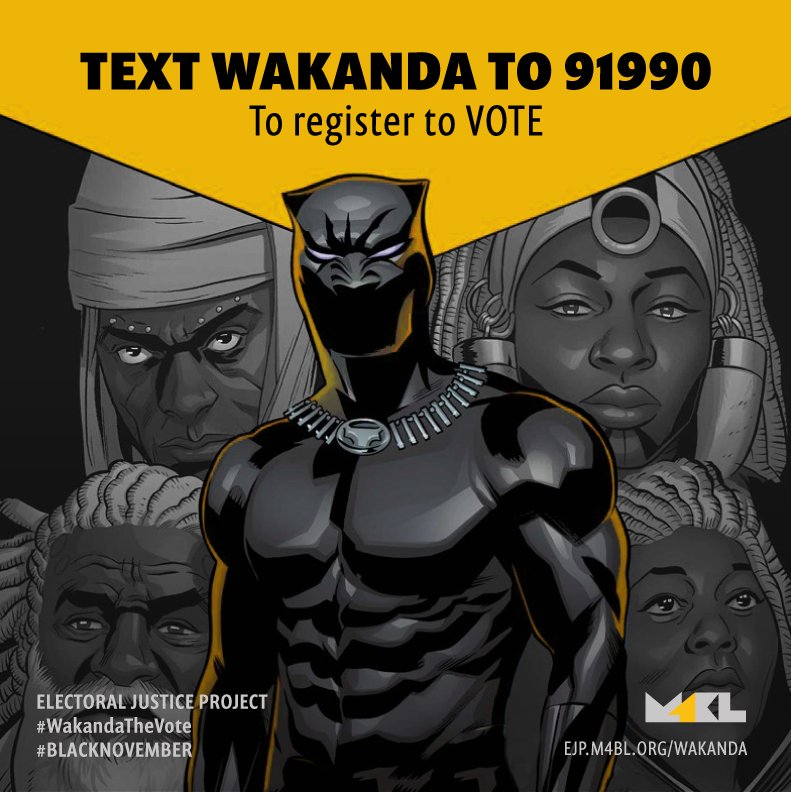 "Over 1,000 people joined our launch call, and we've been building out an exciting campaign ever since," Reed and Byrd told the website.
Black Panther stars Michael B. Jordan, Lupita Nyong'o, Sterling K. Brown, Angela Bassett, Forest Whitaker, and Andy Serkis, and hit theaters on February 16. Read Breitbart News' John Nolte's review of the film here.
Follow Jerome Hudson on Twitter @jeromeehudson