The teenage terrorist who executed a NSW Police Force employee in Sydney was lauded as a "hero of the Islamic people" on a social media page, which was quickly removed at the request of police.
Fifteen-year-old Farhad Khalil Mohammad Jabar, who was born in Iran and had an Iraqi-Kurdish background, was killed during a shoot-out with special constables outside police headquarters in the western Sydney suburb of Parramatta last Friday. Moments earlier he had shot finance worker Curtis Cheng in the back as he left the building.
According to The Sydney Morning Herald, on one of the Facebook pages that have emerged since the shooting the teen has been labelled the "hero of Parramatta" although it remained unclear who set up the Facebook page or why.
"Hero of the Islamic peoples he will be gratly (sic)," one post reads on the Facebook page. "Death to the evil police state of Australia who killed this young child all he is guilty of was being muslim!!"
An image from the site 'RIP Farhad Khalil Mohammad Jabar' Facebook page appears below.
Asked about the page, NSW Police Deputy Commissioner Nick Kaldas said it was disappointing : "Just as disappointing as the right-wing extremist material," he added.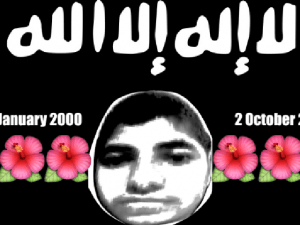 Police investigating the crime are now examining links between the shooter, who was dressed in black at the time of the attack, and a nearby mosque he visited immediately before the shooting.
Witnesses said that after shooting dead Mr Cheng, the teenager ran up and down in front of police headquarters waving his handgun in the air and shouting "Allah, Allah".
Jabar visited Parramatta Mosque before he gunned down the popular 58-year-old civilian employee. He was a regular at the mosque and often stayed there until late at night with other young men.
A major focus for police will be how Jabar became radicalised and whether it was from a group he met at the mosque, reports The Australian.
Recordings of sermons from imams from last Friday have been seized by police, who are being joined in their investigation by the Australian Security Intelligence Organization (ASIO) and the NSW State Counter Terrorism Squad.
The mosque was closed Sunday and its chairman sought to distance it from the shooting which has been labelled a terrorist attack by the police and Australian Government.
"I don't know. I don't like the accusations. Our lecture on Friday was about charity and how to worship God and help others. I'm very concerned this act (the terrorist attack) has nothing to do with me," mosque chairman Neil El-Kadomi told the Sydney Daily Telegraph.
On Monday night El-Kadomi again denied any links, telling the ABC's 7.30 television program: "We don't know the boy, or where he lived because he's not a regular person in the congregation."
Radical Islamic group Hizb ut-Tahrir has also denied links to Jabar.
Other key parts of the inquiry will be how Jabar got the gun he used to kill Mr Cheng and what links, if any, he had to known Islamic State sympathisers and other known terrorist groups.
While he wasn't known to police, it has been reported that Jabar was linked to a radical group that police were aware of.
The death of Cheng was the third such act of terrorist violence in Australia in 12 months.
In September 2014, Melbourne police shot dead a "known terror suspect" who stabbed two officers, just one day after the Islamic State group called for Muslims to kill Australians indiscriminately .
And in December, Iranian-born self-styled cleric Man Haron Monis and two hostages were killed following a 17-hour siege at a central Sydney cafe.
Follow Simon Kent on Twitter:

Follow @SunSimonKent

or e-mail to: skent@breitbart.com