Since the Islamic Society (Isoc) at a London University coordinated a campaign of harassment to shut down a talk by an atheist ex-Muslim last week, the Feminist and LGBT societies have respectively declared their "solidarity" with the Islamists, despite the Isoc president making his opposition to gay and women's rights very clear.
Mariam Namazie (above left) is the founder and leader of the British Council of Ex-Muslims who started the successful #ExMuslimBecause hashtag that trended worldwide two weeks ago, subsequently to be attacked by the BBC.
As Breitbart London reported, she gave a talk last Tuesday called "blasphemy and free speech in the age of ISIS" at Goldsmiths University, London, the previous stomping ground of #KillAllWhiteMen 'Welfare and Diversity' officer Bahar Mustafa.
Before the event, the Isoc used social media to claim the ex-Muslim speaker violated their "strict" safe space policy.
A mob of male Islamists from the Isoc then showed up at the event. They sat at the front and aggressively heckled, shouting "safe space" and "she's talking rubbish", and eventually physically intervened to stop proceedings by switching off the power to a projector displaying her presentation.
"We support them," declared the Feminist society on Wednesday, "…condemning the actions of the Atheist, Secularist and Humanist Society and agree that hosting known islamophobes at our university creates a climate of hatred."
Two days later, the LGBTQ+ Society also announced its "solidarity" with the "brothers and sisters" of the Islamic society who had attempted to shut down the discussion, and its opposition to the Secular and Atheist society.
"We condemn AHS and online supporters for their islamophobic remarks, attitudes, and harassment," they wrote, adding:
"If they feel intimidated, we urge them to look at the underpinnings of their ideology. We find that personal and social harm enacted in the name of 'free speech' is foul, and detrimental to the wellbeing of students and staff on campus."
Rather ironically, Muhammed Patel — the President Of Goldsmiths Islamic Society and believed to have been present at the talk — is openly and vocally opposed to equal rights for gays and women.
On Twitter, (since made private) he has said that gay people cannot be Muslims, that he wants "fags… off my timeline" and said women must wear the veil least they "fear Allah". He has also called Israelis "pigs".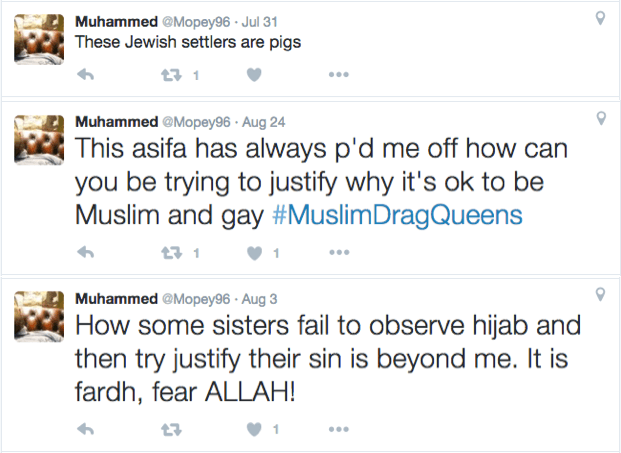 On Facebook, Mr. Patel has gone to great lengths to defend the radical hate preacher Haitham al-Haddad, who has said the death sentence for apostasy (leaving Islam) "makes perfect sense" and said that Muslims should "be ready to pay the price for this victory from our blood".
Mr. al-Haddad has also said deeply disparaging things about gay people, and when the LGBTQ+ society campaigned to stop him speaking at Goldsmiths in May, Mr. Patel promoted a petition defending free speech at universities. It reads:
The LGBTI Society at Westminster University have started a campaign to stop Westminster Student Islamic Society holding an event on University Campus because they disagree with the speakers views. To stop someone merely speaking would set a dangerous precedent.

Universities host many student societies that hold a diverse range of views. As long as speech is lawful, and does not promote criminality, British Universities must uphold the enshrined principle laid down in the Education act (1986) to promote free speech.

It is unhelpful for any group to ask for favorable treatment. Societies can only progress when different views are debated without intimidation. Universities are the best institutions to foster this.
His views appear to have changed somewhat in a year, as he works hard to defend his "favorable treatment" and attempts to silence those he disagrees with.