Scottish Nationalists (SNP) are to abandon plans to immediately re-join the European Union (EU) if Scotland leaves the UK, as polls show Scots are more Eurosceptic than ever before and currently reject independence.
On Tuesday, a major survey showed two-thirds of Scots support Brexit or want to reduce EU power. A day later, on Wednesday, a poll showed 57 per cent of them also back staying inside the UK.
Amidst these developments, an SNP source told The Telegraph that Scottish First Minister Nicola Sturgeon would try to join the European Free Trade Association (EFTA) instead of the EU after independence, possibly to woo Eurosceptics into supporting Scottish independence.
EFTA is free trade area consisting of Iceland, Liechtenstein, Norway, and Switzerland – rather than a political union.
Around 400,000 Scottish voters who backed independence in the 2014 referendum also voted for Brexit. They represent one-quarter of all those who voted to break up the UK.
✍️ If you agree Scotland should have a choice on the kind of country we are going to be, sign the pledge: https://t.co/9mK4v8U3ot #ScotRef pic.twitter.com/7XveMkRNh0

— The SNP (@theSNP) March 13, 2017
Just two days ago, Mrs. Sturgeon announced her plans for a second referendum on independence, blaming Prime Minister Theresa May's plans for a "hard Tory Brexit" and claiming Scotland was being forced to leave the EU "against its will".
However, the Scottish Social Attitudes Survey, based on interviews with over 1,200 people, subsequently reveal Euroscepticism to be at its highest ever level in Scotland, making her justification for a second referendum questionable.
In the results, gathered in the months after the Brexit vote, 2 in 3 Scottish voters either wanted to leave the EU (25 per cent) or wanted the EU's powers to be reduced (42 per cent). Only 21 per cent of respondents said they want arrangements with the EU to stay as they currently are.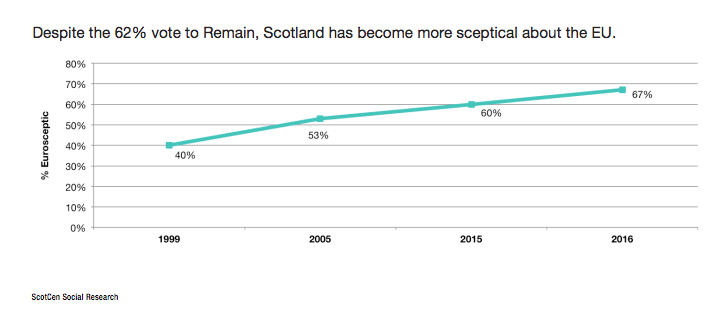 The rising levels of Euroscepticism are matched by a fall in support for independence.
A YouGove poll for The Times, published Wednesday, found that 57 per cent of Scots backed staying inside the UK against 43 per cent who want independence (once "don't knows" and those not prepared to vote were excluded).
The result represents a 14-point lead in favour of Scotland staying in the UK, which was last recorded in a YouGov in a poll in August 2014, a month before the first independence referendum.
Other problems for Scottish Nationalists include promises by the Spanish government to block Scotland joining the EU and the fact they would have to sign a commitment to adopt the euro and abandon the pound.
Speaking on ITV News Tuesday night, former UKIP leader Nigel Farage said Spain "would almost certainly veto Scotland joining [the EU]", and claimed Scotland would "not meet the criteria" for joining the bloc because their public finances are "worse than Greece".
"If this second Scottish referendum comes, once these arguments are out there in public, I think there will be an even bigger margin in favour of staying within the United Kingdom," he added.