A UK High Court judge has rejected appeals by the parents of the sick toddler Alfie Evans to fly their son to Rome for treatment, after appeals by Pope Francis and the granting of Italian citizenship to the child.
In a textbook case of modern state overreach, the UK government has taken over all life and death decision-making for Alfie, shutting out his parents and ruling that Alfie's "best interests" are only served through his death.
In an official statement, UKIP leaders condemned the heavy-handedness of government authorities, calling the move a "gateway to totalitarianism."
"Alfie Evans should have a right to life not a duty to die at the behest of the state. This court judgment and medical decision are like a gateway to totalitarianism. The state has no right to tell parents – 'you will not get your kid back even for alternative healthcare, until we are sure he is dead,'" The statement reads.
"We in UKIP ask all people, all politicians of every party to speak out on this pivotal case."
"We are talking about the right to life of a young child, and the right of his parents to protect him from a healthcare and legal system gone astray," it said.
Adding insult to injury, Alfie's father claims that his son has been denied nutrition for 23 hours, suggesting that now that the boy is breathing on his own, the hospital is attempting to starve him.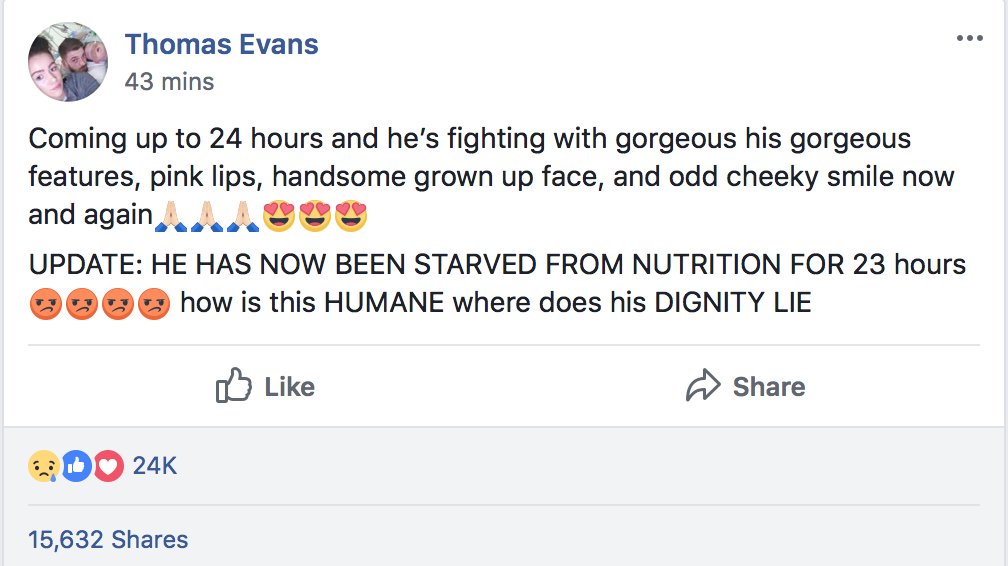 On Tuesday, a court ruled once more that the 23-month-old child may not be flown to Italy for treatment. The judge, a gay-rights activist named Sir Anthony Paul Hayden, the author of Children and Same Sex Families: A Legal Handbook and a member of The Bar Lesbian and Gay Group (BLAGG), rejected Alfie's parents' pleas that they know better that the courts where their child's best interests lie.
The boy's parents, Tom Evans and Kate James, are again contesting the decision and the case will be heard at the Court of Appeal Wednesday.
A plane had been put on standby to fly Alfie to Rome for treatment at the Vatican-owned Bambino Gesù Children's Hospital after Pope Francis last week voiced support for the child's parents and the Italian government took the extraordinary step of granting Alfie citizenship.
Judge Hayden of the UK High Court, labeled the move by Italian officials as "disrespectful of the principles of international diplomacy."
Mr. Justice Hayden—as he is referred to in the UK—also claimed that some supporters of Alfie's parents have given them "misleading" advice that had damaged their relationship with the hospital, while expressing scorn for demonstrators.
The judge called one man a "fanatic" for claiming he knew better than the law, warning the demonstrator that he had come "perilously" close to being held in contempt of court.
While the attorney representing Alfie, Paul Diamond, argued that it was not in Alfie's best interests to be left to die at Alder Hey, insisting that the boy should be flown abroad to Italy, the judge replied: "You do not have the moral high ground in this court."
Alder Hey Hospital released a statement after the decision: "This evening the High Court again ruled that it is in Alfie's best interests to continue with the end of life care plan developed by the clinical team who have cared for him throughout."
"Our top priority therefore remains in ensuring Alfie receives the care he deserves to ensure his comfort, dignity and privacy are maintained throughout."
Pope Francis met with Alfie's father in the Vatican last week and instructed the Bambino Gesù children's hospital to "do everything possible" to be able to receive the child.
His delegate in this issue, Italian Bishop Francesco Cavina, has said that the refusal by British judges and hospitals to allow Alfie to leave the country and be treated elsewhere is "unbelievable."
"From a commonsense point of view, I think we are outside all human logic," he said.
"Two parents asking to transfer their child from one hospital to another – I do not understand why this should be prevented, if not in Italy then in any other hospital in England," he said. "It is hard to understand something like this."
In his private meeting with the Pope at the pontiff's Santa Marta residence, Evans read out a statement in which he pleaded for "asylum" for Alfie, noting that the child "is sick but not dying and does not deserve to die" and that he is "not terminally ill."
"Our hospitals in the U.K. do not want to give disabled children the chance of life and instead assisting in the death of children," he said. "We now have realized our son's life does not mean much to the NHS [National Health Service]. We plead to you to help our son," he said.
Follow Thomas D. Williams on Twitter Follow @tdwilliamsrome