TEL AVIV – Palestinian President Mahmoud Abbas' Fatah party praised Monday's bus bomb in Jerusalem even while Abbas himself reacted by denouncing "all forms of terrorism."
Fatah's Jerusalem spokesman Ra'fat 'Alian called the attack a "natural response" to Israel's actions while the al-Aqsa Martyrs Brigades, Fatah's armed wing, said the attack was "good news."
"Greetings from the Palestinian people on the occasion of the Jewish holiday of Passover," was the sardonic message plastered on an image of the burning bus #12 together with Fatah's logo on the Ain Al-Hilweh refugee camp's Facebook page (see below).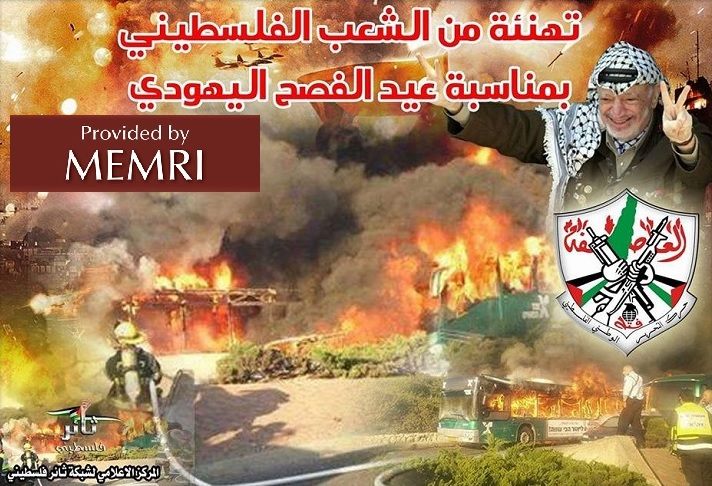 Abbas, who was in Germany at the time of the explosion, told reporters after meeting with German Chancellor Angela Merkel that "we are against all forms of terrorist activity that affect Israeli and Palestinian civilians."
Soon after the attack, in which 21 people were injured, Fatah spokesman Osama Al-Qawasmi denied a claim by Hamas that Palestinian presidency spokesman Nabil Abu Rudeineh had condemned the attack, stating:
"The Hamas media is expert at lies, falsifications, and forgeries. Several Hamas news agencies spread lies about an alleged statement by the fighter Nabil Abu Rudeineh condemning the blast in occupied Jerusalem."
Abbas message to German reporters continued with his insistence that the Palestinians "want to achieve the end of the occupation" only through diplomatic means and "peaceful resistance."
Meanwhile, Fatah's Alian has different ideas about the meaning of "peaceful resistance," saying:
"What happened today on the Israeli bus in occupied Jerusalem was a natural response to the killing, arrests, and siege carried out by Israel against the Palestinian people, as well as to its repeated incursions into the Al-Aqsa Mosque… If Israel is seeking a security solution, [it must know] that there can be no security solutions with the Palestinian people."
The al-Aqsa Brigades released a statement extolling the magnitude of the attack:
"For our Jerusalem and our Al-Aqsa Mosque, the good news of victory keeps arriving today, in a display we have not seen in a long time – a bus bombing operation in the occupied city of Jerusalem, in which dozens of Zionists were injured," the statement read.
Unsurprisingly, Hamas expressed enthusiastic support for the bomb, with the terror group's spokesman agreeing with his Fatah counterpart that the attack is a "natural response."
"Hamas praises the Al-Quds [Jerusalem] operation and sees it as a natural response to the Israeli crimes, specifically public executions, and to the fact that [Israel] is defiling the Al-Aqsa Mosque," Hamas spokesman Sami Abu Zuhri stated on Hamas' website and Twitter account.
Hamas also released a new version of the song "The Roof of the Bus Goes Flying," an instant hit among Palestinians originally released in February. The clip features members of the Al-Wa'ed Band standing in front of the carcass of an exploded Israeli bus and singing lyrics that include, "We want the dead to fill the streets and the blood to intensify the pain," and "make the fire engulf them, turn them into body parts, roast them."