Increasing numbers of British people are opposed to economic boycotts of Israel, according to new polling.  The annual Populus opinion poll reveals that 51 per cent of people "do not boycott Israeli goods, and find it difficult to see why others would single out Israel given everything else that is going on in the world".
The numbers are up eight per cent compared to last year's survey when 12 per cent of people disagreed with the statement. A total of 56 per cent of people agree that a boycott, as proposed by the Boycott, Divest and Sanctions (BDS) anti-Israel movement, would hurt both Palestinians and Israelis and this has increased by nine per cent since October 2015.
A full explanation of the polling results relating to economic boycotts can be seen below: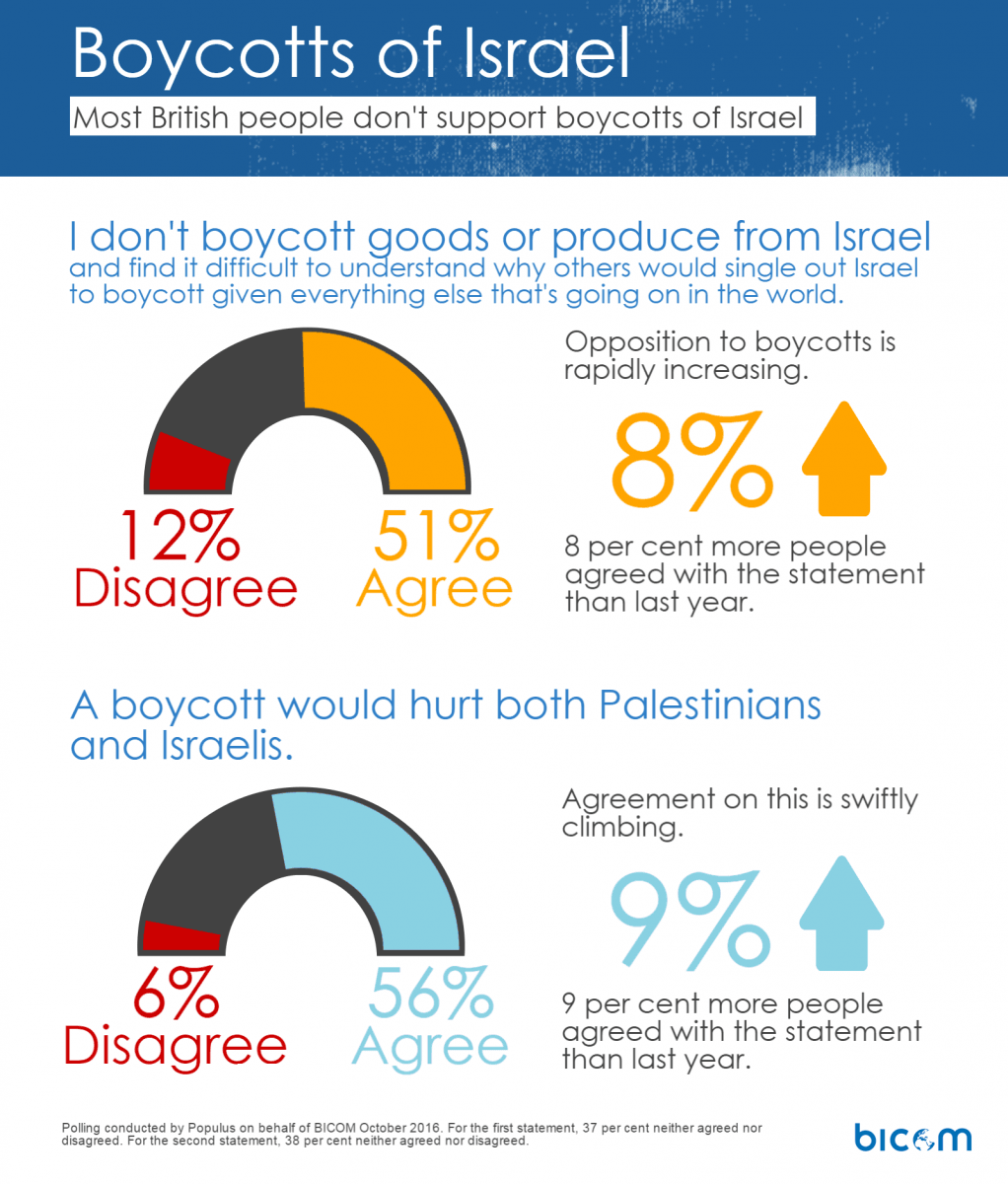 James Sorene, director of the Britain Israel Communications and Research Centre which commissioned the survey, believes the strong support goes against much open public discourse in British life that condemns the existence of the State of Israel. He said:
"Our poll show a very significant shift against the idea of boycotting Israel. The majority opposing it has increased by as much as eight per cent over the past year. The British sense of fair play is a clear theme in the poll as time and again respondents reject singling out Israel, given everything else going on in the world.
"In a year where we have seen several public figures attempt to explain their hatred of Israel as a political position, the judgement of the British people is stark. They clearly understand that hating Israel and questioning its right to exist is antisemitism, pure and simple.
"Israel is rightly seen as a strong ally of Britain, and Brits agree with the part we played declaring our support for a Jewish homeland in the aftermath of the First World War almost 100 years ago."
The polling also counters a rise in general anti-Semitism across Britian.
As Breitbart Jerusalem has reported, recent charity figures reveal the number of anti-Semitic incidents in the UK rose by 11 per cent in the first six months of this year with London reporting three-quarters of all recorded attacks.
The Community Security Trust (CST) said 577 incidents targeting Jews were reported to the charity from January to June. This was up from 473 in the same period last year, a trend the charity's chief executive, David Delew, said was "worrying".
According to the Populus poll, Britons are also more than twice as likely to agree as disagree that hating Israel and questioning its right to exist is anti-Semitic. Almost 48 per cent of people believe that it is antisemitic, while only 20 per cent believe that it is not. A total of 57 per cent of people however agree that just criticising Israel is not antisemitic.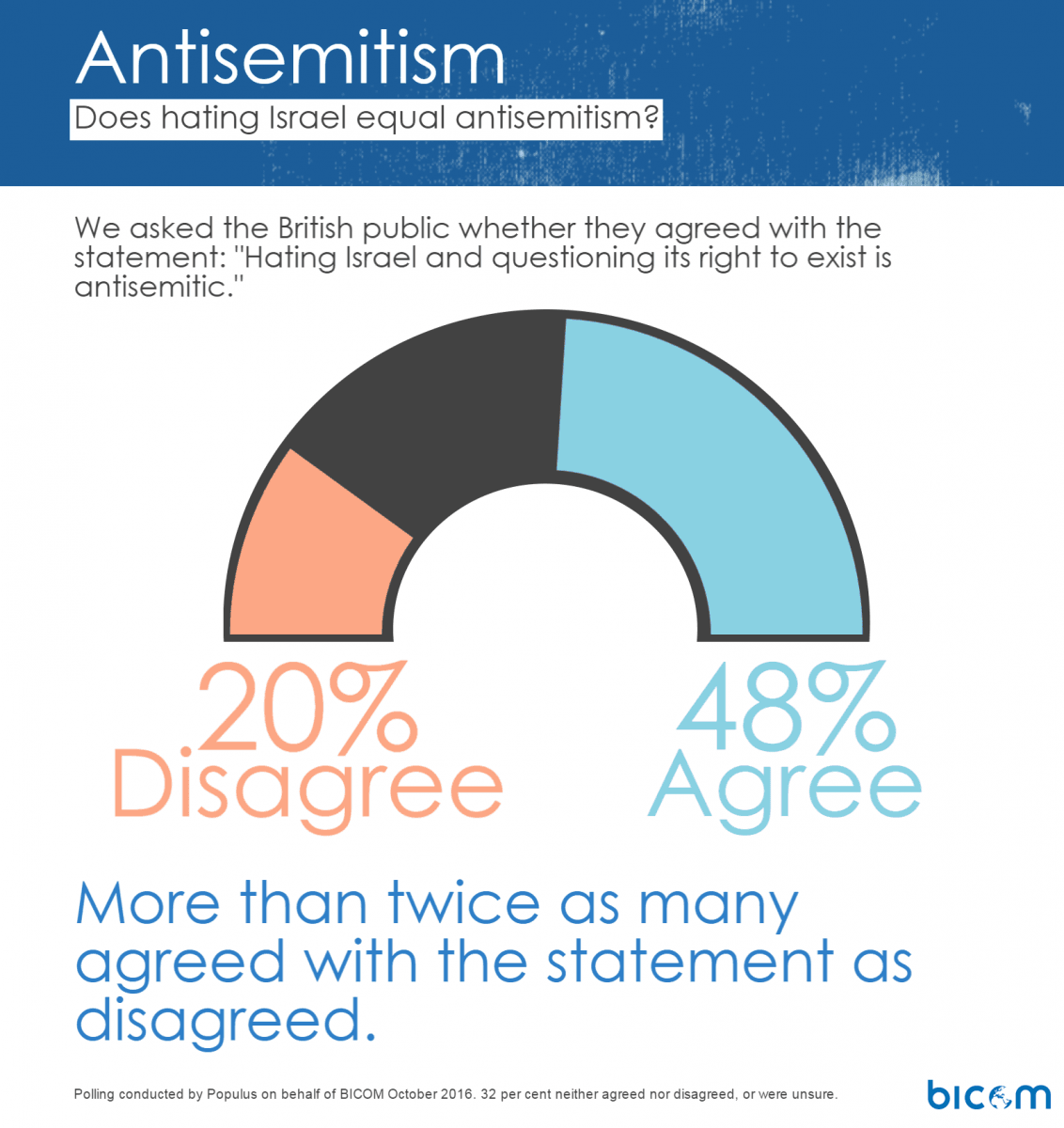 Israel's Ambassador to the UK Mark Regev told Jewish News the figures are encouraging, so too the fact more Britons see Israel as an important ally: He said:
"Today's results affirm the strong ties between our two countries. It is encouraging that more than ever, Britons view Israel as their strongest ally in the region. Equally important, most people correctly believe that demonization of Israel is in fact anti-Semitic, and must not be tolerated."
Follow Simon Kent on Twitter:

Follow @SunSimonKent

or e-mail to: skent@breitbart.com