Hollywood celebrity social media screeds exploded early on Election Day Tuesday, with several hysterical Hollywood elites sharing self-important screeds trashing Republican candidates and President Donald Trump.
Some stars are hitting the campaign trail for their preferred Democrat candidates, while others are hitting send on posts meant to encourage their millions of followers to vote against the president and the GOP.
Below is the Breitbart Election Day Celebrity Meltdown Live Wire. Follow along with us for all the latest midterm news and celebrity reactions.
Actress Ellen Barkin decided to call President Trump a "white nationalist misogynist nazi prick."
I would like to tweet out loud what we already know…wherever trump went to campaign his candidate suffered. How ya feelin bout that you white nationalist misogynist nazi prick? oops…pardon my french

— Ellen Barkin (@EllenBarkin) November 7, 2018
And now a special message from actress and uber Beto fangirl Amber Heard!
Vota, Texas! Los latinos representan uno de los grupos más grandes y poderosos en el estado y los que tiene más en juego en esta elección. Si votan, su voz sería escuchada! pic.twitter.com/l11LgFTKH4

— Amber Heard (@realamberheard) November 6, 2018
Another unhinged take from actor Rob Delaney.
Flagellating myself with a thorny switch, praying in a secret language & doing incantations to thwart this man https://t.co/bn8ccUvr97

— rob delaney (@robdelaney) November 6, 2018
It's an Election Day Emergency, according to rap Mogul P. Diddy who had this rant for voters in Georgia and Florida.
THIS IS A EMERGENCY MESSAGE TO THE CULTURE AND THE COMMUNITY!!!! THIS IS A EMERGENCY!!!!!!! Repost to the fuckin world right now PLEASE!!!! #VoteOrDIE pic.twitter.com/KCbhijHnrY

— Diddy (@Diddy) November 6, 2018
With mere hours before the polls closed in the state of Texas, pop superstar Beyoncé went all in for Beto O'Rourke.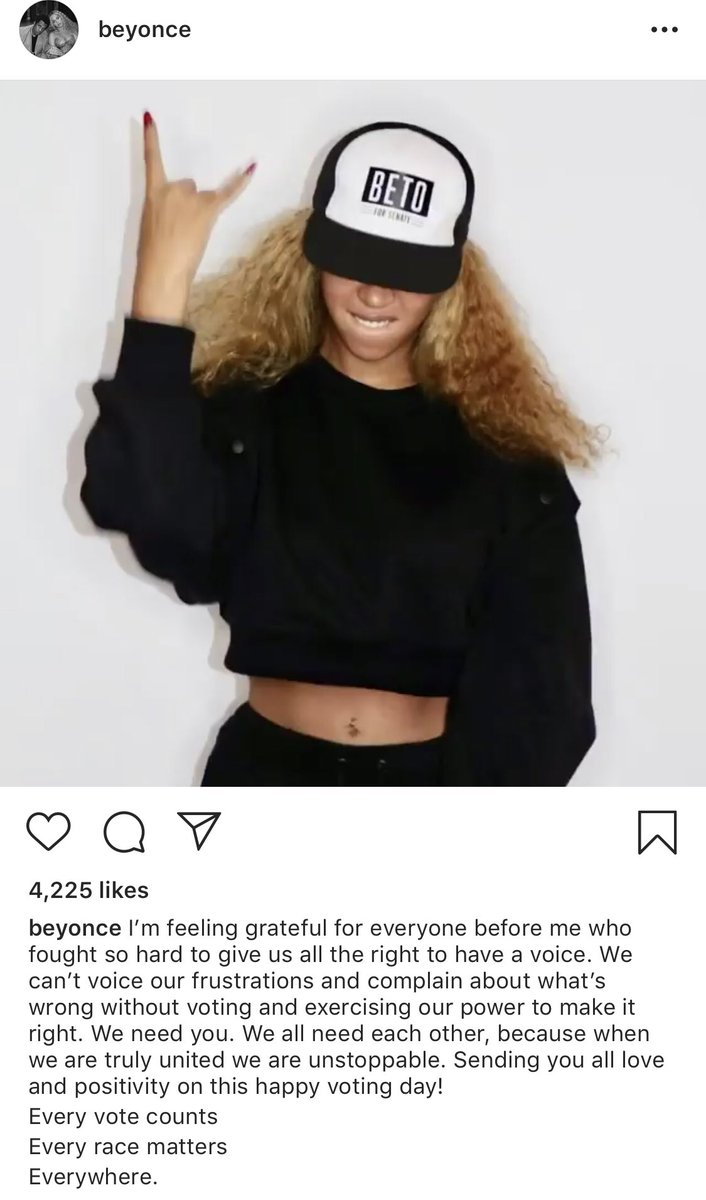 Actress Jennifer Esposito responds to social media posts she received after posting a video about how voting brought her to tears.
To all those full of hatred that left awful, sarcastic messages to me from a video I posted being emotional about this election -this is for you. Sending love. Xo pic.twitter.com/mZa6HIozIM

— Jennifer Esposito (@JennifersWayJE) November 6, 2018
With only a few more hours before polls close, here's fake president Alec Baldwin with a special message.
— HABFoundation (@ABFalecbaldwin) November 6, 2018
Actress Brie Larson hit us with an Election Day fashion statement about the young people.
Let's show 'em what we're made of. #VoteForOurLives pic.twitter.com/acplQ89nMI

— Brie Larson (@brielarson) November 6, 2018
Director Judd Apatow thought this would inspire people to head to the polls.
Vote! Don't jump the shark… of democracy. @RockTheVote pic.twitter.com/RXCLtk2oLW

— Judd Apatow (@JuddApatow) November 6, 2018
Actor Samuel L. Jackson had this explicit message for you "Muthafukkaz ."
Inspiring one here from the heart of Grammy-winner Alicia Keys.
For all of our ancestors that fought and died and lived and survived and created everything we now have access to, I bow down in deep honor. We are proud to be your wildest dream and we won't let you down! Let's keep it up we are awake, aware, growing & powerful!! #ivoted 💥💥💥 pic.twitter.com/ajyaBi85E8

— Alicia Keys (@aliciakeys) November 6, 2018
Jim Carrey released another unhinged painting and a sniveling rant to match.
I voted for compassion, inclusion, integrity, love, science, rule of law and schools free from assault rifles. I voted to honor women. For an end to corruption, cowardice and greed. For a White House free of thugs. I voted for human decency and American dignity. DID YOU? pic.twitter.com/dIUwpxwGL5

— Jim Carrey (@JimCarrey) November 6, 2018
This is actor Steve Zahn walking around Lexington, Kentucky, in full in Revolutionary War dress.
My pal Steve Zahn. Method actor. Canvassing Lexington,Ky neighborhoods today.😂🇺🇸😂 pic.twitter.com/igqlPnnX5R

— Rex Chapman🏇🏼 (@rex_rexchapman) November 6, 2018
Here's the view from Debra Messing's Twitter account.
— Debra Messing (@DebraMessing) November 6, 2018
George Takei released this gem to rally his followers to "get out there and vote blue."
Let's make sure Donald loses control of Congress. It's in our hands, friends. Get out there and vote blue. Let's make the #BlueWave2018 a reality.

I'm a #BlueWaveVoter, are you? pic.twitter.com/jF7riUkXKE

— George Takei (@GeorgeTakei) November 6, 2018
TBS late-night host Samantha Bee has some conspiracies about Texas voting machines malfunctioning.
"I've seen several photo complaints of machines in TX switching the Senate candidate on straight Democratic ticket votes from O'Rourke to Cruz on the confirmation page. Have seen no reverse complaints of Republican tickets switching the candidates." #ThisIsNotAGame #ElectionDay

— Full Frontal (@FullFrontalSamB) November 6, 2018
Actress Julianne Moore quoted left-wing icon Gloria Steinem with this look-at-me-I-voted selfie.
Debra Messing left the caps lock button on again.
THIS IS HOW YOU DO IT! 👏🏻👏🏻👏🏻👏🏻👏🏻👏🏻👏🏻👏🏻👏🏻👏🏻👏🏻👏🏻👏🏻 https://t.co/ENzlUfgPPu

— Debra Messing (@DebraMessing) November 6, 2018
Here is actor Adam Scott calling Georgia gubernatorial hopeful a "scumbag."
https://twitter.com/mradamscott/status/1059878319577952256
Director Jordan Peele thought this selfie would be inspiring.
Argh. pic.twitter.com/rdQ1J1iDsX

— Jordan Peele (@JordanPeele) November 6, 2018
And here is Michael Moore with a bunch of numbers.
FACT: WE are the MAJORITY! Trump lost by 3M, the Dems won the prez popular vote EVERY TIME but once ('04) since 1992, 78% of Americans don't own a gun, 62% want socialized medicine for all, 82% support equal pay for women and 75% believe immigrants are great for the USA! #BOOM!

— Michael Moore (@MMFlint) November 6, 2018
Cher wants you to remember.
THIS SAYS IT ALL….AMEN🙏🏻 pic.twitter.com/LS3cuGYXdJ

— Cher (@cher) November 6, 2018
Be the change, America. Be the change.
Be the change you want to see. Get to the polls. #GoVOTE.

— Pharrell Williams (@Pharrell) November 6, 2018
It's all riding on today, you guys, according to actress Mira Sorvino
We have a chance to turn this tide. The daily gut punch when we turn on the news doesn't have to happen. WE THE PEOPLE HAVE THE POWER to demand our government positively promote & protect ALL of us "WITH LIBERTY AND JUSTICE FOR ALL." Choose love, decency, equality & unity. #VOTE

— Mira Sorvino (@MiraSorvino) November 6, 2018
More tears! Actress Jennifer Esposito was brought to tears by her vote.
Anyone else sob after voting? Praying for better !! #vote pic.twitter.com/EmwLTg3JFK

— Jennifer Esposito (@JennifersWayJE) November 6, 2018
Wanda Sykes doesn't live in Maryland but if she did she would totally be voting for Democrat Ben Jealous.
Judd Apatow shares this gem of advice.
https://www.instagram.com/p/Bp2IqS_H7JL/?utm_source=ig_twitter_share&igshid=1usc4z6c1ygba
Actor Kumail Nanjiani knows he'll be crying no matter what.
No matter what happens today, I'll be crying.

— Kumail Nanjiani (@kumailn) November 6, 2018
Voting is a matter of life and death, so says actor Billy Eichner.
Sandy Hook, Vegas, Pulse in Orlando, Parkland, Pittsburgh -Republicans have controlled Congress for years and have done literally NOTHING to increase gun safety and help protect us. NOTHING. ENOUGH IS ENOUGH! Your vote today is a matter of life and death. https://t.co/1jTduAHcN9

— billy eichner (@billyeichner) November 6, 2018
Rosie O'Donnell know the Blue Wave Is Coming!
he only lies – he always lies #BlueWaveComing #Vote2018 https://t.co/cPwtIX44S5

— ROSIE (@Rosie) November 6, 2018
Actor Jim Carrey here with an Election Day special.
Shameless lies. Endless indictments. The rise of racist hate groups. Kidnapped children. Contempt for rule of law – and quite possibly TREASON. Let's end this ill-wind that's blowing America off-balance and turning us against each other. VOTE DEMOCRAT! pic.twitter.com/Pqm6CcTOHR

— Jim Carrey (@JimCarrey) November 6, 2018
Actress Sophia Bush shared this unhinged update about how voting led to her skipping in the street.
I voted early. It was honestly so much fun. So poignant. I went skipping down the street singing afterward. No joke!
•
Today is your day. Our day. Make it count.
•
If yo my have questions,… https://t.co/ht0mkuGVrj

— Sophia Bush (@SophiaBush) November 6, 2018
Actor Jon Cryer has drawn a line in the sand.
I'm an independent and have voted for members of both parties.

But I will never vote for another Republican until Donald Trump and every GOP representative who enabled him is out of office.

— Jon Cryer (@MrJonCryer) November 6, 2018
Actress Amy shared her sit down fluff interview with Democrat Stacy Abrams
"It would be great if governors were pen pals." – #AmyPoehler

Amy and @staceyabrams discuss the importance of governors. Hint: most national issues we talk about started in states. We are interconnected. Full interview: https://t.co/QrzosexPUG #GoVote #ElectionDay #VoteToday pic.twitter.com/gy18NFFvfF

— AmyPoehlerSmartGirls (@smrtgrls) November 6, 2018
Actor Mark Ruffalo went to the old tried and true venom with this post.
#Iowa, show the world you reject racism and bigotry. Vote for the candidate that is NOT a white supremacist, Nazi sympathizer.

Vote J.D. Scholten, @Scholten4iowa: pic.twitter.com/01BWzcSKgp

— Mark Ruffalo (@MarkRuffalo) November 6, 2018
Pop star Rihanna took a break from threatening President Trump over her songs to urge you to vote.
It's ELECTION DAY America!!! The most important day for the rest of your lives! If you're tired of complaining about the state of the country and government, get up and #VOTE!!! If you live in any of these states it's not too late to register today!! C'mon man, LETS GO!!!! 💪🏿💪🏿💪🏿 https://t.co/hNifirkt2S

— Rihanna (@rihanna) November 6, 2018
Bette Midler. Always sensible and tame.
SUCK UP!! Here's Lyin' Ted, literally embracing the pig who called his wife a dog. Look at his eyes! Ted's grateful! Guess we know who the dog is, here.#BetoForTexas pic.twitter.com/CdXqtVeRMY

— Bette Midler (@BetteMidler) November 6, 2018
Actress Mindy Kaling thanks Republicans for amending the Constitution so she could vote.
Thank you 14th Amendment for letting me vote today! pic.twitter.com/6dmvaZvvvb

— Mindy Kaling (@mindykaling) November 6, 2018
Marvel movie director Joss Whedon shared this picture of the future.
Here's a picture of the future except I'm in it. Now go VOTE, some of you can make the amazing @staceyabrams governor and ALL of you can make democracy not die. Nothing but win. Bring a friend. #vote #StaceyAbramsForGA #onevoteatatime #BlueWave #NationalRacistUncleStayHomeDay pic.twitter.com/h3l6GVpg7X

— Joss Whedon (@joss) November 6, 2018
And here is an all-caps sensible take from Bette Midler.
NEW YORK DISTRICT 31, BROOKLYN! I HEAR THRU THE GRAPEVINE THAT THE LINES TO VOTE ARE SHORT!! GET YOUR ASSES OUT THERE! THERE'S FOUR PAGES WORTH OF CIVIC INITIATIVES TO VOTE ON; IF YOU DON'T VOTE, YOU TAKE THE CONSEQUENCES!!

— Bette Midler (@BetteMidler) November 6, 2018
There are some really high stakes riding on today's vote, according to director Rob Reiner.
Today America will decide if Democracy survives. VOTE!

— Rob Reiner (@robreiner) November 6, 2018
Never fear, America. Alyssa Milano is hitting the road to campaign for some Democrat candidates today.
I will be taking a road trip today and hitting six CA districts to drive people to the polls.

CA – 50, 49, 45, 48, 39, 25!

I hope to see you today.

I'm ready. Let's do this, America.

— Alyssa Milano (@Alyssa_Milano) November 6, 2018
Arnold Schwarzenegger wants you to use your vote today to send lawmakers a bumper sticker message.
We have a chance to remind our politicians all over the country that the first three words of the Constitution are "We the People," not "We the Politicians." Let's do it. #terminategerrymandering

— Arnold (@Schwarzenegger) November 6, 2018
Late-night funnyman Andy Richter want America to "Prove that President Trump is not who we are."
Prove it, America. Prove that President Trump is not who we are. – The Washington Post https://t.co/1FavIaXHg5

— Andy Richter (@AndyRichter) November 6, 2018
Rock band Axl Rose had this thoughtful Election Day message.
VOTE MOTHERFUCKERS!!🇺🇸🇺🇸🇺🇸

— Axl Rose (@axlrose) November 6, 2018
Actor Rob Delaney says the election results will affect a whole host of people.
The results of this election might not affect you. But they will affect poor people, disabled people, women, people of color & many others. Health care will be one of the first big casualties & it'll get worse from there. Your one vote has power to help. https://t.co/4sqGC1XarS

— rob delaney (@robdelaney) November 6, 2018
Law & Order star Mariska Hargitay offered up this hashtag-heavy post.
#ItsYourRight #ItsYourDuty #ItsAThrill. #ItsInOurHands #PowerToThePeople #ForThePeopleByThePeople #WeCanFixIt #WeCanDoIt #CivilRightsAreOnTheBallot pic.twitter.com/ueF16T1jVV

— Mariska Hargitay (@Mariska) November 6, 2018
Actor Jeffery Wright is here with some Election Day humor.
I'm about to punch this ballot so hard it's gonna have to miss the rest of season. #ElectionDay #GoVote pic.twitter.com/poSS5wW0RM

— Jeffrey Wright (@jfreewright) November 6, 2018
Actress Ashley Judd shared this quote about the importance of voting in elections.
Voting is a deeply moral act for me—in rebuilding confidence and encouraging an intelligent and hope-filled society. It is also a decisive act of Christian faith that I matter, society matters, justice matters, and others matter. Not to vote is to hand over our power.Richard Rohr

— ashley judd (@AshleyJudd) November 6, 2018
For rap mogul Sean "Diddy" Combs, there are only two options on this Election Day.
VOTE OR DIE!

— Diddy (@Diddy) November 6, 2018
Actor George Takei got it going early this morning with this hot take.
Your vote is an act of defiance.
Your vote is an act of sanity.
Your vote is an act of love.

— George Takei (@GeorgeTakei) November 6, 2018
Showtime's Billions star Asia Kate Dillon wants you all to vote because her civil rights "our on the ballot."
— Asia Kate Dillon (@AsiaKateDillon) November 6, 2018
Actress Susan Sarandon wants all you young people out there to "save the day" and vote…. today.
Young people, this is it. Save the day. I believe in you. Vote. #ElectionDay

— Susan Sarandon (@SusanSarandon) November 6, 2018
For actor Sean Astin, those who don't vote are "clumsy, reckless, and lazy."
Those who are able but choose not to vote or for whatever reason, fail to vote, are the most powerful political force in the country. I picture them as a clumsy, reckless giant, lumbering across the Nation. Condescending. Capricious. Groaning. Spiteful. Lazy. What will they do???

— Sean Astin (@SeanAstin) November 6, 2018
Follow Jerome Hudson on Twitter @jeromeehudson