TEL AVIV – Palestinian President Mahmoud Abbas' Fatah movement posted a picture of the terrorist who murdered three people in Tel Aviv lying dead in a pool of blood and congratulated him on becoming a martyr, Palestinian Media Watch (PMW) reported.
The full text beneath the picture on Fatah's Facebook page reads: "Nashat Melhem died as a martyr (shahid) after an armed confrontation in the courtyard of a mosque in Umm Al-Fahm on blessed Friday. Congratulations and may Allah receive you in Heaven."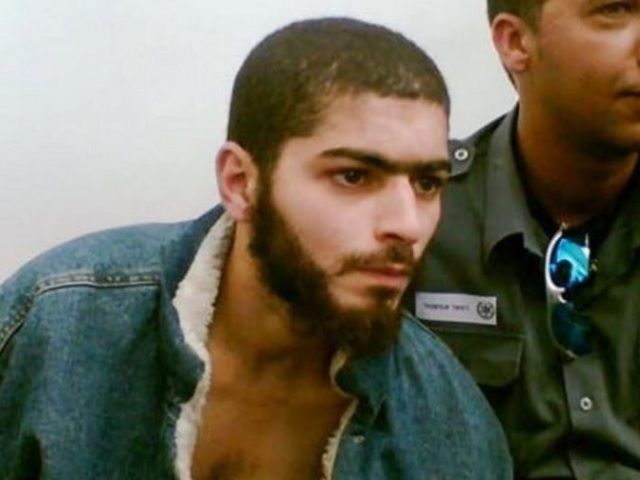 The 29-year-old Israeli Arab (pictured right) shot two Israelis, Alon Bakal and Shimon Ruimi, and wounded eight others at a bar in Tel Aviv on January 1. While fleeing after the attack, Melhem killed a taxi driver, Bedouin Israeli Amin Shaaban.
A massive manhunt for Melhem ended a week after the attacks when Israeli security forces tracked Melhem to his hometown of Arara in the north of Israel. After Melhem opened fire on them, Israeli soldiers shot and killed him.
The PA Ministry of Health dubbed the murderer "one of the dearest shahids [martyrs]," whose "name is engraved with his pure blood."
The ministry explained that it was unable to include terrorist Melhem on its official list of martyrs because, as an Israeli citizen, he did not come from the areas under the ministry's jurisdiction. The decision drew heavy criticism that was covered by Al Jazeera.
Angry tweets using the hashtag #the150thMartyr attacked the PA Ministry of Health and Abbas, one example being, "You [Melhem] were born a leader, lived like a leader, and down with the leaders after you."
In the wake of the public outrage, the ministry issued a press release emphasizing Melhem's status as a shahid despite his omission from the list:
"The omission of Nashat Melhem from its lists does not mean the title [of martyr] has been taken away from him. On the contrary, he is one of the dearest martyrs, and his name is engraved with his pure blood, which watered the ground of our free land. … The omission of Melhem from the list under no circumstances means that Nashat is not a martyr. On the contrary, he is like every Palestinian martyr from everywhere in the land."
Al-Hayat Al-Jadida, the official PA daily, wrote that the perpetrator of "the Tel Aviv operation" was a victim of Israel who was "assassinated" and "executed."