JERUSALEM – Palestinian children's drawings posted by President Mahmoud Abbas' Fatah movement show images of "Israel" drinking the blood of Palestinians and eating their bodies with knives and forks.
The caption "innocent drawings" accompanied the post on Fatah's official Facebook page last week, with the explanation that the sketches "express the feelings of children of #Palestine," Palestinian Media Watch reported.
In one drawing, a figure representing Israel with a Star of David on his shirt is seen eating a human body wrapped in the Palestinian flag with a knife and fork. Blood seeps from the corpse and a glass of blood rests next to the plate. See below: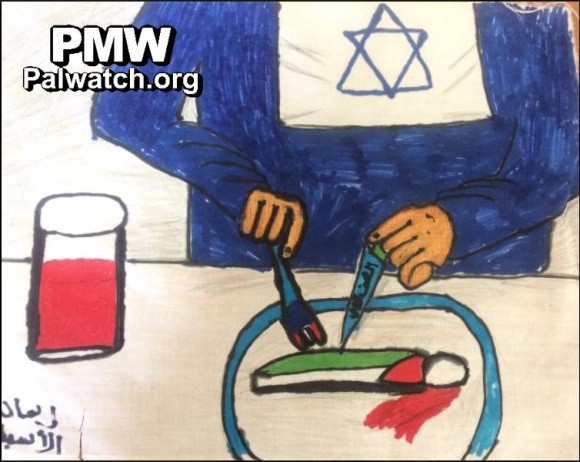 Another Palestinian child drew a crucified woman dressed in the colors of the Palestinian flag with her body in the shape of the Palestinian Authority's map showing all of Israel as "Palestine." The crucifixion theme is a common one in Palestinian society, suggesting that Palestinians are martyrs like Jesus. See below: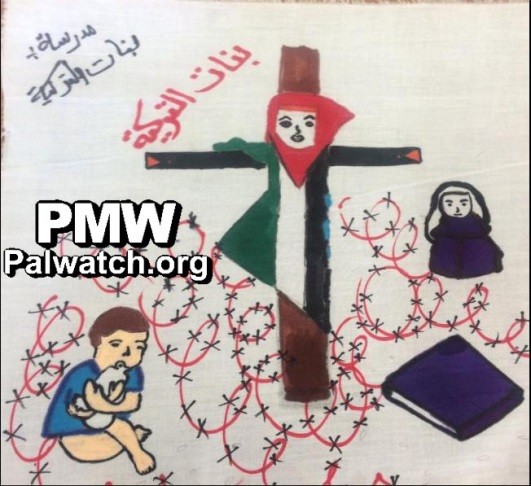 Another drawing features children holding up signs demanding the release of Ahmad Manasrah from an Israeli jail. Manasrah is a child terrorist responsible for stabbing and critically wounding two Israelis, one of them a 13-year-old boy. See below: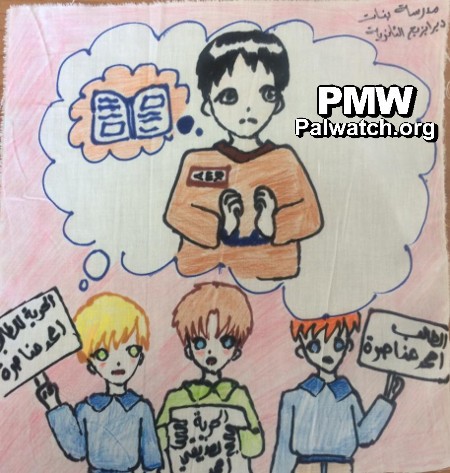 Palestinian terrorists are portrayed by the PA as innocent, unarmed victims of Israeli "summary executions."
Several other children's drawings depicted Palestinians brandishing weapons of the "resistance," including rifles and slingshots.
Fatah and the PA regularly glorify violence among children. Breitbart Jerusalem reported on several summer camps honoring "martyred" terrorists and extolling violence.