Britons now feel more favourably towards Israel than at any point since 2010, a new survey reveals, while public support for boycotts of the Jewish State is slipping accordingly.
The poll conducted for Bicom, the Israel and Middle East think tank, tracks changes in public attitude ahead of the celebrations that begin next week honouring the centenary of the Balfour Declaration.
Overall, the survey recorded the lowest level of support for boycotts since 2014, at 11 per cent. Forty-eight per cent of respondents "do not support boycotts of Israel and find it difficult to understand how others do given everything else that is going on in the world".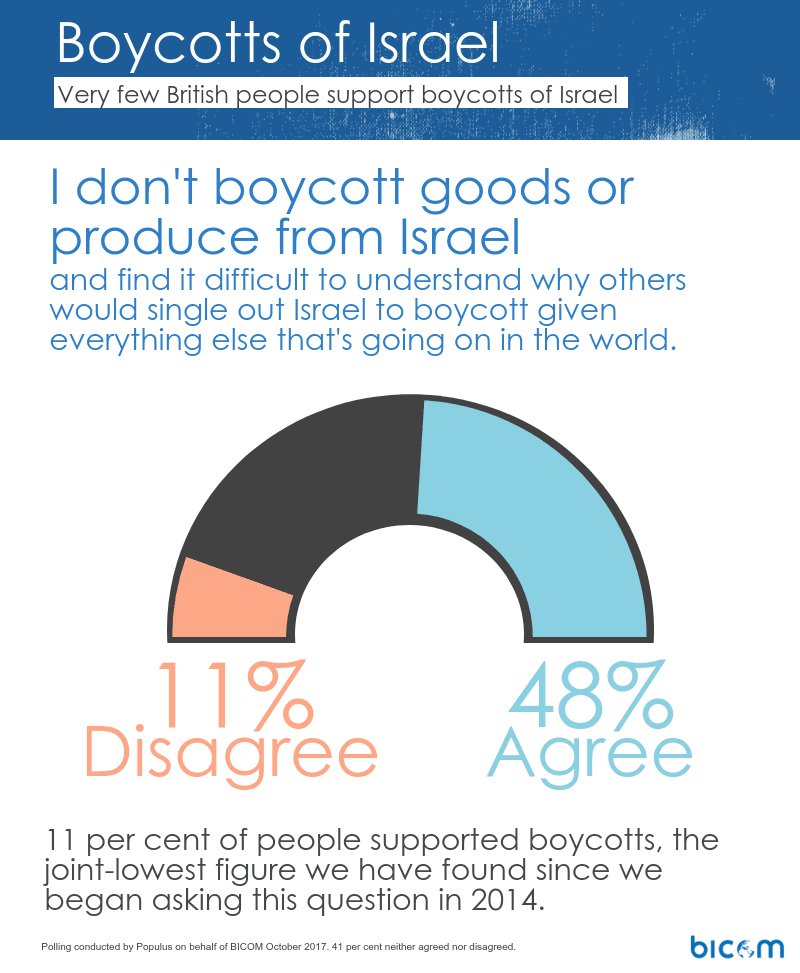 Young people have significantly reduced their level of support for boycotts in the last three years. This year, 45 per cent of 18-24s said they opposed singling out Israel for boycotts, in 2015 just 28 per cent opposed boycotts.
Other key findings from the survey include:
Half (49 per cent) agreed Israel is an important British ally in the fight against terror, more than for every other Middle Eastern country in the survey.

Of all the Middle Eastern countries polled, Israel is considered to be the fourth most important trading partner after Brexit, with Saudi Arabia, Qatar and Turkey considered more important.

Forty-six percent of respondents believe that "hating Israel and questioning its right to exist" is antisemitic. Seventeen per cent of people disagree with this statement.
James Sorene, Bicom chief executive, said the figures showed "significant support" for a Jewish homeland, highlighting a "significant silent majority" of Zionist supporters in Britain.
As Breitbart Jerusalem reported, the centenary of the signing of the Balfour Declaration, the document that recognized the creation of the Jewish State of Israel, will be widely celebrated in Britain.
British Cabinet Minister Sajid Javid gave that assurance while meeting a visiting World Jewish Congress delegation in Westminster in August.
Follow Simon Kent on Twitter:

Follow @SunSimonKent

or e-mail to: skent@breitbart.com