Egyptian actress Hala Shiha, who retired in 2005 for religious reasons and began wearing a hijab, has announced her comeback while revealing she will now shun traditional Islamic dress.
Shiha created a Twitter account to tell Egyptian followers of her controversial move, describing herself online as "an Egyptian actress, shone again," and tweeting she was a "strong independent woman from the beginning".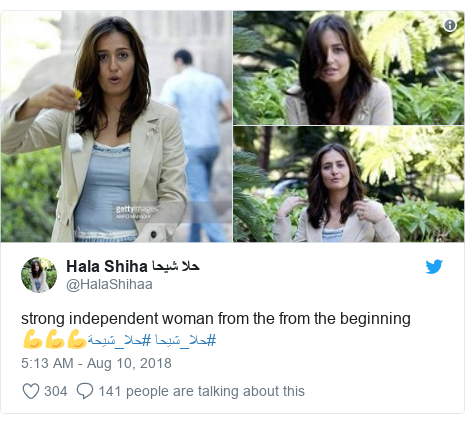 The Twitter account has now been suspended.
As recently as August 2017, Shiha provoked an outcry when she posted a picture of herself on Facebook in a niqab, the full face veil. Vowing never to take it off or to return to acting, she urged her fans not to share her old pictures as an actress so as "not to sin."
Now she has created a furore in Egypt by her decision to shun traditional Islamic dress, with Islamists saying she has "disappointed" women and girls who had looked to her as a role model.
"There were many girls that trusted her as a virtuous sister," ultraconservative preacher Sameh Abdel-Hameed told a private TV talk show. "But now she failed a large audience of young girls who followed her."
Khadija Khairat el-Shatter, daughter of a jailed Muslim Brotherhood leader, wrote a long post on Facebook urging Shiha — "my soul twin" — to prove everyone wrong and appear in public wearing the veil again.
"Today, the rumors that you took off your hijab had slaughtered me with a blunt knife," she wrote.
Mohammed el-Sawy, another ultraconservative, or Salafist, preacher, posted a video of himself in tears. In a quavering voice, he implored Shiha to repent. He also belittled the move as a "relapse", blaming it on "worldly temptations."
Another critic rebuked Shiha by Tweeting: "Who cares about an 'uncovered apple' except flies?"
In defence of Shiha, London-based fan Mohamed Magdeldin advised people not to judge the actress.
No one has the right to judge #حلا_شيحة. It was a personal decision when she decided to retire, and it is a personal decision now. We are not God. Leave her alone.

— Mohamed Magdeldin (@momagdeldin) August 8, 2018
Shiha, often cast in dreamy, romantic roles, sought to distance herself from the bitter argument over her decision to take off the hijab and seek a more secular lifestyle.
"I never meant to insult or offend anyone," she told the Associated Press in a telephone interview. "Just because I took off my hijab, doesn't mean I am against it. Not at all."
"At the end, this is a personal decision and it's my choice. I am an actress and I don't want to be dragged into any political conflicts," she said. She cited "personal reasons" for her decisions — both to quit acting the first time and to resume her career — and didn't elaborate further.
Follow Simon Kent on Twitter:

Follow @SunSimonKent

or e-mail to: skent@breitbart.com