A Gallup poll shows a record 67 percent of Americans believe it is good time to find good jobs, upping marketplace pressure on employers to raise wages in the run-up to the November election.
"Sixty-seven percent of Americans believe that now is a good time to find a quality job in the U.S., the highest percentage in 17 years of Gallup polling," Gallup reported May 21.
That confidence adds pressure to employers because it encourages employers to quit their current employer for a new job, likey at a higher salary. In turn, the losing employers will be pressured to offer higher wages to fill the departed employees' jobs, despite strong pressure from investors to minimize any wage raises.
The combination of President Donald Trump's stronger immigration-enforcement push and the growing economy is delivering higher wages and overtime to many employees, including African-American bakers in Chicago, Latino restaurant workers in Monterey, Calif., disabled people in Missouri, high schoolers,  the construction industry, Superbowl workers, the garment industry, and workers at small businesses, and even Warren Buffett's railroad workers.
Gallup's press statement did not provide a breakdown of the answers by party, but the data suggests that optimism among swing-voting independents is at a record level:
On average, 27% of Republicans said it was a good time to find a quality job in the three polls (August, September, October) leading up to the 2016 election. But the average Republican figure for Trump's first three months in office — February, March and April 2017 — more than doubled to 60%. The average for the most recent three months — March, April and May of this year — now stands at 82% …

An average of 54% of Democrats and Democratic leaners said in the three months prior to the 2016 election that it was a good time to find a quality job. That number … stands at 53% for the most recent three-month period.
With Democratic-supporters' reluctant optimism at 53 percent and the GOP supporters' optimism at 82 percent, the independents have a likely optimism range around 65 percent.
A 65 percent optimism rating is still higher than any other time in Gallup's 17 years of polling results.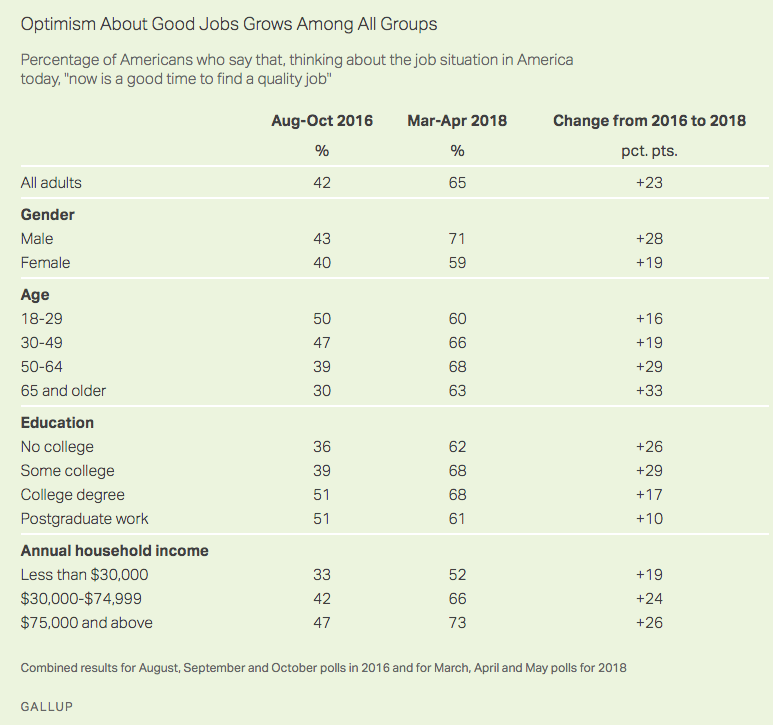 In the last 20 months, the confidence level has risen rose by 26 points — from 36 percent to 62 percent — among the blue-collar population that delivered Trump his victory in 2016.
In contrast, GOP leaders are now pushing bills to raise the supply of workers, via new immigration rules, amnesties and welfare cuts.
Supply increases will reduce labor prices and voters' wages, but that is not a factor that House Speaker Paul Ryan considers to be important. On May 17, he described what he thinks are the economic data that Americans care about most:
A thriving economy means there are more job openings. A thriving economy means there are more opportunities. A thriving economy means families get ahead, people get out of poverty, kids come out of college with opportunities and offerings. That's what a thriving economy means — and there could not be a better time to take action to help more people join our workforce … It is very good for us to be making progress on these things that matter the most in people's lives, which is why we are here.
Ryan did not mention wages in his list.
The rising wages in a good economy are a growing concern for Democratic planners. "It's a very big concern," Democratic pollster Celinda Lake, told TheHill.  "The economy is the No. 1 issue out there for people, and right now Trump has a very aggressive economic message that seems to cross traditional party lines to voters."